I love my Synology NAS box, and with every update they put out it just gets better and better! They just announced the new 3.1 version of the DiskStation Manager, read on to learn how to get it and what's new.
Today Synology America Corp. is pleased to announce the official release of its latest operating system for the popular DiskStation and RackStation series of NAS products. DiskStation Manager (DSM) 3.1 has Synology continuing to bring yet more enterprise-level features within reach for the SMB and SOHO markets.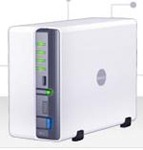 "This latest release simply underscores Synology's commitment to bring ever more powerful tools to its business users," said Jason Bonoan, Product Marketing Manager at Synology America. "The real value of this upgrade is that it actually increases the capabilities of existing systems, giving business users more reliable and flexible servers than they had originally purchased, at no additional cost."
Synology Hybrid RAID (SHR) in DSM 3.1 gives business users the option to choose 2-disk redundancy, allowing the volume to survive the failure of 2 disks. The updated storage manager offers support for iSNS to allow for centralized management of iSCSI resources. This gives users a choice in reliability.
Multiple volumes on RAID can now be created across a given RAID array. The volumes can be expanded on the fly as capacity is available, allowing administrators to maximize their use of storage.
DSM 3.1 also brings management enhancements to the table.  The addition of the administrator's group allows the assignment of multiple administrative accounts, even the disabling of the built-in admin account for security. Password strength policy can now be enforced through the DSM.
To minimize the risk of data loss and speed recovery Synology has also increased backup functionality. Folder Sync allows selected folders to be synchronized between DiskStations, speeding recovery in the event of catastrophic failure. Users can now also back up shares to multiple locations to maximize data security.
"Administrators should really appreciate this update," said Jason. "From maximizing storage and uptime, to security enhancements, DSM 3.1 helps with productivity and peace of mind."
In addition to the backend improvements, there are also improvements for end users. Among them are:
DS cam, DS photo+, and DS audio are released for iPad
DS file is released for iPhone to allow upload/download from phone
AirPrint support allows printing from iPhone/iPad
To upgrade or to see what all DSM 3.1 has to offer, see here:  http://www.synology.com/us/products/features/index.php
Visit http://www.synology.com for more information