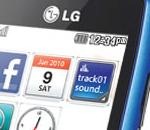 The new LG Cookie series is aimed at young users with colorful stylings and full touch screen. There's actually three in the series, the Cookie, Cookie Style and the Cookie 3G. Specs vary between the phones but they're fairly similar, the main difference is the size of them. They all have 3.5mm audio jack, FM radio and a microSD slot for storage. They're hitting the UK in September with no price as of yet..
The LG Cookie Series consists of three full-touch mobile handsets: Cookie, Cookie Style and Cookie 3G, all suitable for younger users or first-time touch phone users. Tailored for the distinctive needs of today's youth market, the LG Cookie Series provides more versatile texting functionality, enhanced music options, wider social networking support, and a customizable, user-friendly interface and design.
The LG Cookie Series was designed primarily for young mobile phone users who enjoy expressing themselves in unique and stylish ways, whether by phone or one of today's most popular social networking tools.
All the Cookie phones offer an intuitive and easy-to-use virtual QWERTY keypad allowing for easy texting without the bulk of a physical keyboard. The keypad can be switched from portrait to landscape mode, providing young users with a more convenient texting method.
The LG Cookie Series touch phones make social networking much more enjoyable thanks to dedicated user interface optimized for this type of activity. Users can also keep in touch with their friends through instant messaging and email that support threaded viewing for easier conversations.
The LG Cookie Series also includes a 3.5-inch headphone jack, FM radio and microSD slot for enjoying and easy sharing of music and movies. Add to this a stylish two-tone design and the fun cartoon-styled user interface and the LG Cookie Series easily stands out in the full-touch phone handset market.
LG Cookie
Designed to fit perfectly in the palm of a hand, LG Cookie is the most compact phone in the line-up. LG Cookie is proof that touch phones don't all look alike. LG Cookie's compact form factor slips easily into a pocket or purse but still manages to include a generous 2.4-inch display.
LG Cookie Style
LG Cookie Style is the stylish phone in the series with a 2.8-inch LCD display and bold design. Cookie Style is available in a variety of color options with accents on the front button panel, making it one of the most fashionable full-touch phones on the market. The phone's colorful mix-and-match design will appeal to the young mobile generation's desire for self-expression.
LG Cookie 3G
LG Cookie 3G allows for faster connectivity and data transmission, always keeping users connected to friends and family. Its advanced e-mail feature utilizes the latest in push-delivery technology, instantly alerting users when messages are sent to any of their e-mail addresses. LG Cookie 3G is a perfect choice not only for Generation Z but also for digitally active people who cannot compromise on network connectivity and design.
The LG Cookie Series will be available in the UK in September. Pricing to be confirmed nearer the launch date.