So we're going for another Samsung review today, this one though is of one of their newest hard drives called the F4. I've put it up against many other drives from other manufactures and even against the Samsung F1 and an SSD as well. The F4 is fast, it's faster than all of the other drives except for the SSD, but in some of the tests it comes close. Read on to check out a very lightweight and fast hard drive…

So it's a hard drive, not much to look at in terms of box shots etc. They sent me the OEM version, so just a plastic casing basically.
The first things I noticed about this drive is the weight, it's very light, I've got a bunch of other drives and it feels like it weighs about half.
Specifications:
The Samsung Spinpoint F4 is an internal hard drive that supports a one-head platform design and a minimum amount of mechanical parts. This optimizes reliability and acoustic features of the Spinpoint F4 and delivers 10 % increased read/write performance and 7 % lower power consumption. The Samsung Spinpoint F4 is built with eco-friendly materials and meets all the environmental regulations including RoHS (Restriction of Hazardous Substances). It features 7200rpm speed rotation, areal density technology and a SATA 3.0 Gbps interface; is equipped with Samsung's balancing technology, which optimizes the drive's overall stability and reliability and features SilentSeek and NoiseGuard technologies for quiet operation.
Model: HD322GJ
-capacity : 320 GB
-interface : Serial ATA 3.0 Gbps
-buffer memory : 16 MB
Features:
• Formatted capacity is 320GB/Disk formatted capacity
• Serial ATA 3.0Gbps Interface Support
• Improved recording stability over temperature with PMR
• Advanced dynamic FOD control for best data integrity
• Intelligent compensation of external disturbance
• SATA Native Command Queuing Feature
• Device Initiated SATA Power Management
• Rotational vibration sensor(Optional)
• Environment friendly product with RoHS compliance
• Improved performance with dual-ARM based firmware
• ATA S.M.A.R.T. Compliant
• ATA Automatic Acoustic Management Feature
• ATA 48-bit Address Feature
• ATA Device Configuration Overlay Feature
• NoiseGuard
• SilentSeek
Drive Configurations:
Drive Configurations Capacity:320GB
Interface     Serial ATA: 3.0Gbps
Buffer DRAM Size:     16 MB
Byte per Sector:     512 bytes
Rotational Speed:     7,200 RPM
Performance Specifications:
Performance Specifications Average Seek time(typical) :8.9 ms
Data Transfer Rate / Media to/from Buffer(Max.):     285 MB/sec
Data Transfer Rate / Buffer to/from Host(Max.): 300 MB/sec
Average Latency: 4.17 ms
Drive Ready Time(typical): 8 sec
Physical Dimension:
Physical Dimension Height (Max.): 26.1 mm
Width: 101.5 mm
Length: 147.0 mm
Weight (avg.):430 g

For comparison I grabbed a bunch of hard drives and an SSD as well.
SAMSUNG Spinpoint F1 HD753LJ 750gb 7200 RPM 32MB Cache SATA 3G
Seagate Barracuda 7200.12 750gb 7200 RPM 32MB Cache SATA 3G
Seagate Barracuda XT 2TB 7200 RPM 64MB Cache SATA 6G
Seagate Barracuda 7200.9 7200RPM 200GB 16MB Cache SATA 3G
Western Digital Caviar GP WD5000AACS 500GB 5400 to 7200 RPM 16MB Cache SATA 3
OCZ Solid 2 60gb SSD
So we'll start off with ATTO Disk Benchmark, I put them in order of fastest to slowest:
Obviously the OCZ SSD is the fastest with the F4 coming in seconds, actually besting the Barracuda XT on the SATA6 port.
Then we have HDTune, same ordering again…
Next test is SiSoft Sandra File Systems:
File Systems
Benchmark mounted file systems (i.e. volumes). Shows how your file systems connected to storage adapters and storage hosts compare to other devices in a typical computer.
This is not the raw disk performance that other benchmarks test – but the speed of the volume itself that depends on many more factors like file system, operating system cache, position on disk, etc. Thus this is the performance you get at the file system level.
Drive Index: higher the better.
Access Time: lower the better.
In this test you can se that the F4 is actually close to the SSD in terms of performance.. I'm truly surprised by this one.
Next is Physical Disks:
Physical Disks
Benchmark hard disks (i.e. the disk itself, not the file system). Shows how your physical disks connected to the storage adapters or hosts compare to other disks in a typical computer.
As the test measures raw performance it is independent on the file system the disk uses and any volumes mounted off the disk.
Drive Index: is a composite figure representing an overall performance rating based on the highest read or write speed across the whole disk. Thus the higher the better.
Access Time: is the average time to read a random sector on the disk, analogous to latency response time. Thus the lower the better.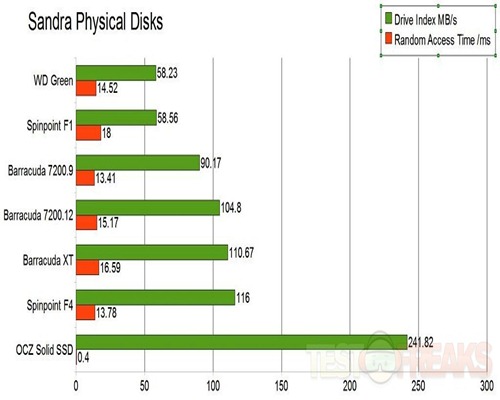 The ordering changed a bit for the other drives, but the first and second are still the SSD and the Samsung F4.
The noise level is very low, I couldn't hear it at all except for the Physical Disks test, in the beginning when the drive spun up I heard it just that one time.  I didn't hear it any other time though.
Conclusion:
The Samsung F4 is a great drive, it's fast and it's lightweight and it's quiet.
If you're looking for a new hard drive then be sure to put this one on your list, sure it's only 320gb, but it could be used as a boot drive.
Pros:
+Very lightweight
+Quiet
+Fast
Cons:
-None
| | |
| --- | --- |
| Grades: | |
| Overall | |
| Design | |
| Performance | |
To learn more about our review policy please visit this page HERE.