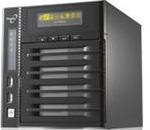 It's been a busy morning for me.. wife's car is in shop so not only did I have to take kids to school but wife to school as well, and then I had to take my youngest to the doctor for checkup. I've been in the car for like the past 3 hours… Anyway, today Thecus sent me some news about their new Nas box the N4200, we like our Nas boxes here and love to hear about new ones. The N4200 though is running an Atom D510 dual core CPU at 1.66Ghz, and it comes with 1Gb of DDR2 ram. The N4200 also has a 2.8" OLED display and it even has it's own backup power supply in the form of a lithium-ion battery pack! The other very interesting thing about this unit is that you can run a dual raid mode, four drive can be configured in different raid modes..
Whether people are taking photos of their baby's first steps, or filming their vacations with their digital camcorder, the need for more digital storage is growing at a rapid rate. For these users who need to make sure that their precious memories are protected, Thecus® has created the N4200 featuring exclusive 6D Technology.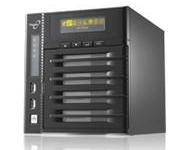 Dual Core CPU – The N4200 is powered by the new Intel® Atom™ D510 dual-core processor. Running at 1.66GHz, this CPU, paired with 1GB of DDR2 memory, delivers quick system response and can even smoothly handle multiple client access. Data can be accessed and transferred quickly, so you don't have to wait around to enjoy your favorite movies, music, photos and more. The N4200's Intel® Atom™ D510 dual-core CPU offers wicked performance for the home user.
Dual DOM Technology – The Disk On Module (DOM) of a NAS device contains all of the software necessary to operate the machine. Should it fail for any reason, your NAS will become inaccessible and your data could be at risk. To ensure maximum uptime, the N4200 includes Thecus®' Dual DOM Technology, which allows a secondary DOM to reprogram the primary one if anything goes wrong.
Dual Displays – Take control of your NAS with the N4200's Dual Display Technology. The N4200 comes with an LCD display that shows you critical system information, while the 2.8" OLED display allows you to change a number of settings right from the device including WAN, LAN, Link Aggregation and language. Managing your home NAS just doesn't get any easier than with the N4200.
Dual Power – If the power happens to go out during a critical firmware upgrade, your NAS could be in trouble. The N4200 comes equipped with its own Battery Backup Module (BBM) – a lithium-ion battery pack that kicks in during a power outage and allows the system to save unwritten data to the hard disks, thereby maintaining data integrity.
Dual HDD Profile Support – The N4200 features combo drive bays that allow users to install either 2.5" or 3.5" hard disks. Users can install the smaller 2.5" drives to save power and lower noise, or choose 3.5" drives for huge capacity, making the N4200 an incredibly flexible NAS.
Dual RAID – Why choose between performance and security? The N4200 allows you to configure two RAID modes simultaneously for optimum data transfer rates and rock-solid data integrity. With the power of Dual RAID, the N4200 is your digital data fortress.
Fast, secure, and incredibly easy-to-use, the N4200 with 6D Technology is the ideal storage device for the digital lifestyle.
For more information on the N4200, go to:
http://www.thecus.com/products_over.php?cid=10&pid=220
For more information on Thecus, go to: