Today for review I've got a little GPS receiver from Motorola just called the T805 from our friends at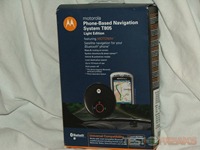 Inside you'll find the T805 Bluetooth GPS Receiver, car charger, documentation and mount for the T805 as well.
The T805 is small enough to fit in the palm of your hand. It seems sturdily made so you can toss it in a bag and have no worries of something happening to it. There are two holes on the bottom that are used with the included mount.
There's on one button on the unit, and around it are three LED indicators for GPS, Battery and Bluetooth.
On one side of the T805 is a small door with a mini-UBS port for charging and the other side has a place for a lanyard, keychain or whatever.
Specifications:
Motorola T805 Bluetooth GPS Receiver
phone you can pair this, it works the same.
The T805 had three LEDs on it, one for Bluetooth, one for GPS and on for Battery which will come on to let you know it's charging or low battery.
The T805 I received for review does come with Motonav software but the code I got is only good for Europe, I'm in the United States so I couldn't exactly test it out.
I used it was my AT&T Tilt, yes my phone has GPS in it already and I do have TomTom already installed a well. I used to have a 2007 Subaru Forester which had plenty of room to mount my phone so I used the TomTom navigation for a few things, but now I've got a 2009 Forester and they redesigned the center console with really no where to mount my phone so using the GPS poses a problem. I can mount it a bit lower but then it's harder to get a GPS fix if Io can get one at all. With the T805 though I can just put it on my dash and pair it with my phone and use TomTom easily. I can have my phone sitting on the seat, or in the console between the seats and the
The first time I used the T805 it seemed to take almost a minute to get a GPS fix, but other times it was very fast, acquiring a fix with a few seconds it seemed. The T805 worked fine with TomTom, I noticed no difference between it and the built-in GPS on my phone. Updates seemed to be fast it kept up with where I was going with no problems, there was no delay in my position while I was driving.
I also used the T805 with my netbook and Microsoft Streets and Trips and it worked fine.
There's not much more really to say about this product in terms of usability, it works and works well really.
One thing though that I don't like is the charging options, there's only one, the car charger.  To charger it you've basically got to be in your car, you can use it and charge it at the same time while in your car but I'd like to be able to charge it from an AC power outlet or even via USB from my computer, but it doesn't come with anything for that. My phone or even my stand alone TomTom unit I can charge it in my house while I'm not driving so it's ready to when I am. The charging cord is a bit short really.
Conclusion:
The Motorola T805 is a great way to add GPS to your phone or other devices, it's small and portable and it works very well.
You can get about 10 hours on a single charge, and the charger can be used with other mini-USB devices and not just the T805.
Pros:
+Small and portable
+Charger can be used with phones and other devices with mini-USB connection
+Fast GPS acquisition
+Can be used with other Bluetooth devices like netbooks or laptops for navigation
+Seems well made
+Easy to use
Cons:
-Only comes with car charger
-Software only for Europe in pack that I got
| | |
| --- | --- |
| Grades: |   |
| Overall | |
| Design | |
| Performance | |
This product was given to technogog for review by the company for review purposes only, and is not considered by us as payment for the review, we do not, and never will, accept payment from companies to review their products. To learn more about our review policy please visit this page HERE.