This PR isn't what I thought it was, I thought it had something to do with upcoming deals on Vizio products. I like my Vizio, I've had no problems with it I just wish it had a bit more features like ethernet and USB, but then again if I tried to keep up with new HDTVs and their features I'd have a house full of TVs I'm sure and no food in my house. As is though the TV works great, the picture is beautiful and I'm happy with it. This PR is interesting to read though, it's about what Vizio is selling, and how consumers are making their purchases and other related things.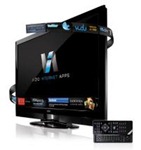 VIZIO, America's HDTV and Consumer Electronics Company, announced today that sales for the week ending November 7, 2010 reveal customers are looking for both innovative performance and value as the keys for shopping this holiday season. In a tough economy, consumers are researching and educating themselves more than ever before making purchases.
Driven by LED backlight LCD HDTVs sales increasing 150% week over week and a 25% growth in VIZIO Internet Apps™ (VIA) HDTV sales, VIZIO sales skyrocketed.  VIZIO HDTV unit sales for the week represented a 200% increase over last year's similar week sales.
VIZIO continues to see large growth in all categories, driven by its industry-leading sound bar and VIA-enabled blu-ray players.  Popular gift items around the holidays, VIZIO blu-ray sales accomplished a 1,000% year over year increase, and sound bar sales increased more than 250% over last year.  VIZIO offers a wide range of sound bar solutions that have allowed it to lead the fast-growing sound bar market.  All of VIZIO's blu-ray players feature VIA, which allows consumers to stream popular movies, music, and content available online.
The Consumer Electronics Association's (CEA) 17th Annual CE Holiday Purchase Patterns Study* found innovative consumer electronics will once again be the "hottest" gifts, both to give and to receive, this holiday season. With overall holiday gift spending down two percent from last year, consumers will spend $232 on CE gifts, up five percent from last year – representing more than a third of consumers' total gift budgets and the highest level in the history of the study. And 2 of the top ten Holiday CE Gift Wish List items for Adults were TVs. Supporting VIZIO's belief that consumers are looking for the newest trends like VIA and LED HDTVs, "Many innovative products new to the market are high on the gift list this year," said Steve Koenig, CEA's director of industry analysis. "Consumers want the newest technologies, and those that stock these products on their shelves will fare well this holiday season."
"With a tough economy, consumers are seeking greater values but still want advanced technologies —such as our Full 1080p, LED and VIA TVs and accessories. We know that consumers are going into retail expecting great prices, but demanding better technology and VIZIO exceeds their expectations," stated Randy Waynick, VIZIO Chief Sales Officer. "VIZIO's success has been built on giving customers not only what they are looking for at a great price, but also delivering award-winning performance."
As consumers continue to better educate themselves before major purchases, it has helped drive VIZIO sales, as their research reveals VIZIO is coming off a spectacular winning streak of awards. Behind the strength of its renowned XVT3SV Series, VIZIO has been selected as the CNET Editor's Choice, Home Theater Magazine Top Pick, ThePerfectVision's Highly Recommended Components, HDTVSolutions #1 Rated 55" and 32" TVs, PCWorld's Best Buy 40- to 42-inch HDTV,TopTenReviews Gold Award as the #1 LCD HDTV and was recognized by Mashable.com as one of the five gadgets that broke new ground in 2010.
*CEA 17th Annual CE Holiday Purchase Patterns Study http://www.ce.org/Press/CurrentNews/press_release_detail.asp?id=11978
Web Site: http://www.vizio.com