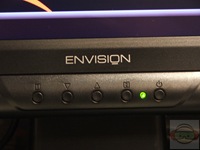 The monitor of you computer is one of the most important parts, especially if you play games, and with monitors, my feeling is the bigger the better. You've got many choices when it comes to picking a monitor and it can be hard to do, the most common monitors now are LCDs, since they've been dropping in price most anyone can pick up a decent one these days. Personally I run three monitors, I used two for a while, then I hooked up a third and I'm hooked on the huge amount of screen real estate I've got. Of course for most people one monitor is more than enough, but when you spend most of your time in front of one, you come to learn that more than one can make you more productive.
Our friends at Geek.com have sent me over one of their 22" LCD Monitors for review, it's from Envision and it's the G22LWK DVI Widescreen Monitor. As with most newer monitors this one features HDCP to make the most out of your digital content, it's got a resolution of 1680×1050 along with a 5ms response time. One of the more interesting features is that it includes both DVI and VGA or RGB analog connections and you can easily switch between them if need be with the push of a button in the menu.

No video today for you, but of course I've got pictures. The box of course is large and the monitor inside is well protected with styrofoam padding. Geeks did a great job with the packing as well for shipping, including a plethora of air pillows all around it for protection.
An oval stand is included along with both VGA and DVI cables, audio cable, main power cable and a cable management clip and of course a user manual. The monitor is also wall mount ready so you don't have to use the stand if you don't want to.
Specifications:
22" Envision G22LWk DVI Widescreen LCD Monitor w/Speakers (Black)
Part #: G22LWK
Warranty: 1 Year Direct
Condition: New
Packaging: Retail Box
Ship Weight: 18 lbs
Manufacturer: Envision
MFG Part #: G22LWK
Supported By: www.envisiondisplay.com
Features/Specifications:
* Envision G22LWk 22-inch Widescreen LCD Monitor
* Black design
* 22-inch (55.9 cm) widescreen TFT Active Matrix LCD display
* Diagonal hard coating (3H) anti glare treatment
* HD 720p/1080i compatible
* RGB analog and DVI inputs with HDCP (High-Bandwidth Digital Content Protection)
* 0.282 mm pixel pitch
* 1680 x 1050 maximum resolution
* 16:10 aspect ratio
* 700:1 contrast ratio
* 300 cdm2 brightness
* 5 ms response time
* 170° (H)/160° (V) viewing angle
* 146 MHz pixel frequency
* 30 – 80 KHz horizontal scanning frequency
* 50 – 75 Hz vertical scanning frequency
* 16M color display
* 3W x 2 speakers
* On Screen Display (OSD) controls
* VESA wall mount
Connectors:
* DVI-D
* 15-pin VGA
* Audio in

Here's a few shots of the of the on-screen menus so you can get an idea of the options, for some reason the Auto Adjust and Manual Adjust are both grayed out and inaccessible though.
Here's a few shots of my setup, two Samsung 17" monitors and the Envision 22" in the center:
I'm using a Diamond 4780 1gig to power the 22" monitor and a Connect3d X1800GTO to power the two 17" Samsungs.
Of course I played quite a few games on this monitor and it was amazing, going from a 17" to a 22" was an interesting experience at first, it really enhances gameplay especially in first person shooters. After a while though I got accustomed to it and I'm loving every minute of it. The refresh rate is only 60Hz which is not bad, but not the best, especially for gaming if you want to enable VSync in games, basically you just have to disable Vsync or you risk dropping below the magical 30FPS if your card can't handle the game. If you've got a high end card though then I'm sure you can run with Vsync enabled and not have a problem with most games.
The Envision G22LWk is actually part of the Professional Series from Envision, and I can understand why, the colors are amazing, very bright whites and dark blacks. I can put a white screen up and span it across two monitors and I can really see the difference between them, all this time I was using the Samsungs I thought I was seeing white but really I wasn't.
Another thing I noticed is that blacks are very dark, and there's no light leakage at all with this monitor as you can get sometimes with LCDs. I've got a primarily black background as you can see from the above pictures and the black is real black
Watching movies is great as well, I can finally throw a widescreen DVD in and watch it as it was meant to be. Movies are great, the colors are fine, I saw no problems at all with colors, they're bright and vibrant. I've got an adapter for the Xbox coming so I can hook it up to this monitor and play in HD, I'll be reviewing that whenever it gets here as well, but it should be interesting, now I  just need to get a Blu-ray drive for my PC and I'll be set. I've got my setup in my living room with my couch behind me, the 22" is big enough to sit back there and watch movies on so it's rather cool.
And I should note there are no dead pixels at all on this monitor, which is a very good thing.
I've got external 2.1 speakers so I've got no real use for the built in ones that the Envision has, but of course I tried them out for the review and they're not bad for general usage, but I wouldn't want to listen to music, watch movies or play games with them. They have a tinny sound to them and when you turn the volume up they do get distorted and there's basically no bass at all.
Other than the speakers I couldn't find anything wrong with this monitor, it's big and beautiful, colors are sharp and brilliant.
As with any product I get for review I like to look around at other reviews and see what problems other people may have encountered, from what I saw very few people had any problems at all with this monitor. I saw a few dead pixels here and there, but that's to be expected with LCDs, and a couple bad reviews, and complaints about the speakers but for the most part everyone was happy with this monitor.
I also want to note that this is the same as the AOC 22" LCD multimedia monitor, if you look up the UPC number (685417102181) you'll find both the Envision and the AOC have the same number.
Conclusion:
The Envision G22LWk from Geeks.com runs about $160 and  it's well worth the price, it's a great all around monitor that is well made and performs admirably in everything it does.
Colors are sharp and vibrant, blacks and grayscales are fine as well, of course the speakers aren't the best, but most people rely on external speakers anyway so I don't see it as a major drawback.
Pros:
Perfect picture
Bright whites, dark blacks
Dual input
Easy to setup and use
Wide viewable angle
No light leakage at all
Cons:
Speakers aren't the best sounding
Only 60hz Refresh Rate
Cons3
| | |
| --- | --- |
| Grades: |   |
| Overall | |
| Design | |
| Performance | |