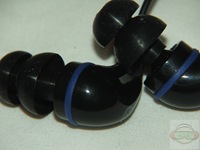 I love my music, you can ask anyone who sees me on GTalk, quite a bit of the time my status is the track that's playing and if I'm not listening to music through my PC then it's through an external source, I'm most always listening to something. Right now in fact I'm listening to my Zune while I type this, Rammstein – Rosenrot to be exact, but my tastes in music vary quite a bit and I like it to sound good, I hate bad sounding music, blah, just blah. I also don't like people who can't hear the difference between good sounds and bad, it drives me nuts for some reason, and a part of me also feels sorry for them as well as they just don't understand what they're missing.
When it comes to portable music, most people are more than happy with those cheapie earbuds that comes with them, but not me, in fact I rarely ever use them at all because I just know I won't like them. I can't figure why companies sell a great music player and include these inferior, dull sounding headphones with them, I don't get the point.
Today for review I've got a high end set of earphones for review, high end as in both price and sound quality, they retail for about $200 and I can tell you now that they are worth every penny. They're called Atrio M5 Professional Earphones, and they're from a company called Future Sonics, never heard of them? Don't worry not many people have really, but they're very well known among audio enthusiasts for creating and manufacturing high quality products.
So continue on to learn more about one of the best sets of earphones on the market today…
First up I've got an unboxing video for you, yes an unboxing for headphones, these deserve it:
Specifications:
Future Sonics Atrio model m5 (Black) Professional Earphones
NEW! atrio revision 2
future sonics atrio product specifications:
drivers future sonics proprietary mg5pro dynamic
frequencies 18 Hz – 20,000 Hz truetimbre response
impedance 32 ohm
sensitivity 112 dB @ 30 Hz / 1 mW
rejection 26 dB +/- ambient noise rejection  (A.N.R.)
cable 1.3 m quietcables II with reduced microphonics
connector standard 3.5mm (1/8") stereo mini-plug (gold)
Price: $199.00

The first thing you'll notice about the Atrio M5 is their shape, they struck me as rather large and just odd shaped compared to other earbuds or earphones I've had the chance to review and own. Yes they are plastic and really seem a bit funny looking, but they are solid and well made, even the cords seem a bit better quality than others I've seen. The cords feel stiffer or thicker, and should be able to withstand regular tugging and pulling. of course though most people won't treat this $200 pair of earphones like the ones that came with their mp3 players, I know I take care of them and am gentle with them. It's not because they might break either, or even the cost, it's because they sound so damn good that I don't want anything happening to them to ruin the quality of my music.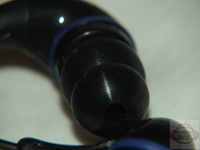 When these arrived for review I also got a nice 'reviewers' packet with it, it compromised of promotional materials of course to better explain the product. What most people would call marketing hype, and in this business I've seen a whole lot of marketing hype and rarely does a product really live up to all of the hype that surrounds it. In the promo kit they even dropped names, included was a list of their customers, names like U2, Megadeth, Kiss, Shania Twain, Godsmack, AC/DC and the list goes on and on just like that with names that everyone knows, there's got to be over 300 names there, and there's a note on the bottom as well, 'A Few of our Clients'. I looked at this stuff and was like hmm, ok fine they've got some well known clients, and I promptly filed it all away. A few names and a whole bunch of technical specs along with a few quotes from people really don't tell me much at all, it was time to put them on and really see if they're that good.
One word, in layman's terms, to describe the audio experience: WOW! (Yes they do live up to all of the hype)
Before I get into all of that though, the first thing you'll notice when you open the package is a bunch of ear pieces, foam and rubber in different sizes. It says right in the instructions you'll need to take time to try on and figure out which ones are right for you, in fact I spent about an hour just playing with them, trying different ones on. I finally settled on both a rubber set and a foam set for testing that I felt fit my ears. When fitting them you need to make sure they seal to your ears and yet are comfortable and won't fall out, you really do have to play around with fitting, but when they fit right you'll know instantly.
Included also with the M5s is a nice carrying case that will fit many sizes of mp3 players as well, my Zune just fit in there, and my iPod nano had no problems fitting.
For testing I used my Zune, iPod nano and even hooked them to my PC to my bgears b-Enspirer sound card.
I've got quite varying tastes in music from Classical to Rock and Metal and everything sounded different though the Atrio M5 earphones, different of course as in very good. I'm amazed actually by the sound, I heard things I never heard before in my music. I've got one classical CD that I've had for many years, in fact it's the second time I've bought it, Anne-Sophie Mutter -Vivaldi Le Quattro Stagioni or The Four Seasons, and listening to it through these earphones is like listening to it for the first time, I heard things I never heard before. An example is that when they're switching between 'songs', with other headphones or even through speakers there is a faint rustling sound, I figured it might just be noise and mostly ignored it, but now I can hear what it is, it's them turning pages in their sheet music, it's crystal clear. There are of course many other nuances that I've heard as well, like I can now really hear the bow going across the strings at points in the pieces.
Of course I listened to other music as well, and even at low levels the sound is excellent, everything is clear and vibrant, the music just seems to come alive now with these earphones. Highs are high and lows are very low. The Atrio M5s feature only a single driver, as opposed to two or three as other headphones might have, this single driver though works perfectly to reproduce the sounds in your music and let you hear it as it was meant to be heard.
One of Future Sonics slogans is 'believe your ears' and the other is 'hear what you've been missing' and with these earphones you really do hear what you've been missing, it's hard to describe in words exactly, but trust me on this, they are well worth the cost if you like your music as much as I do.
I listened to all kinds of music, some of it I hadn't listen to in a while and some that I listen to often, and it all sounds perfect. I noticed that in the music I listened to often I heard things I never heard before, it was much more clear, crisp and sharp, and overall much more enjoyable experience than I've ever had with nay other set or earphones.
If you like music with lots of bass then you'll love these earphones, I don't go for the hip-hop or rap stuff, but rock and metal does have a bit of bass to it, and I also like techno, and music like The Crystal Method which  has quite a bit of bass in it. I was amazed at the bass response from these earphones, and especially since it's all coming from a single driver, and there's no special 'stuff' in the design to enhance the bass like other earphones claim to have.
The only fault I can find with these headphones is that they're quite possibly too good for some music, music that isn't recorded well or produced well, you will hear any imperfections in the music and any extraneous background noises as well like faint static sometimes in low quality digital recordings. Live music is also one of those things that you might not want to listen to through these earphones as you hear everything that you might not hear otherwise, people talking, coughing etc, you will hear it all perfectly.
As far as comfort is concerned, once you get the right fitting earpiece they will be extremely comfortable for long periods of use, after a while I didn't even notice they were on. The Atrio M5s are made to be worn several ways, like standard earphones just in your ears with the wires hanging down, or you can turn them upside down and run the wires behind your ears, or you can wear them coming up your back as well and tighten the slider to a comfortable place but yet still offer range of movement and full comfort.
I love these things honestly and I can easily recommend them to anyone who asks my opinion of a good set of earphones… now if we could only get Future Sonics to design external speakers I'd be a happy boy!
Conclusion:
The Future Sonics Atrio M5 Earphones are nothing short of spectacular in terms of not only sounds quality but comfort and build quality as well. I'm truly amazed by the audio quality of the M5 earphones, you'll never hear music the same again.
You'll notice there are no 'Cons' for this product, I could have listed the price, sure they're a bit expensive, but it's not a Con really, they are well worth every penny, especially if you like your music. I also could have listed about fittings, yes it can take a bit of trial and error until you figure out which ear piece works for you, but when you do you'll hear the difference and understand it was well worth the effort of it all.
If you like music as much as I do then you, your music and your ears deserve a set of these…
Pros:
Amazing sound quality
Well made
Very comfortable
Cons:
None really
| | |
| --- | --- |
| Grades: |   |
| Overall | |
| Design | |
| Performance | |