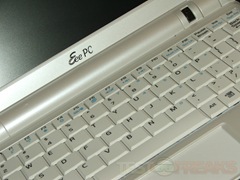 Netbooks are great, there was a time when I felt that I needed a full blown laptop, the most powerful one that money could buy, but then I realized I don't need all that really, I don't do enough to utilize all of that power. I thought I needed it to have enough power for me to play games on and do other processor intensive things, but on my laptop I maybe played games a couple times per year, all the other time was browsing the internet, checking email and using a word processor so there really was no need for me to have a powerful computer just to do that. At one point of course a laptop was all you could buy, you couldn't really get a netbook, at least how they are now, sure they had ultra-portable laptops but they were very pricey, now though you can get netbooks for under $200 that do everything that the average person needs them to do. Netbooks have revolutionized the way we look at portable computers, or laptops, they've made them something that pretty much everyone can afford now. At the head of the pack of netbooks is the Asus Eee PC, when launched it quickly became the most popular selling netbook out there, and for good reason, it's inexpensive, well made and easy to use.
Up on the review block today I've got the Asus Eee PC 900A that Geeks.com has provided me for review. You might be wondering why I'm reviewing the Eee PC 900A when newer ones are out there, the reason is that it's a refurb, and Geeks kind of specializes in cheap netbooks and refurbished ones. Many people out there don't care for refurbs, but the ones at Geeks are like new, no marks, nice and clean, all ready to go for you. The Eee PC 900a is an Atom N270 based netbook with a 4gb SSD drive in it and it has an 8.9″ screen along with Linux installed as the operating system. I've spent quite a bit of time playing with the 900A and have come to a few conclusions about it, and not all are good ones…
And here's some still pictures for a better look at it:
Specifications:
Asus Eee PC 900A Atom N270 1.6GHz 1GB 4GB SSD 8.9″ Netbook Linux (Pearl White)
Ultra-portable Netbook Computer!
This Asus Eee PC 900A Netbook is powered by an Intel Atom N270 1.60 GHz processor and 1 GB DDR2 RAM. Its large 8.9-inch LCD display gives your more viewing space making it comfortable and easy on your eyes!
Experience shock-proof computing with the 4 GB solid state disk! The installed operating system is an Asus customized version of Linux, making this one of the most user-friendly netbooks on the market! Stay connected with the 802.11b/g Wireless LAN and and 10/100 Ethernet!
Upload your photos, videos, music and data files quickly and easily with the SD/MMC card reader. This Eee PC 900A features three (3) USB 2.0 ports making it easy to connect to numerous external devices such as a CD/DVD drive, printer, scanner, digital camera and more!
At only 2.18 pounds, this Asus Eee PC 900A Netbook is the perfect mobile companion!
Features/Specifications:
General Features:
* Pearl white color
* Asus customized Linux operating system
* Intel Atom N270 1.60 GHz processor
* 1 GB DDR2 RAM
* 4 GB SSD (Solid-State Disk) internal storage capacity
* Intel UMA integrated video
* Integrated high definition audio with built-in speakers
* Integrated 10/100 Ethernet
* 802.11b/g Wireless LAN
* Keyboard with touchpad
* Built-in memory card reader
* 8.9-inch Wide LCD display with 1024 x 600 resolution (WSVGA)
I/O Ports:
* Three (3) USB 2.0
* One (1) 15-pin VGA
* One (1) RJ-45 Ethernet jack
* One (1) Microphone jack
* One (1) Headphone jack
Unit Dimensions:
* 0.79 – 1.33 x 8.86 x 6.69 (H x W x D, approximate)
* 2.18 lbs weight with battery
Price: $179.99

Here's a couple comparison shots with the Eee PC and the Aspire One D250 and the OCZ Neutrino:
The operating system is Linux as I mentioned, it's a special variant just for Asus basically and it's based off of Xandros. Obviously most people out there use Windows, so the operating system will take a bit to get accustomed to but it's laid out nicely and it's actually really easy to use. It's a tab based system, with tabs across the top labeled Internet, Works, Learn, Play, Settings and Favorites.
The Internet tab, as one might expect has things related to the internet like FireFox, email, Skype, Internet radio and several others as well.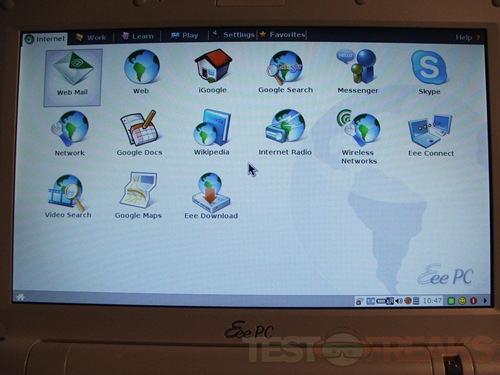 The Work tab contains useful productivity programs like a word processor, drawing, file manager, clock, notes etc.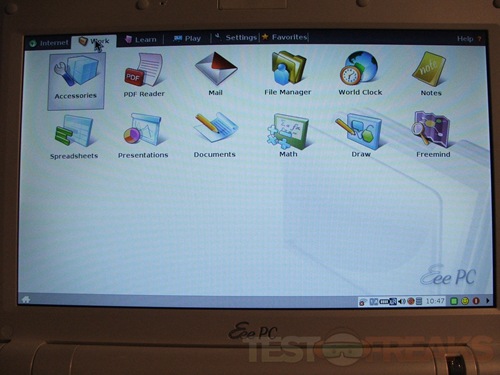 The Learn tab has Painting, math, Science and some other programs that I personally didn't find very useful at all.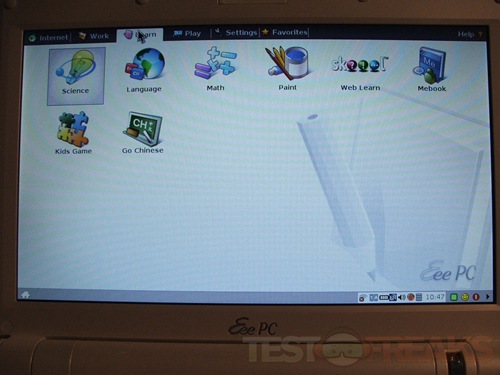 The next tab is Play, here you'll find entertainment related things like a media player, photo manager, sound recorder and games. There are a bunch of games that come installed like Tux Puck, Solitaire, Frozen Bubble, Crack Attack, and eight more. The games are all small ones of course, but surprisingly some of them look pretty good graphical wise. Playing videos on it works, but don't expect to be watching in HD…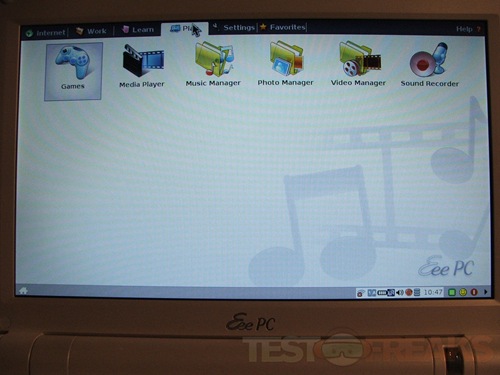 The next tab is titled Settings, and here you'll find things related to your Eee PC upkeep like anti-virus, volume controls, printers, disk utilities and a few more.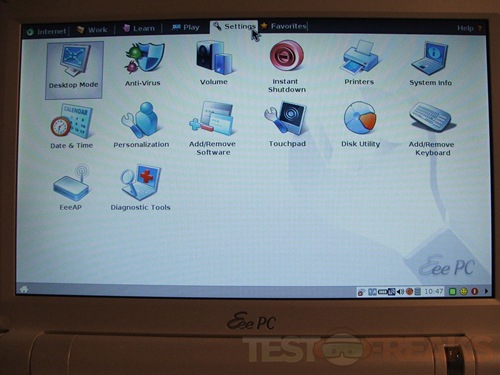 The last tab is favorites, this might be considered your homepage, here you can add shortcuts to anything that you use most so everything is right there on one screen for you.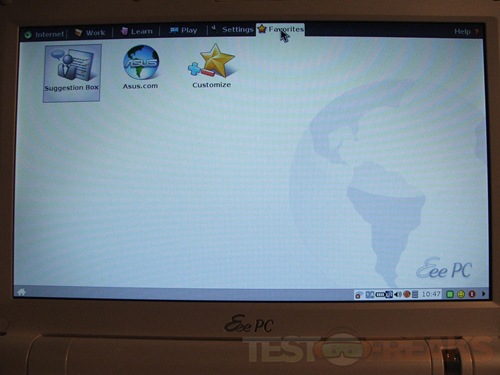 It comes with FireFox installed and it works as expected, it's a small resolution so on some sites you'll find yourself scrolling left and right but that's not took big of a deal really. The screen looks nice, and colors seem to be right on.
There's one huge glaring flaw though with the Eee PC, actually a couple and it's not necessarily the fault of the hardware, it's the operating system that Asus stuck on it (thankfully we can format the drive and install something else though). The operating system really does not allow you to uninstall the programs that it comes with, so if you have no need for them and would like to make space you're stuck with them even though you'll never use them.
Speaking of space, when you turn it on you'll find not much, with 182mb free, and well considering it's only a 4gb SSD there wasn't much space to begin with. Luckily though you can just stick a memory card in the reader to expand the storage or you could just go and get another SSD and replace the small one.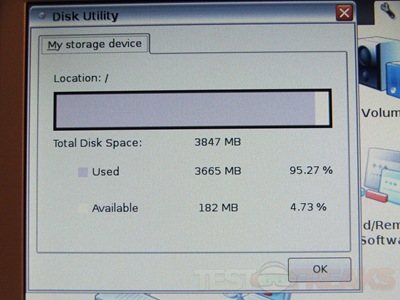 The next major problem is that Asus, in it's infinite wisdom, decided to set automatic updates on by default and to download all of the updates, even those that aren't for the 900A… I can't figure out why they did that. So someone buying the 900A turns their computer on, hooks to the internet and quickly finds that their computer is bogged down and running very slowly, we're talking to the point it's pretty much unusable. I ran into pauses of 10, 15, 20, even 30 seconds before the system would respond. Why did this happen, well the SSD is now full of updates that you didn't ask for and some you don't even need because as soon as you connected to the internet it went and downloaded all of them to your little computer. Some of them aren't even for the 900A, but yet it downloaded them and I can't find a way to get rid of them either, so there they are taking up precious space on the SSD.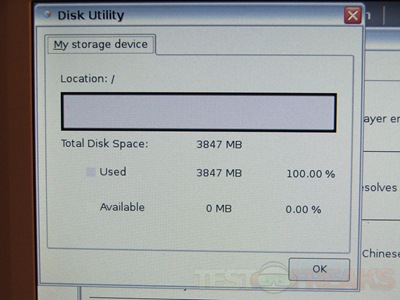 Keeping the computer up to date is important of course, so you go and install the updates only to find you can't because there's no room for them!
I've done a bit of research and I'll be installing a new OS on the Eee PC very soon, not sure which one, it might be a Linux variant like Easy Peasy or maybe even Windows, yes you can even install Windows 7 on here with a few tweaks before the install.
Best advice is to turn off Wi-Fi as soon as you turn the Eee PC on, then go in and change the settings for updates to not download them automatically, this will save you space but not much, you'll certainly want to get an external storage device or just a memory card to use for more space. The best things to do of course would be to install an operating system that gives the you much more freedom as to what you can install and uninstall.
Again this stuff isn't the fault of the PC, only the OS that Asus stuck on it. Once you get it configured correctly and play with the settings it's a nice little machine that can be useful and lots of fun.
I connected to my home Wi-Fi with no problems at all, that works fine.
The speakers however are not the best sounding, they are loud but at high volumes they do become distorted and just downright annoying.
The picture on the LCD is nice, as good as it gets for 1024×600 resolution, but the colors are bright and correct.
The keyboard looks big, but the keys are small, at least for me, they seem very tiny and I found myself hitting other keys and I was back to hunt and peck typing.
The touchpad is fine, nothing wrong there and the buttons work fine as well.
Conclusion:
The Asus Eee PC 900A is a nice little computer really that can be lots of fun and even useful, it's not going to replace your desktop or even a high end laptop, but for basic stuff it works well.
There are problems with it, but they can be easily remedied by either upgrading the hardware or installing another operating system, there are many sites out there devoted to this little netbook with a wealth of information on how to make the most of it and get it running much better.
Pros:
+Integrated memory card reader to add more space
+Easy to use
+Inexpensive
+Lightweight and portable
+Even though it's a refurb it looks brand new
+Can be upgraded easily
Cons:
-Very limited space
-Cannot uninstall updates and many of the programs you might not want or need
-Auto update downloads all updates and fills drive
-When drive is full system slows to a crawl and becomes unresponsive for tens of seconds at a time
| | |
| --- | --- |
| Grades: | |
| Overall | |
| Design | |
| Performance | |