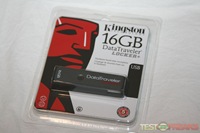 USB Flash drives are a great way of carrying around portable data. However, keeping this data safe from prying eyes usually requires some form of security; whether it is password or encryption protection. In most cases, hardware encrypted USB Flash drives are the most secure way of locking up ones data. Of course these drives can be rather expensive. Thankfully, Kingston has released the relatively affordable DataTraveler Locker+ USB Flash drive, which features hardware-based encryption.
With the DataTraveler Locker+, Kingston implements a 256-bit AES hardware-based encryption to protect its contents. To keep this data safe, the DataTraveler Locker+ will lock down and reformat after 10 intrusion attempts. Now if you lose or have your USB Flash drive stolen, the encrypted data is protected from ever being accessed. The DataTraveler Locker+ is totally encrypted requiring a password to be entered each time the drive is plugged into a computer. Kingston makes a similar model called the DataTraveler Locker which allows the user to create both a secure and unsecure partition. On the DataTraveler Locker+ there is not unsecure partition.
The DataTraveler Locker+ is available in 4, 8, 16 and 32 GB sizes and does not require administrator access or any installation of software to run on Windows machines. It also works on Macs running OS X (10.4 or higher).
The Kingston DataTraveler Locker+ comes on a blister card with the standard Kingston packaging. On the back of this card is a list of features and an OS compatibility table. What separates the DataTraveler Locker+ from other hardware-encrypted drives is the Mac OS X 10.4-10.6 capability. As a dual OS user this is a terrific feature; thank you Kingston for the Mac love.
Inside the packaging we find the drive, a lanyard and the white backing card.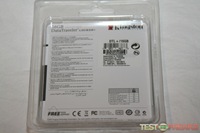 The DataTraveler Locker+ should look very familiar to the owners of the DataTraveler 400 as the USB housing is identical. The device measures 65.76mm x 17.98mm x 10.7mm is a swivel design which eschews the cap solution. Another nice touch by Kingston as I tend to lose USB Flash drive caps rather quickly.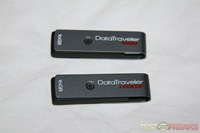 DataTraveler Locker+ is composed of a gunmetal grey aluminum exterior, which swivels off the actual drive that is covered by a black rubber material. The aluminum housing has an opening at one end for attaching the included lanyard.
Markings on the drive include the DataTraveler Locker+ name and drive size on one side and the Kingston logo on the other. Next to this Kingston logo is an opening for the operating LED found on the black portion to shine through.
Specifications:
DataTraveler Locker+ 16GB USB Flash drive
Kingston's DataTraveler Locker+ USB Flash drive is ideal for people and organizations that require the most secure way to store and transfer portable data. It uses hardware encryption to safeguard 100 percent of stored data in case the drive is lost or stolen. No need to worry about sensitive and personal documents ending up in the wrong hands. DataTraveler Locker+ also provides a fully customizable security policy.
Kingston's DataTraveler® Locker+ USB Flash drive is designed for organizations that require a secure way to store and transfer portable data. One hundred percent of the stored data is secured by hardware-based encryption to guard even the most sensitive data in case the drive is lost or stolen.
Features/Benefits:
-Full Encryption — 100 percent of stored data is protected by hardware-based encryption
-Secure — drive locks down and reformats after 10 intrusion attempts.
-Enforced password protection — complex password issuer set with minimum characteristics to prevent unauthorized access
-Easy to use — no admin rights or application installation required
-Guaranteed — five-year warranty and 24/7 tech support
Specifications:
-Capacities — 4GB, 8GB, 16GB, 32GB
-Dimensions — 2.58″ x 0.71″ x 0.41″ (65.76mm x 17.98mm x 10.7mm)
-Simple — just plug into a USB port
-Guaranteed — five-year warranty
-Minimum System Requirements —
–USB 2.0 compliant and 1.1 compatible
–Two (2) free consecutive drive letters required for use+
For testing the DataTraveler Locker+ I used my MacBook Pro running Snow Leopard (OS X 10.6) and my Desktop PC with Windows 7 64 Bit Professional installed. Upon insertion of the Kingston USB Flash Drive we see a 9MB file named DTplus appear on the desktop. This is a read only file and is recognized as a CD/DVD file type to prevent erasure. On Windows machines the file should autorun and start the setup process, while on the Mac side the user needs to manually open the folder and start the installation from the Mac subfolder.
Setup takes less than a minute and involves selecting the default language, accepting the License Agreement and finally choosing a password. Kingston requires the password to be 6 to 16 characters long and contain three of the following: upper case letters, lower case letters, digits and special characters. Before the initial format Kingston allows Contact Information to be entered. Once the format is completed we see the 16GB drive on either the Windows or Apple machine.
Initially when I first plugged in the DataTraveler Locker+ into my MacBook Pro, I was unable to execute the DTLocker+ application and received the following error:
After some investigation I found the System Preference program USB OverDrive caused a USB conflict and once I uninstalled this program and rebooted I was able to use the DataTraveler Locker+. So if you are running any third party programs and have issues with installation or reading the USB drive, check to see if anything is tied to the USB control.
Every time the DataTraveler Locker+ is plugged into a Windows or OS X machine, the password needs to be entered to access the contents on the drive. From the Dock in OS X and the System Tray on Windows we find the DTLocker icon from which settings can be changed, the drive can be formatted or unmounted.
To compare the speed of the DataTraveler Locker+, I pitted it against some recent large capacity USB Flash drives including the DataTraveler 400 (16GB) (a password protected but not encrypted drive), Corsair Voyager 16GB and the OCZ Rally2 64 GB drives.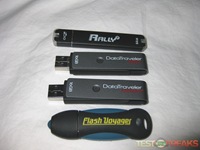 For testing I used DiskBench running the copy and read bench marks. As you can see the DataTraveler Locker+ was actually faster than the others on both benchmarks with the hardware encryption running. This was quite surprising, so I ran another set of benchmarks with the same four drives.
For the second test I used HD Tune Pro 4.0 running the Read benchmark. The two Kingston Drives ran at similar speeds while the Corsair and OCZ drives were slightly slower. None of these drives are designed for speed performance but for everyday use. The DataTraveler Locker+ seems to hold its own and actually stands out against these drives even with the hardware encryption running.
Since the ENTIRE USB drive is encrypted, a password must be entered each time the drive is plugged into a computer. This may be a hassle to some, but for true security there is no way around this.
Of course for security and protection that is found in the Kingston DataTraveler Locker+ there is a premium to be paid and that is the price of the actual device. It is generally more expensive than similar capacity flash drives. But for this price you are getting security, cross platform capability and Kingston's five year warranty.
The main drawback to the DataTraveler Locker+ is that it will not work with Linux. Hopefully Kingston will remedy this issue in the future for Linux users making this the optimal cross platform USB Thumb drive security solution.
Conclusion:
When grading the Kingston DataTraveler Locker+ against non-encrypted competitors it is a very good USB Flash Thumb drive. But once the security feature is taken into account the DataTraveler Locker+ becomes a phenomenal USB drive. The hardware encryption allows the Kingston drive to work in numerous computing environments including OS X and Windows machines without administrative access.
It is a 100% secure drive and all the contents within are protected by 256-bit AES hardware-based encryption. If you prefer to have a public and private partition then the Kingston DataTraveler Locker would be advised. However for the the truly security obsessive such as myself and business environments then the Kingston DataTraveler Locker+ is an ideal solution.
Pros:
+Hardware Encryption (AES 256-bit)
+Works with both Windows and Mac
+Excellent performance
+Rugged and well designed
+Capless design
+Simple setup
Cons:
-Linux users need not apply
-Pricey
| | |
| --- | --- |
| Grades: | |
| Overall | |
| Design | |
| Performance | |
This product was given to technogog for review by the company for review purposes only, and is not considered by us as payment for the review, we do not, and never will, accept payment from companies to review their products. To learn more about our review policy please visit this page HERE.