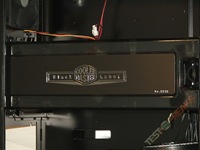 We as human beings all have an inherent want, need or desire to be special. Let's face it there are billions of us floating around out there, and I think most of us feel the need to be differentiated from the rest, we don't want to be 'normal' we want to be known, we want to be popular, we want to feel special. That's one of the reasons sites like YouTube and Viddler are so popular, the aim of those sites really is to give people their chance at fame, and maybe even fortune. If you look around there are many products that are produced in a limited run or special edition, and they usually sell very well because people want to feel different, having something that only a few people have will make them feel that way. It does feel nice to own something that is a limited edition, people will proudly tell you that it's special, whatever it is, it's special because only a few people have one. It gives us bragging rights, and especially in a society that is so materialistic as ours is, this counts for quite a bit to most people out there.
One of the perks of being a reviewer is getting special things, and getting products before 'normal' people do, it does feel great, but it wears off after the first 30 or 40 of them for the most part. I've reviewed quite a few products in my time, and most are given away to friends and family, or they sit in their box in my attic as a spare part for later use, but even after doing so many reviews there are still products that I do get excited about, those that are just exceptional and you feel honored that you were picked to get one for review, that's what I have today, one of those products. It's actually part one of three reviews of a limited edition set.
So today I've got the Limited Edition Cooler Master Black Label Cosmos Case for review, and it by far exceeds all of the hype surrounding it. The Black Label set is limited to 500 sets worldwide, so getting one kind of puts you in an exclusive club in terms of rarity of the set, but it also gives you one of the finest PC Cases ever made, the Cosmos 1000, done in all black of course. The Cosmos case is an amazing product in terms of usability, size and the quality of the craftsmanship, it truly is a site to behold.
As I mentioned this is part one of a series of three reviews for the Black Label series, the set includes limited edition case, power supply and CPU cooler. I've got a long video unboxing and tour of the case along with several still pictures as well, so read on to see what it's like to be part of the club…

The video I have for you today is both unboxing and product tour, it's a hair over 21 minutes long… I tried to shorten it a bit but there's just too much to cover… it's only 640×480 resolution, I shot it in 720p but it was just too large to upload to Viddler, so I had to reduce the resolution, but sit back, relax and enjoy:
The case was packaged very well, I like the back that it was in, a nice touch
The case features a window on the left side, it's smoke colored so you'll need a lighting source inside to show off your components really. The right side is just a plain black with a brushed texture to it.
The front has a door that can be removed if need be, and it can also be reversed to open left or right, behind the door we find five 5 1/4" bays and one 3.5" bay. The bay covers are a mesh screen to allow airflow into the case.
The top of the case is where you'll find all of your I/O ports like USB, eSATA, FireWire and Audio and of course Power and Reset buttons along with LED indicators.
The top of the case has rails for handles, and there are matching one on the bottom as well that serve as feet. On the back of the top is where you'll find the louvers for the two 140mm top mounted exhaust fans inside of the case.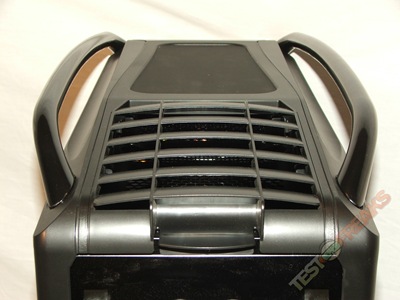 The bottom of the case also features ventilation with two removable filters.
On the back of the case you'll find the standard stuff, I/O port, PCI slots and ventilation. This case is a bottom mounted PSU style case, and there's an addition of rubberized ports for tubing for water cooling there at the top as well. To the right and left of the liquid cooling ports are the latches for the side panels, pushing up on them unlocks the panels for easy access.
Specifications:
These are the basic specs for the Cosmos 1000 case, you can find all the info on the Black Label site.
Dimension: (W) 266 x (H) 598 x (D)628 mm
Weight: 37.2 lbs ; Gross Weight : 41.6 lbs
Material     Chassis: Steel, Appearance: AL
Motherboards: Extend ATX (does not support Dual Xeon Nocona), ATX
5.25" Drive Bay: 5 Exposed (without the use of exposed 3.5 inch drive bay)
3.5" Drive Bay: 6 ( Hidden ) ; 1 Exposed (converted from one 5.25 inch drive bay)
I/O Panel: USB 2.0 x 4, IEEE 1394 x 1, Audio x 1, SPK x 1, eSATA x 1
Cooling System: Bottom fan ( intake ) :120 mm x 1, 1200 rpm, 22 dBA (included),
Expansion Slots: 7
Warranty: 2 years
Other : Tool Box

Moving to the inside of the case, the doors come off very easily, there are switches on the back that you push up to unlock the doors and they just sort of fall off and down. The first thing you'll notice is the wind tunnel bar that goes across the side, it has the Black Label logo on it along with the edition number of the case, this is removable if need be, but it serves to help cool the video cards actually. There's a white piece of paper attached to the motherboard tray when you first receive it, this has the layout for the mobo stand offs for the styles of boards.
In the front of the case of course you'll find your drive bays, these are tool-less, push-button, so installation is easy.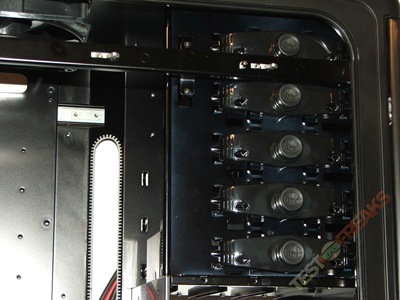 Below that are six hard drive bays, with removable tray, the trays also have silicone vibration dampeners built into them.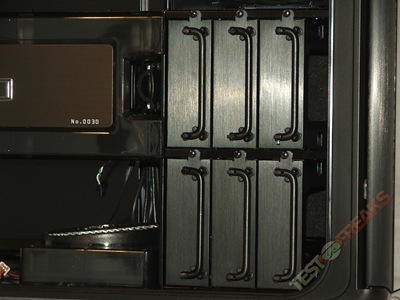 Behind the hard drive bays is a bottom mounted 120mm fan with airflow that can be directed with the use of louvers mounted on a swivel top.  The PSU mount is rubber padded to dampen vibrations and beneath that is the rear fan filter we saw earlier, so you mount the PSU fan side down basically so it draws cool air in and then exhaust it out of the case, thus minimizing heat in the case.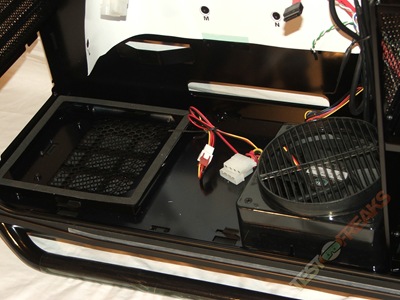 There's also a rear mounted 120mm exhaust fan, along with the two 140mm fans that are on the top. There are no front intake fans, this case uses the exhaust fans to pull air in from the front and out of the case.
Here's the accessories that came with it, nice little set of key-like screwdrivers and I really like the power extension for the motherboard 12v line, and they even included several zip ties along with belt style cable tie downs, all inside of a nice little accessory storage box.
Getting a system in there is easy to do as there is plenty of room to work with, the motherboard tray is not removable though, something that doesn't bother me at all really, but some people might not like that. The only real problem with installation I had was near the top, trying to get the power connection and the middle and top left motherboard screws fastened. The bar that goes across the case to secure the side panel really gets in the way making it very hard to get everything secured, it wouldn't be bad but you've got to install the CPU cooler to the mobo first before installing it into the case as it secures from the back of the mobo, so the cooler is really in the way. (Sorry about the wiring job in the pictures, but I'm anticipating upgrading to Corei7 platform shortly and didn't want to make everything look nice only to undo it all in a week or so.)
As mentioned earlier, the set also includes matching power supply and CPU cooler, both of which will be looked at in their own reviews shortly.
The case is a beast in terms of size and weight, when empty it is heavy and when you've got a system in it it's even heavier yet, but that's a good thing as no one is going to be walking off with it, then again you won't be transporting it too often either.
I like the fact that the door can be switched to either side, or removed totally, and it can be done very easily as well with the push of a button basically.
I was a bit worried that with all the fans in there it might be loud, but it isn't, I was pleasantly surprised by just how quiet this case is.
As for temperatures it seems to cool well, the temperatures of my video cards seemed the same as with my last case, an Ultra M998.
The side window is nice, but being a smoke colored, it makes it hard to see inside unless you've got some lighting source in there.
One small complaint I do have is dust, the case attracts dust like a magnet, I can wipe the side window and 5 minutes later is a layer of dust on it again, that goes for the glossy front door as well.
The Cosmos case is extremely well made, you can instantly see the quality and careful craftsmanship that went into designing and manufacturing it, it truly is a work of art, and the nicest case I have had the pleasure of reviewing to date honestly.
I am very thankful that I was asked to review this product by Cooler Master, it will be put to good use everyday as a home for my main system.
Conclusion:
The Cooler Master Black Label Cosmos case is an exquisite product that anyone would be proud to own.
Sure the Black Label set does come at a premium price, but it's well worth it for the honor of owning only 1 of 500 pieces available in the world. The set itself brings quality craftsmanship and exclusive status to your desktop, something that most anyone would be proud to claim.
Limited Edition aside, the Cosmos is an excellent product, with more than enough room for any system and the cooling power to keep even the most overclocked systems nice and cool.
If you can get your hands on one of these, then I highly suggest you grab one, for not only the exclusivity of it but more for the quality of it.
Pros:
Limited edition set
Nice extras included
Very well made
Quiet case
Lots of room inside
Excellent cooling abilities
Cons:
Very heavy
Expensive
Can't use hard drive fan if all 5.25" bays are used
Installation can be difficult at times
| | |
| --- | --- |
| Grades: |   |
| Overall | |
| Design | |
| Performance | |