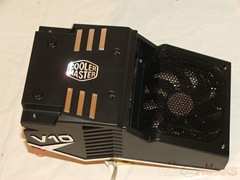 The temperatures of our systems are always something we worry about, especially our CPUs, with summer just around the corner bringing higher temperatures, it's time to clean out those cases and maybe even get a new CPU cooler to make sure it stays cool. PC Cooling isn't just for enthusiasts anymore, even the average Joe knows that he needs to make sure his system stays cool to operate at maximum efficiency.
Up on the review block today I've got a massive CPU cooler from Cooler Master, this isn't just any cooler though it features a TEC that kicks in when the temps get high. The V10 is large, it features three different heatpipes coolers inside the stylish shroud, and it extends or your ram slots to help keep them cool as well. The V10 is a cooler that will make sure your CPU and ram stay nice and cool during the hot summer months.

We'll start off with an unboxing video for you, check it out and move on:
and here are several still pictures for you:
Specifications:
Extreme Innovative Engineering Design
-Design and construction is inspired by today's supercharged engines, producing enough power and torque to give full control of the massive heat produced by the latest CPUs
-Generates more than 200W+ cooling power, Cooler Master\'s V10 over powers any cooling engine on the market
-Compatible with the newest socket (LGA1366)
-Full coverage of DRAM & CPU cooling for best cooling performance
Optimal Cooling Technology
-Unique triple heat sink design for supreme cooling performance
-10 heat pipes (6 for main body; 4 for TEC) maximize heat transfer
-Dual PWM fan ensures huge airflow over the heat sinks
-Full coverage of DRAM & CPU for best cooling performance
Hybrid TEC Solution
-TEC is intelligently activated once CPU reaches extreme temperatures
Model: RR-B2P-UV10-GP
CPU Socket: Intel LGA1366 & 775, AMD 754/939/940/AM2
Dimension:(L) 9.32 x (W) 5.11 x (H) 6.36 inches
or (L) 236.5 x (W) 129.6 x (H) 161.3 mm
Weight: 2.65 lbs
Heat Sink Material: Cu base, AL fin, 10 heatpipes
Heat Pipes Dimensions     6mm
Fan Dimension: (L) 4.73 x (W) 1.00 x (H) 4.73 inches
or (L) 120 x (W) 25 x (H) 120 mm
Fan Speed: 800~2400 R.P.M
Fan Airflow: 90 CFM (max)
Fan Air Pressure: 2.94mm-H2O
Bearing Type: Rifle Bearing
Fan Life Expectancy: 40,000 hours @ 25 ?
Fan Noise Level (dB-A): 17 dB-A (min)
Connector: 4-Pin
Fan Control: PWM
Operation Temperature: 25 ~ 70 ?
Power: 70W (max)
Rated Current: 9.8A (max)
UPC Code: 884102003295
I installed the Cooler Master V10 in my main system with an Intel C2Q 9650 CPU, in a Cooler Master Black Label Case. Now I really didn't have any issues with the size of the V10, but if you've got a small case you might run into problems.
You motherboard will need to be removed from the case for installation, there's no doubt about that, even if you have removable motherboard tray you'll still be doing quite a bit of work.
The first things you'll need to do is install the correct mounting hardware, for me it's the LGA775 variety, this is easy, a few screws and rubber washers and you're done.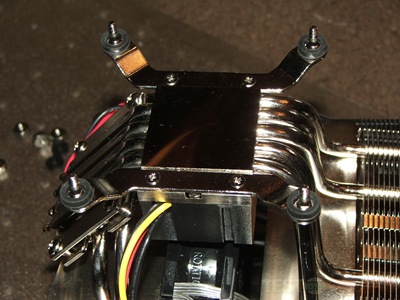 With my particular EVGA board, there's a funky little chip on the back that gets in the way when installing back plates, luckily though Cooler Master thought of that and included an alternate method of installation using nuts on the back of the board.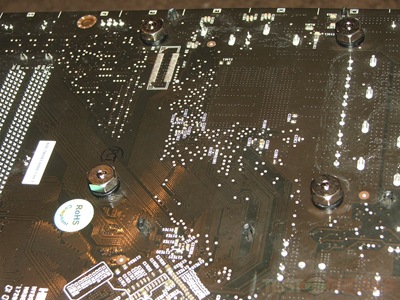 Here it is installed in my case, you can see it's big and takes up quite a bit of room.
I did run into an issue with getting the motherboard secured down, the screws along the top edge are very hard to reach once the V10 is mounted, especially those underneath the V10 near the ram slots, it took a bit of work to get those tightened down.
Since the V10 is so large, it also comes very close to the chipset fan on my motherboard, if yours is larger then you'll have a real problem, and those sticks of ram with large heatsinks on them will most likely not work either.
Before I installed the V10 in my system I was using the Cooler Master Black Label Hyper Z600 cooler, so I figured why not compare those to each other. The Hyper Z600 is a very good cooler in itself, it cools well, but the fan can get loud under load, something I don't like.
Onto the testing, ambient room temperature was 25.2C (+/- .3C).
To get load on the CPU I used two instances of Orthos Stress Prime with affinity set to the four cores so each instance used two cores for full 100% load on the CPU. I used CPU-Z to log the temperatures and I averaged them out to get a single temperature for the graph below.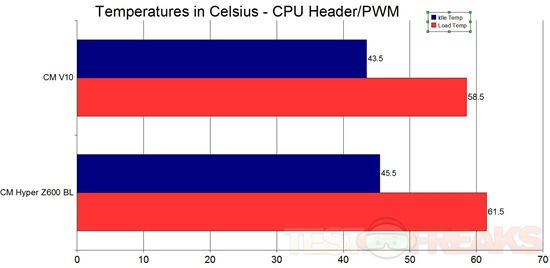 As you can see the V10 does drop the temperatures a bit, about 2 degrees over load and idle. I was also expecting the V10 to get loud under load but it didn't, it was the same volume under idle and load, which is fairly quiet.
Since this is such a large cooler with a TEC involved I was expecting a larger temperature difference, but you have to take into account the Hyper Z600 is also a good cooler in its own right.
Conclusion:
The CoolerMaster V10 is a great CPU cooler overall, it will do well at keeping your CPU and ram cool even in the hottest of environments and loads.
Yes it is big, being so large it can make installation take longer and bit rather difficult. The V10 is not a cooler for small cases, and it won't work if you've got a large chipset cooler or ram with large, tall heatsinks. These are things that you'll need to take into account before purchasing.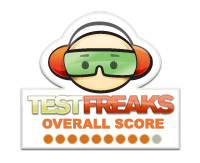 Pros:
+Well made
+Good cooling
+Quiet
Cons:
-Large and heavy
-Can be difficult to install
| | |
| --- | --- |
| Grades: |   |
| Overall | |
| Design | |
| Performance | |