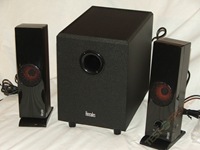 If you've read any of my headphone reviews then you'll know that I'm a fan of music that sounds good, I pride myself on having an ear for sound, what's good and what's not. I've always been sort of an audiophile, especially before I had children, when I was on my own I had a fairly decent sound system with Denon components and Creek speakers, sounded very nice, this was way back when the CD player first came out and was going mainstream really. I remember paying $600 for my first portable CD player, from Denon of course, and even component CD players were costly as well still really, but anyway, the point is I like my audio to sound good and I try not to deal with inferior sounding audio if I can help it.
Today for review I've got the Hercules XPS 2.1 50 Speaker Kit, it's a 2.1 audio system, meaning it has two satellite speakers and a subwoofer. In my time with them I've found them to be decent sounding overall, but lacking a bit for my tastes really. The do look nice and they'll fit in with most any home entertainment system of PC setup, so read on to learn more…

Of course I've got a video for you, check it out and the still pictures and continue on:
The right speaker is where you'll find the optional audio input and the headset jack, the satellite speakers have orange colored cones making for a nice appearance.
The subwoofer is kind of small really, but it does offer good bass. On the back of the sub you'll find connections for the left speaker, bass control knob and the power input.
Specifications:
Hercules XPS 2.1 50 2.1 Speaker Kit
Great sound with a great new look XPS 2.1 50!
Technical specifications:
* 2.1 speaker kit: 2 satellites + wooden subwoofer
* Exclusive design selected by consumers in a European poll: brilliant black lacquer, with subtle and vibrant orange driver cones and LEDs
* Total output power: 32 Watts RMS (2 x 8W +16W)
* 2 wide-band satellites, magnetically shielded so as not to disturb your environment + ported wooden subwoofer
* Volume control on right satellite, LEDs around the control knob simulating a halo of light
* Stereo headphone output (the speakers are automatically disabled when headphones are connected)
* MP3 player line in plug on right satellite
* Removable speaker bases + wall mounting system
* Bass control on subwoofer and on/off switch
* Satellite dimensions: 20cm H x 5.8cm W x 5.5cm D
* 1.8 meter cable to connect to your audio source
Box contents:
* 2 magnetically shielded satellites
* One wooden subwoofer
* Connection cable to your audio source
* 220-240V power cable
* Warranty certificate and paper User Manual
Minimum configuration:
-PC with sound card
-Mac
-MP3 player
-CD/DVD player
-TV set
-Game console
Price: $40+ (Depending where you look)

Once you have the speakers hooked up and turned on there is an orange LED ring around the power/volume control knob on the right speaker, other than that there's nothing special to see.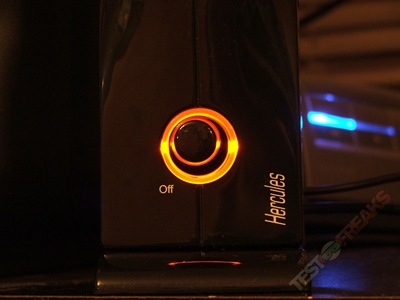 For testing I hooked it directly up to my home stereo so everything played through them, I did have to go and buy a 3.5mm to 3.5mm adapter and a 3.5mm to RCA cable to make it work correctly.
So once it was hooked up everything played sound through them, XBOX360, PS2, DVD player, TV, and even my VCR (yes I still have a VCR).
I really like the look a of the Hercules XPS 2.1 50 speakers, the shiny black with orange accents looks very nice, and the overall design is very aesthetically pleasing.
When hooking the speakers up I found the cords to be long enough to go around my 27" television to sit on either side, but there wasn't much more wire left after that, so if you've got a larger TV then the wires may not reach. The main reason is because both wires are connected to the subwoofer, my entertainment center is setup close to the wall, so I had to put the subwoofer off to the right a bit, thus making it longer to reach the left side than the right side.
For testing these speakers of course I played music, watched a few movies and jammed out on Guitar Hero as well.
The bass is nice, it's very strong and deep, it really adds a lot to the total experience, but the satellite  speakers leave a bit to be desired in terms of sound quality. The satellites only have one speaker in them, a mid-range I would presume, so they do a decent job but not the greatest at sound and music reproduction, specifically the high notes seem to be missing. If you turn the subwoofer all the way down, of off basically, and only have the satellites on then it's very bland sounding, very flat overall. Treble or highs are something that I very much like in my music especially, and that's something that I look for in speakers or headphones, with these there really isn't any to be heard, at not very high.
Overall it's not a bad set of speakers but don't expect fully accurate musical reproductions from these, they're not bad, but they're not that good either, at least for my musical tastes, others might not care too much though as everyone has their own tastes.
Conclusion:
The Hercules XPS 2.1 50 2.1 Speaker Kit is not a bad product, especially if you consider they can be had for around $50, for that price they deliver decent sound.
For me personally they just don't cut it, they sound a bit flat to my ears, there's just not enough treble or highs in the music and or audio.
Pros:
Seem well made
Decent sound overall
Inexpensive
Good bass
Cons:
Highs not very pronounced
Additional Cost -Must buy adapters for certain configurations
Cords are a bit short
| | |
| --- | --- |
| Grades: |   |
| Overall | |
| Design | |
| Performance | |