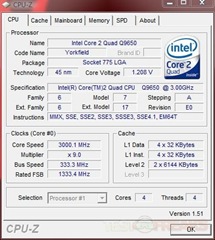 Having computers means, at least for me, that I need to know everything about it, and there are several ways of going about getting that information, some easier that others. Today I've got a brief review for you of a great program that I've personally been using for a few years now, it's called CPU-Z. I've come to think of CPU-Z as an invaluable tool that is must have for most anyone that owns a computer. CPU-Z can tell you quite a bit about your computer and not just information about your CPU as the name suggest, you can learn about your memory and motherboard as well. It also features a validation for overclockers out there, so if you've got a nice overclock that you're proud of it can be officially validated so everyone knows you're not faking it. One of the best features of CPU-Z is that it's free, so continue on to learn more about it…

CPU-Z is a small program, the installer is only 1.96MB. When you first start up the program you're greeted with the information about your CPU. As you can see below I've got an Intel Core 2 Quad Q9650 running at 3GHZ. In the main window you can learn quite a bit about your CPU, the Core Technology, Core Voltage, Family, Stepping, Modal, Speeds, and the Cache sizes, along with other basic information.
Across the top are six tabs Labeled CPU, Cache, Mainboard, memory, SPD and About, they're all pretty much self-explanatory in what they mean though. When you first start the program, it starts with the first CPU tab. The next tab is Cache, which tells you a bit more information about the cache of your CPU.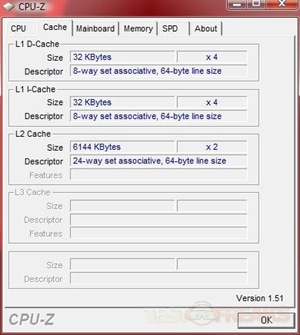 The next tab is Mainboard, which tells you information about your motherboard like model, chipset, BIOS and Graphic Interface.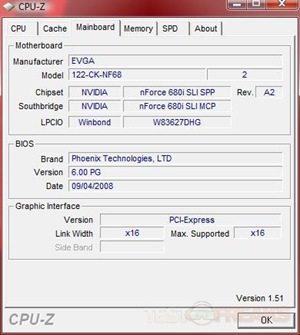 The fourth tab is memory, and you could combine both the 4th and 5th tabs as they contain information about your memory. The Memory tab though gives you the type of ram you have, size, and it tells you the speed along with the settings as well that you have your ram set at. The memory tab is very useful in checking to see if your memory is running at it's rated speeds.
The SPD tab goes into a bit more detail about your memory, telling your manufacturer and model numbers along with what speeds your ram is meant to run at. One note though is that not all memory will show all of the information, it depends on the memory if it will display it or not. If you've got more than one stick of memory in your computer, there's a drop down box on the left side so you can view each stick separately.
The last tab is the About tab, it tells you the version you're running along with links to CPUID, and your Windows Version. It also has a section for tools as well, Registers Dump, HTML Dump and a Validation button.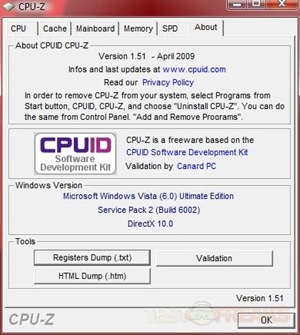 Specifications:
CPU-Z
CPU-Z is a freeware that gathers information on some of the main devices of your system.
CPU
* Name and number.
* Core stepping and process.
* Package.
* Core voltage.
* Internal and external clocks, clock multiplier.
* Supported instructions sets.
* Cache information.
Mainboard
* Vendor, model and revision.
* BIOS model and date.
* Chipset (northbridge and southbridge) and sensor.
* Graphic interface.
Memory
* Frequency and timings.
* Module(s) specification using SPD (Serial Presence Detect) : vendor, serial number, timings table.
System
* Windows and DirectX version.
Special Keys:
The F5 key allows to save a screenshot as a bmp file in the application directory. These are named cpu.bmp, cache.bmp, mainboard.bmp and memory.bmp.
The F6 key copies the current page in the clipboard.
The F7 key saves the validation cvf file in the current directory.
The F9 key switches between CPU clock computation methods.

The validation part of CPU-Z can be done a couple ways, if you've got an internet connection it can be done automatically for you at the push of a button, or you can do it manually by dumping the information to a file and then submitting it to the validation web page. You'll then get an ID that you can input into CPU-Z to validate your information.
I used the automatic validation, I didn't overclock or anything, I normally don't anymore,I le my system to be stable, and 3ghz is fine for me.
Here's the validation webpage that you'll see once you hit submit: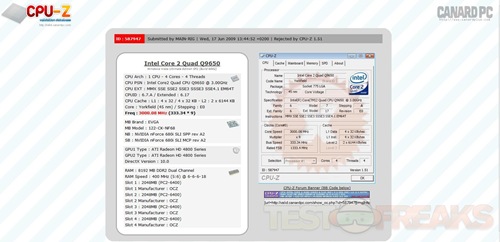 and here's the link to it: http://valid.canardpc.com/show_oc.php?id=587947
Conclusion:
CPU-Z from CPUID is one of the easiest and most useful tools out there for getting to know more about your computer. It's an excellent program overall that anyone can find useful.
The fact that the program is free is an extra added bonus as well.
Pros:
Small size
It's free
Lists more information that just CPU
Very easy to use
Validation for overclocks
Cons:
None
| | |
| --- | --- |
| Grades: | |
| Overall | |
| Design | |
| Performance | |