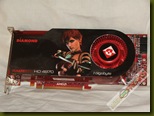 With new games popping up all of the time, sometimes we need to upgrade our video cards, especially with the latest version of Crysis our now. Crysis fans will want to play Warhead with all the settings maxed to really enjoy it.. but is there a card that can handle Crysis?
Up on the review block today I've got a Radeon HD video card from Diamond, this card includes 1gig of ram to be able to easily play the latest games in all of their glory, but can it? I've put it up against Crysis and Crysis Warhead in my testing, running at several resolutions to give you an idea of the performance of this great card. So continue on to see the results…
Ok, First up we've got the Unboxing video for you, check it out and then continue on for the rest of the review:
Specifications:
Diamond – ATI Radeon HD 4870 PCIE 1024MB GDDR5 Video Card
SKU : 4870PE51G
The Diamond HD 4870 is a magnificent beast. A 956 million-transistor processing powerhouse, a technology statement and dream come true for enthusiast gamers hungry for the fastest GPU ever made. Featuring a 2nd generation unified shader architecture, massive processing power and an unprecedented 256-bit memory interface, HD 4870 will deliver astonishing performance and the richest feature-set yet for a big ultra-high definition gaming experience with all of the bells and whistles turned up to the max. The HD 4870 is quite simply a ticket to the future of PC gaming.
* Play the latest PC games supporting DirectX 10.1, the latest generation of gaming graphics.
* Work & Productivity Application
* Video playback and editing.
* HD video playback (Blu-ray and HD DVD) and editing.
* Everyday home computing applications (such as Vista, photos, standard videos, and games).
FEATURES:
* Superscale unified shader architecture
* PCI Express 2.0 support
* 800 Unified Stream Processors
* 256-bit memory interface
* Direct X 10.1 / Shader Model 4.1 / OpenGL 2.0
* ATI Crossfire X Multi-GPU Support for highly scalable performance
* Up to four GPU support with an AMD 790FX based motherboard
* High-speed 128-bit-HDR (High Dynamic Range) rendering
* Up to 24x Custom Filter Anti-Aliasing
* 55nm process technology
* Game Physics processing capability
* Support for the ATI Radeon DVI to HDMI adapter
* Unified Video Decoder (UVD) for Blu-ray and HD DVD
* ATI PowerPlay energy conserving technology
* RoHS compliant
* Built in HDCP Support
Performance:
GPU : HD 4870
ASIC Core : RV 770
Core Clock : 750 MHZ
GPU Architecture :
BUS : PCI Express x16
Ports : 2 Dual-Link DVI,Video Out [S-Video, Composite, HDTV] Stream Processors : 800
MFG Process : 0,055 µ
Transistor Count : 956 million
Cooling : Active – FanCooler
Memory:
Memory Clock : 900 MHz
Memory Configuration : 32Mx32
Memory Type : GDDR5
Memory Bandwidth : 160.9 GB/sec
Memory Size : 1024MB
Memory Interface : 256-Bit

Standard Slot Solution : DOUBLE
CrossFire : CrossFire X
QuadFire Support : YES
Direct-X : 8.0,9.0,10.0-10.1
Open GL : OpenGL 2.0
Display Support:
HDTV : YES
HDMI : HDMI 1.2 / HDMI Ready
HDMI MODE : Dongle
Native Display Support : 18-, 24-, and 30-bit
3D Resolution : 2560×1600
TV-OUT Resolution : 720
Well since this card is rather large, it does take up two slots, and it also uses two PCI connections, so depending on what else you've got in your system you might need to upgrade your power supply for this card. Me personally I run three monitors, which means two video cards. The Diamond 4870 has become my main card for my main monitor and the run two other monitors off of my trusty X1800GTO card, so that means I need three PCIE power connections, I recently got a Corsair 7540TX power supply, which has four so I didn't have any problems in that area.
The Diamond 4870 can get a bit loud when under load, and over the past week or so I've stressed this card a lot! I got Crysis Warhead for review and I played that for hours at a time as high as possible settings, and I ran benchmarks for hours on end, for several days, so it got quite a bit of a workout, more than most people will use the card in a month or more. So yes it can get loud, but that's relative to me, I personally like my system as quiet as possible, and it's a bearable loud for me, others most likely won't care at all about the sound level.
So, before I got the Diamond 4870 I was running two EVGA 8600GTS cards in SLI for my gaming, out of curiosity I ran 3dMark06 to get a comparison:
So you can see it's a nice improvement over the older generation of cards…
My system is:
EVGA 680i SLI Motherboard
Intel Quad Core 6600 -Non overclocked
4 gigs of ddr2 ram
Vista Ultimate 64bit
and of course the usual stuff, hard drive, dvd/rw..
First up for testing I've got Crysis, Crysis Warhead and Lost Planet DX9 and DX10 performance, I ran all tests for all of the games in testing three times and averaged the results out.
Crysis DX9 (1280×1024 and 1600×1200 Resolutions – 16xQ AA used for all testing)
As expected when using 1600 Resolution performance does take a hit, but it's still playable.
Crysis DX10 (1280×1024 and 1600×1200 Resolutions – 16xQ AA used for all testing)
Running DX 10 we see a performance hit as can be expected, with average FPS under the optimal 30fps that we would like to see, but it's easily fixed just by dropping the AntiAliasing down a bit.
Next is Crysis Warhead, I've also included 1024×768 Resolutions as well for this testing.
Crysis Warhead DX9 (1024×768, 1280×1024, 1600×1200 8xAA)
Crysis and Crysis Warhead are both hard on graphics cards, obviously running maxed settings at 1600×1200 is a bit out of the question, you can though of course tweak things a bit and get it to work fine for you. Running at 1290×1024 on Enthusiast it only takes dropping the AA down a bit to make the average FPS get above the optimal 30 we'd like to see. It still looks very nice, and is playable.
Crysis Warhead DX10 (1024×768, 1280×1024, 1600×1200 8xAA)
Here is something odd, and I'm guessing it has to do with what Crytek did to optimize the coding, DX10 actually performs a bit better on average than DX9 does.
and here's Lost Planet, I know it's a bit old, but it's graphically intensive, the 4870 has no problems handling it at all. All the setting are maxed for both DX9 and DX10 testing.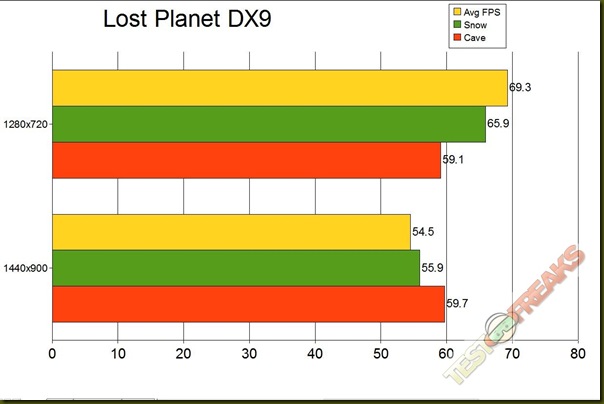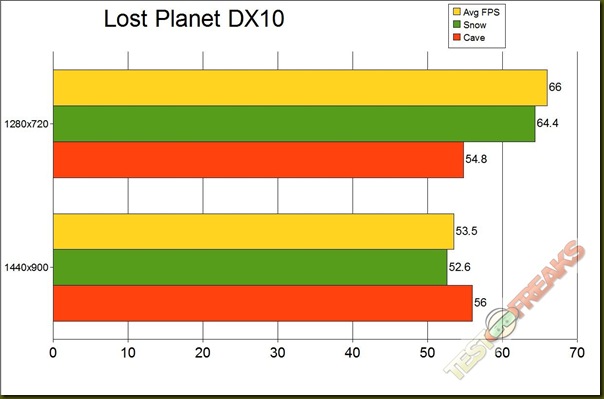 Lost Planet is more than playable at any resolution in either DX9 or DX10…
Now with all of these results, the average we're looking for is above 30FPS, that's playable, but of course there are still slow downs at some points in the game, depending what's going on.
Playable to me means the frame rate NEVER drops below 30fps at all, where the minimum is 30fps or above. To get that requires sacrifice in quality of course, at this point I don't know many cards that are capable of playing Crysis or Warhead at full settings and never dropping below 30fps.
So if you're thinking about upgrading go for the card with the higher memory, I was looking at comparisons and it's about $40-$50 more for the full 1gig from the 512MB version, of course depending on which brand you get.
Images
Conclusion:
The Diamond 4870 1gig Video card is an excellent choice if you're looking for a high end graphics card, it performs well in both DX9 and DX10 on the latest games with no problems at all.
Yes it can get loud when under load, but it's relative to what sound level you personally can stand coming from your system, really it's not that loud at all.
Pros:
-Well made
-Excellent performance in DX9 and DX10 games overall
-Works well under stress
-Adapters included
Cons:
-Can get rather loud when under load
-Takes two slots
-Takes two PCIE power connections
Grades:
Overall:
Design:
Performance: