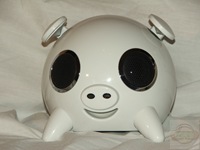 When you've got an item as popular as the iPod there's bound to be a slew of accessories for it hitting the market, and just look around, there's no shortage of them for the iPod line of players. So with the vast array of accessories out there, companies need to do something to make sure their products stand out and get noticed.
This year at CES, Amethyst introduced the world to a new type of iPod dock sound system, the iPig. Yes, I said iPig! When this first got here, I thought it was rather cute, and so did my wife and kids, my three year old loves it, but I thought it was pretty much just another cheap gimmicky item, but boy was I wrong. The iPig features five speakers producing 25 watts of power, touch sensitive ears for volume control and even a remote to help navigate your iPod.
One of the best features of all I think is that it is fully compatible with the new 4th gen Ipod nano, it works perfectly, it charges and all functions work as they should. When I first turned it on I was amazed by the sound coming from this little guy, I truly thought it was just another goofy, cute gadget, but it sounds very good and can get loud.

So, first up is the video unboxing for you, check it out, see the still pictures and move on:
Specifications:
iPig iPod Dock Speaker Sound System
Quality, performance, compatibility and style
You finally can have them all.  You no longer have to spare one for the other.  The New iPig is compact in size and packed with defining technology.  It is not only an iPOD docking station; it is THE speaker that will bring life and an awe-inspiring experience to most of your audio, video and gaming devices. 
Your iPig will become your new music companion. It has been designed to offer you the best of fashion, compatibility, performance, material, technology, size, convenience and even pricing. This cute and compact yet powerful iPig has 5 speakers that output over 23+Watts of premium sound. It is geared with a 4" subwoofer with bass reflex system, a dynamic airflow optimizer, a dynamic cooling system and a super sound amplification technology. The iPig delivers superior sound quality in a compact yet extremely fashionable audio speaker that audiophiles or simple people who like to listen to music can enjoy. Our patented innovative Humanized touch Volume control feature allows you to adjust the volume with Style. Not to mention the ease and convenience from using our light Remote Control, which allows you to conveniently browse through the different features of your iPOD and control the speakers' volume, bass and treble levels. The iPig comes in three different fashionable shiny colors to suit your taste and complements décor around it in your home, office, or dorm room. The iPig is the perfect gift for all occasions.
Features:
-Highly Compatible: The iPig is compatible with most iPod's, MP3, MP4, Portable Game consoles (PSP, Nintendo DS), Gaming Consoles (PS2, PS3, Wii, Xbox, Xbox360), Portable and non portable CD and DVD players, Televisions, Personal Computers (Desktop and Laptops), Mobile Phones with Audio playing capabilities.
-Humanized Touch Volume Control: Gently touch the right ear of the iPig to raise the volume and touch the Left one to lower the volume.  This patented technology will only react to the human touch and will not be affected by temprature or humidity.
-High Quality Sound: The iPig has a total of 5 speakers including a 4 in. subwoofer, with a total output of over 25 Watts of Raw, Undistorted, Clear Music.  It also has a super Hi-Fi Amplifier, an interior dynamic airflow optimizer, and an interior dynamic cooling exchange system with high sound stabilization to produce a clear and powerful sound.
-iPOD Docking Station: Compatible with most of I Pods. Dock your I Pod, charge it and listen to your music without interruption.
-RF Remote Control: One remote control to browse through the different iPOD features and to control the speakers' Volume, treble and bass.
-Smiley Lit Mouth: The mouth tells you right away by its light if the iPig is on or off.  It also tells you whenever it receives a command from the remote control.
-Adjustable Bass Control: Control the level of Base output from the knob control in the back of the iPig
-Bass Reflex Technology: Don't just listen to the music but FEEL it with the Bass Reflex Technology Feel the amplification and output
-360 Degrees Sound Spreading: The shape and the placement of the speaker of the iPig allows a 360 degree sound spreading, you will get the same quality of sound from each corner of the room
-Standard Mini Jack: A 3.5 mm stereo audio-in connection to connect with other audio and gaming devices
-GREEN and RoHS Compliant: The iPig is made of the top grade and environment friendly manufacturing materials. It has no hazardous materials.
-Colors: Professional formula of High-Gloss fashionable and shiny three colors: White, Yellow and Pink
-Multi Cradles: Fit your iPod with the correct cradle.
-Small Footprint: Complement your room. The iPig blends in as a decorative item that will sneak up on you with its wonderful sound quality
-Warranty: 1 year manufacture warranty. Warranty terms and conditions apply.
As I mentioned in the intro, the sound from this thing is just amazing, I truly was not expecting such a good quality sound to come from something that looks like a pig!
To use it with your iPod you just need to plug it into the dock on the back of the iPig, and turn it on. I'm using a nano 4th generation and it worked perfectly, every function and even charging as well.
The remote is very easy to use, it even allows you to adjust Bass and Treble, along with fully navigating your iPods menus. The ears on the iPig are touch sensitive, so you just touch them to raise or lower the volume.
The mouth of the iPig does light up green when, powered on / playing music and it blinks while using any of the controls.
One of the problems with many accessories these days is that they don't fully work with the new generation of iPods, the iPig has no such problem, using the remote it was very easy to navigate the menus, and control all of the functions, and of course the iPig also charges your iPod.
Ok, it works and works well, all of the functions work and it's easy to use. The sound is very good for such a funny looking product really, it's got nice highs and very deep bass, music reproduction is overall very good. the iPig can get very loud as well without much distortion, so if you want to jam with your pig you can.
Sure it's not super high end stuff, but for only $130 it's well worth the cost, and it sounds like something that costs much more.
There's also a little knob on the back of the iPig that you can use to further fine tune the bass if need be.
You can use the iPig with non-iPod products through the use of the included dual end 3.5mm adapter, but of course you won't get the full functionality from the iPig when used this way, but it can make a nice sounding speaker system for any device if need be. You can hook this up to most anything with a 3.5mm jack so it's a very versatile product that has got many uses.
I'm not sure what more to say about this product, it's nice to get a product that works well and exactly as it should, there's really nothing wrong with this product at all.
There in one improvement I might make though to this product, I think if it had the option of using batteries it might be that much better of a product making it portable to take with you, but as it is it's fine.
Conclusion:
The iPig is an exceptional choice if you're looking for a portable sound system for your iPod or other audio devices, it sounds great and works exactly as it should.
The iPig would make a great gift for kids, or even most anyone that likes cute looking things, it would be the perfect fit in a dorm room or an apartment.
I can highly recommend the iPig to anyone looking for a interesting iPod dock sound system.
Pros:
Very easy to use
Works with other audio devices
Works with newer iPods
It's cute and unique
Sounds great and can get loud
Cons:
None really
| | |
| --- | --- |
| Grades: |   |
| Overall | |
| Design | |
| Performance | |