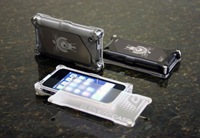 Today at Test Freaks, we were given the opportunity to sit down and talk with Jeff Sasaki, CEO of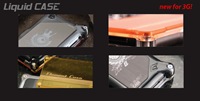 5. Describe the target consumer for the Element Case?
(Jeff Sasaki)-Our customers are part of a niche market. They want a cool, custom product that is not just unique but also allows for full expression of an individual's personality and attitude. Our customers seem to be keyed into the personally connective aspect of the Element Case. They value products such as ours because it reflects their lifestyle and personal interests, whether it's their car, tattoo, favorite sports team etc.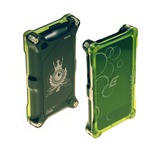 6. How has the product line been received to this point?
(Jeff Sasaki)-I am really surprise at how well people have accepted it; I didn't try to design the case for everyone. And I was prepared for criticism from that large group outside my niche market. But that hasn't been the case. It seems everyone finds something about the case that they like. Some people are attracted to the graphics and some are more attracted the form. Still for others, they just like how it provides full protection from impact. Everybody's different.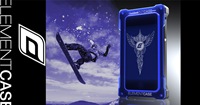 7. Can you go into the creation process of the case?
(Jeff Sasaki)-Our injection molded parts as well as our CNC aluminum parts are all made in the US.
The bases come molded in clear and then we back-paint them from inside. There is a lot of prep work before we paint the bottom case as well as second operations to drill and tap the screw holes. After painting ,we buff and polish the parts.
The colored flip lids are made in our shop starting with cast acrylic sheet. The acrylic is made in the US to our color specification. The acrylic is laser cut, machined, and polished. Its very time consuming, and thus expensive to produce, but we can't get the same high quality look with injection molded parts.
We laser etch our graphics onto the Flip lids and anodized aluminum base plates.
Laser etching is a slow process but it's versatile and provides a much nicer finish than decals or printing.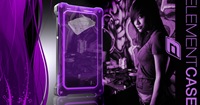 8. How long does each individual case take to make?
(Jeff Sasaki)-Well, with all the fabrication work, painting, and graphics, one custom case would take me a whole day. I knew I wouldn't be profitable with that business model, but I didn't have the money to expand. When orders increased I improved the process a bit.
Now I have shop assistants and graphics specialists that have really sped up the production process. When we assemble a custom order, the parts are made and graphics are ready to laser engrave.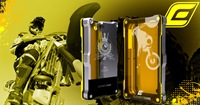 9. What accessories can we look forward to in the future?
(Jeff Sasaki)-The patented, magnetic click system that we use on the flip lid was originally designed around the ability to add more accessories (battery pack, belt clips, etc) to the original Alloy case for the first gen iPhone. But with the announcement of the new 3G iPhone last year we had to focus our efforts on the Liquid 3G case. Now we're working on accessories again.
We'll be announcing some exciting car accessories to work with our Liquid case.
With all the new automotive apps, along with navigation, music and video, the iPhone will fast become an integral part of the car. I'd like Element Case to be on the forefront of this integration in other ways than just matching paint color and graphics.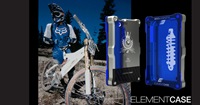 10. Do you plan on expanding from just iPhone cases, maybe making cases for other Apple products such as iPods or other brands of phones?
(Jeff Sasaki)-We get daily emails and requests for cases for the iPod Touch and the Blackberry's. As the company grows, we will look into expanding the line for other devices. Right now we're just too busy developing for the iPhone, and the market hasn't slowed down one bit.
Well, that wraps up our conversation with Jeff Sasaki of Element Case. I would like to thank Jeff and all the folks at Element Case for their time.
Finally, Jeff was kind enough to offer one of our lucky Test Freaks readers a chance to win a custom designed Element Case especially created for Test Freaks. I will be reviewing the Element Case Liquid case in the near future and will post contest details at the time. Keep checking Test Freaks daily for more information.