Manufacturer:
It seems everyone has a video camera, a still camera and a portable media player, sometimes tow or more of all of the above, wouldn't it be nice to have a decent, inexpensive product that that does it all for you?
Today for review I've got the
Once you get the package open, you'll find loads of stuff in there including the camera itself, battery, software/driver disc, user manual, HDMI cable, composite AV cable, power adapter, carrying case, wrist strap and even a set of headphones.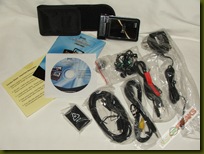 The Jazz Elite camera is actually fairly small, about 4 inches by 1 inch by 2 inches in dimensions. On the front side you can see the Jazz and HDMI logos, above that is the speaker.
On the back, or bottom is the battery cover and a small slider switch for changing to Macro from landscape or long distance.
The back of the camera is where you'll find all of the function buttons needed to do most of the operations with the camera, and the USB and TV out connections as well. Most of the buttons have two functions depending on what mode you are in.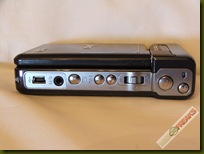 On the top of the camera you'll find the microphone and power button, but the camera does also turn on and off when you open the display. On the front of course you'll find the lens, below that is a little white box which is actually an LED that acts as a flash or assist light, and all the way down is the access for the HDMI port. On the bottom is just a hole for a tripod.
The screen can be placed in several positions depending on how you want to us the Jazz Elite, it can also rotate all the way around so you can film yourself.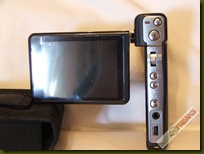 You can use a standard SD card to expand the memory, it gets inserted on the bottom under the battery cover so you've got to remove the cover to access the memory card. Kind of a pain, but you can also use the included cable to transfer the contents of the camera if need be.
Specifications:
Jazz Elite HDV-188 5MP HD Video Camera w/3″ Screen
Part #:         HDV188-BP
Warranty:       1 Year
Manufacturer:       Jazz Products LLC
MFG Part #:       HDV188
Your Price:          $147.50
Capture memories with this Jazz Elite HDV-188 5 Megapixel high-definition Video Camera. The Jazz Elite HDV-188 is a Digital Camera, Video Recorder, Voice Recorder, PC Camera, Mass Storage, MP3 Player, and PMP in one device.
The HDV-188 features a 3-inch TFT LCD with 8x digital zoom and HDMI, NTSC/PAL AV Out. Other features include a USB 2.0 interface, 64 MB internal memory, and an SD/SDHC memory card slot for adding up to 8 GB. Order today!
Features/Specifications:
Jazz Elite HDV-188 5 MP HD Video Camera with 3-inch Screen
General Features:
* Color: Black
* Image Sensor: 5 Megapixel CMOS sensor
* Maximum Resolution: 11 Megapixel interpolated
* Internal Memory: 64 MB
* External Memory: SD/SDHC card slot up to 8 GB
* File Formats: JPEG/AVI (H.264)/WAV/MP3
* Display Screen: 3.0-inch TFT LCD
* Digital Zoom: 8x
* Interface: USB 2.0
* AV Out: HDMI, NTSC/PAL
* Motion Detection
* Night Mode
* Movie Stabilization
* Power Source: NP60 Li-ion battery
Modes:
* Digital Still Camera
* Video Record
* Voice Record
* PC Camera
* Mass Storage
* MP3 Player
* PMP
Video Resolution:
* HD: 1280 x 720 @ 30 fps
* D1: 720 x 480 @ 30 fps
* VGA: 640 x 480 @ 30 fps
* QVGA: 320 x 240 @ 30 fps
    * Dimensions:
* 4.1 x 1 x 2.5-inches (H x W x D, approximate)
These are the basics specs listed, you can read all of the specs on the
Pushing the slider button in opens up the menu, I'm not going to list all of the options as there are quite a few of them, you can click the pictures to see them.
Switching to the media player mode turns the Jazz Elite into a portable media player that can play music and movies, or look at pictures and listen to notes.
Included with the camera is Arcsoft Media Impressions and Media Convertor, two very useful programs for manipulating videos and pictures and converting video to other formats easily.
Back to using the camera, the still pictures are ok, it's not a high end camera but for what it is they look very good. The videos are a bit grainy but still decent for such a low priced camera that is much more than that.
I'm not including videos in this review for you, but I do have 10 videos that I shot using the Jazz Elite over on the technogog Viddler account. You can check them out at your leisure

Design:

Performance: