Manufacturer: Jabra
Product Name: Jabra BT530 BlueTooth Headset with Noise Blackout
Review Date: 09/18/08
Author: Kristofer Brozio
Cellphones have invaded everywhere, pretty much everyone has one from kids to their grandparents, they are by far, the most popular gadget out there today. With the prevalence of cellphones comes numerous accessories and I think the most popular of those are bluetooth headsets, especially when many places have outlawed driving while talking unless you are using a handsfree headset.
Today for review I've got the new Jabra BT530 BlueTooth Headset with Noise Blackout and I've found it to be a great choice if you're on the market for a new BT headset. Noise Blackout is just Jabra's fancy wording for noise cancellation, but it truly works does work, and is a great feature of the BT530 along with ease of use and the ability to play music as well. The BT530 is small, lightweight, aesthetically pleasing and overall it's a great choice for your BT needs, so continue on to learn more about it…
The packaging for the Jabra BT530 is impressive, I was like 'wow' when I opened the shipping box. It's a display style box with the BT530 seen though a smaller plastic box inside, you can look through the front and back the box to see both sides. Of course the specs and features are listed as well on the box..
Opening up the main box you find two smaller boxes, the plastic display box with the BT530 in and a smaller box with the accessories inside.
Included with the BT530 are several sizes of eargels and two ear loops, along with an AC adapter, USB charging cable and of course an instruction manual.
The BT530 is mainly black with a chromed plastic piece going done the center, this piece is where the two microphones are and the main function button with the Jabra name on it, on both side of the chrome strip are the volume up and down buttons. Personally I don't care for the shiny chrome look, I like subtle really and don't care for things that stand out -nothing a black sharpie can't fix!
On the top of the BT530 is the mini-USB port for charging, and on the bottom side is a sliding on/off switch. I really like this switch, unlike others where the main function button is also the power switch, the switch allows you to be sure you've powered it off and not waste batteries. And speaking of batteries, battery life is great, I've only charged it once when it arrived, and haven't charged it again, that was about two weeks ago.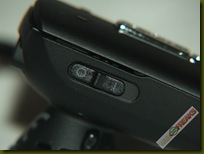 Specifications:
Jabra BT530 BlueTooth Headset with Noise Blackout
Jabra BT530 – the new generation of noise cancellation
Features:
* Noise Blackout with dual microphones
* Crystal clear sound with DSP
* Ideal for all-day use
* High Performance with Bluetooth 2.0 EDR & eSCO
* Dual wearing style with 3rd generation Jabra Eargel and flexible ear hook
* Dedicated on/off slide switch
* Battery Status Indicator
Destroy unwanted sound with Noise Blackout
The Jabra BT530 is the first Bluetooth headset with Noise Blackout. Unique amongst wireless hands-free headsets, it provides background noise elimination – without any compromise on natural voice quality. Dual microphones, coupled with advanced DSP technology, identify the source of sound – and then enhance your own voice, and obliterate peripheral noise.
Enjoy crystal clarity and all-day comfort
This headset offers a noise-free experience in crystal clear sound wherever you are. Equipped with intelligent volume control – the headset automatically adjusts the level of received audio for optimal audibility and also offers Audio Shock Protection – guarding your ears against raised voices or sudden noise surges. Designed in true Jabra style, with comfort and intuitively in mind – this headset will provide pure audio power all-day long, whichever way you choose to wear it.
Features and Specifications:
1.  Noise blackout  technology with two noise cancellation microphones
2.  crystal clear sound by advanced dsP  (digital signal processing technology)
3.  intelligent volume controls & audio shock protection
4.  High Performance  with bluetooth 2.0 edr & esco
5.  dual wearing style with 3rd generation Jabra eargel and flexible ear hook
6.  dedicated on/off slide switch
7.  Up to 5½ hours talk time and up to 250 hours standby time
8.  Lightweight – weighs only 10g
9.  L 48 x w 18 x H 12,5 mm (L 1.9 x w 0.7 x H 0.5 in)
10.  battery status indicator
11.  features answer call, end call, reject call, voice dialing, last number redial, mute, call waiting, put call on hold, volume control*
12.  charging plug: Usb mini-b, 5-pin
Of course before using the BT530 you need to charge it, there's an LED located between the volume buttons that lights red when charging and green when finished. This LED is also used to indicate pairing and power as well.
Before I got the Jabra BT530 for review I was using the Tritton AxMicro BT headset, I like it very much, it's very small and fits comfortably, but it doesn't have noise cancellation and wind very much affects it.
If I'm driving I've got to put my windows up or I and the person I'm talking to can hear the wind.  Using the BT530 though I had no such problem, I can drive with the windows down or walk around outside and I cannot hear the wind through the headset.
The sound is crystal clear, I experienced no interference at all while talking, I could hear the other person fine and they could hear me clearly. While I'm driving I've got my Tilt attached to my dashboard via the system that came with my Krusell Orbit case, so it's about 2.5 feet from me in the car. When walking I can use either ear for the BT530 and not have any problems, some headsets tell you to have them installed on the same side as your phone for a good connection, but with the BT530 and my ATT Tilt I had no problems. This is what happens with my AxMicro, I noticed that I got better reception when it was on the same side as my phone, so it's nice to be able to use either ear with no problems.
Another thing the AxMicro is missing is the ability to play music  through the earpiece, the BT530 can do this and I like this feature quite a bit. Some people might not care for it as you're only hearing it in one ear, but it's nice for a distraction and you're still able to hear everything going on around you.
As for design, I found the answer call button a bit small, but it could be because the AxMicro has such a large button and I'm accustomed to using that, the large volume buttons are very nice and easy to access.
Pairing the BT530 the first time is very easy, my AT&T Tilt found and paired in seconds on the first try. One thing I did notice though is that after the first pairing sometimes you need to pair it again, with my AxMicro I just turn it on and enable BT on my phone and I'm ready to go, with the BT530 sometimes it worked and other times I had to re-pair even though it said it was paired. Don't quite know what the deal is there…
As far as being comfortable it is once you figure out which ear piece fits your ear, personally I don't like the ear loops so I try and avoid them at all costs. Without the ear loop I used the included eargels and found that after while my ear started to hurt, so I had to switch to a smaller size, using the smaller size the BT530 seemed to fit loosely as if it was going to fall out, but it never did and it fit more comfortably using the smaller size. So the eargels seem to do their job quite well, and you really don't even notice the BT530 is in your ear.
Conclusion:
The Jabra BT530 is an excellent choice for a BlueTooth headset, not only is it made very well but it has very nice features including noise cancellation and the ability to play music.
The Noise Blackout feature really does work, it cancels out any and all background noise so you only hear the person you're talking to and they only hear you, no matter what else is going on in the background.
The batter life is excellent, and the included earpieces make sure there's a correct fit for everyone.
So if you're in the market for a nice BT headset that's got some great features, be sure to give the BT350 a look as it's very nice and work very well.
Pros:
-Excellent Sound -Crystal clear
-Plays music as well
-Well made
-Does a very good job at blocking out noise
-Wind doesn't seem to effect it
-Lightweight
-Easy to use
-Excellent battery life
Cons:
-BT Pairing is weird, sometimes it works fine other times it needs re-paired to phone
Grades:
Overall:
Design:
Performance: