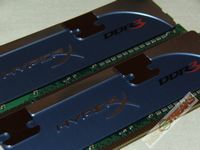 DDR3 is here to stay, but it doesn't seem to be making much headway into the market really, it's been around for a while but yet not as many people have adopted it as they did with DDR2 when it first came out. one of the reasons is that there really isn't that much of a performance gain, and of course the cost of the ram itself and the new motherboards that support the ram are both fairly high still.
Today I've got two gigs of DDR3 for review, it's a pair of Kingston HyperX, and it runs at 1600MHZ, so it's pretty fast stuff! I've decided to put it up against a kit of fast DDR2 and see how it fairs, and to find out if it's worth it to upgrade to DDR3 or not.
Continue on…
The Kingston HyperX DDR3 ram comes in a small plastic box with a label on it, not much to see really. Included with the ram is a small user manual as well.
The HyperX is some nice looking ram with its' bright blue heatspreaders and chrome accents.
Specifications:
Kingston HyperX 2gb DDR3 1600MHZ KHX12800D3K2/2G
HyperX DDR3 Memory is Here!
HyperX DDR3 memory, the next-generation evolution of DDR memory technology. Like all Kingston HyperX products, HyperX DDR3 modules are specifically engineered and designed to meet the rigorous requirements of PC enthusiasts. HyperX DDR3 offers faster speeds, lower latencies, higher data bandwidths and lower power consumption. HyperX is available in single and dual-channel memory kits.
HyperX DDR3* features:
* 1.7 Volts operation
* Memory signal termination inside the memory chip (On-Die Termination) to prevent reflected signal transmission errors
* Operational enhancements to increase memory performance, efficiency and timing margins
* CAS Latencies: 5 (Ultra Low Latency) and 7 (Low Latency)
* Currently available in speeds up to 1.5GHz and capacities up to 2GB kits
* DDR3 memory modules are not backward compatible to DDR2 and DDR based motherboards, due to incompatible module connections (number of pins), voltage and DRAM technology. DDR3 memory modules have a different key or notch than the same-sized DDR and DDR2 modules to prevent their insertion into an incompatible memory socket. HyperX is available in single and dual-channel memory kits.
KHX12800D3K2/2G
Description: 2GB 1600MHz DDR3 Non-ECC CL9 (9-9-9-27) DIMM (Kit of 2)
Detailed Specifications: Standard 128M X 64 Non-ECC 1600MHz 240-pin Unbuffered DIMM (SDRAM-DDR3, 1.9V, CL9, FBGA, Gold)
Pieces/Unit:     2 (Two 1GB modules, totaling 2GB)
Warranty:     Lifetime
Installation is easy, there's no problem with it fitting as it's standard sized ram, no big heatspreaders to get in the way.
I installed the HyperX in my Gigabyte P35C-DS3R Motherboard, with an Intel C2D6420 CPU, EVGA 8600GTS video card and using Windows Vista Ultimate X64 edition for testing.
Since I don't have other DDR3 on hand for comparison I decided to not only compare it to some good DDR2 I have on hand (Crucial Ballistix Tracer 1066Mhz) but also play with the settings on the HyperX a bit to see what it could do. I couldn't get much in the way of overclocking as to run the ram at the 1600MHZ I had to OC the CPU as well, from 2.1GHZ to 2.4GHZ, I tried a few times but I think it was the ram that just wouldn't overclock, I've had the C2D6420 to 3Ghz before with no problems.
I did find though that I could drop the CAS Latency down to 8 easily, so that's a good thing there. When I first installed the ram it booted with high timings of 10-11-11-30 for some reason. I didn't realize it until after my testing when I took the above screenshot, so I figured I might as well include those results in the testing charts as not to waste them. Of course just going into the BIOS and adjusting the timings was all that was requited to fix the issue.
So I ran quite a few tests from SiSoft Sandra 2009, CineBench10 64Bit and CrystalMark as well.
So here's the graphs with all of the results, first up is Cinebench10 64bit:
Higher scores are better, and we see the DDR3 does have the advantage over the DDR2, but not by too much really. We also see a mixed bag of results here when it comes to the latencies being used by the HyperX, the lower Cas8 actually scored lower…
Next up is CrystalMark, here's the graph with the main results, and screenshots with the results broken down following: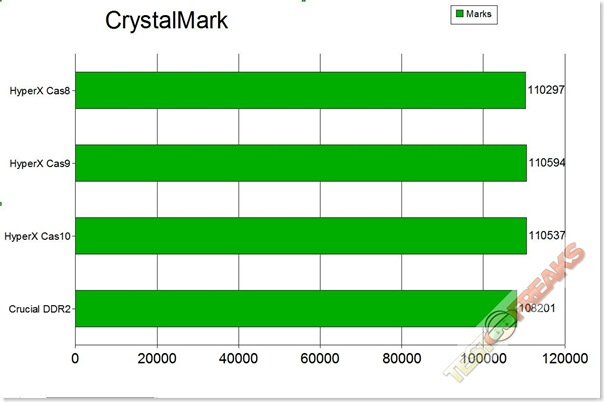 Here again we see the results seem to be mixed with CAS9 being  the best.
So now we've got SiSoft Sandra 2009 Results:
SiSoft Sandra Cache and Memory Benchmark
-Cache/memory Bandwidth GB/s – Higher is better
-Speed Factor – Lower is better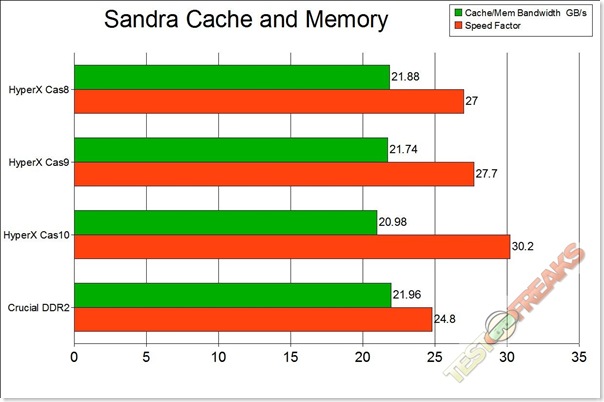 Here we see the Crucial DDR2 running at 5-5-5-15 is clearly the better choice, but we also see the CAS8 for the HyperX being the better latency as well.
Next we've got CPU Arithmetic test:
-Higher scores are better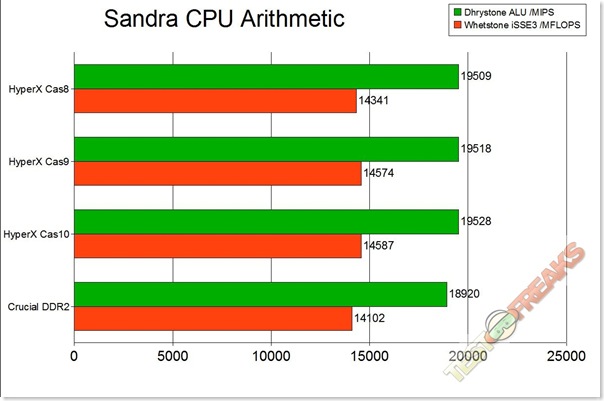 Next we've got CPU Multimedia Test:
-Higher is better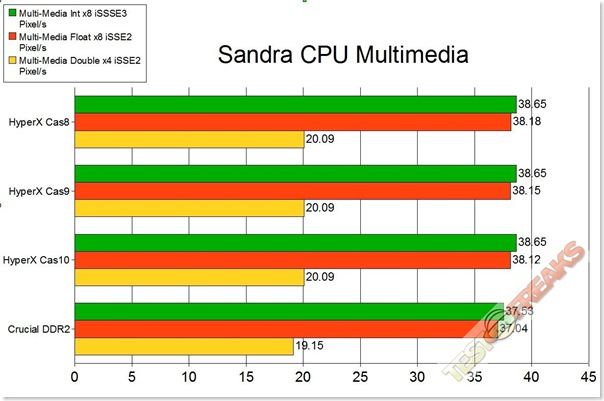 The results are very close with all of the latencies really, with the advantage going to the faster DDR3 HyperX.
That was the CPU tests, now we've got ram tests:
First up it's Memory Bandwidth:
-Higher is Better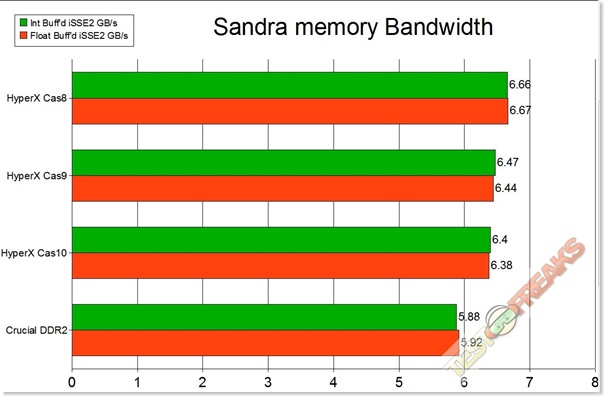 We see the CAS8 lower latency is the better choice for this test.
and finally we've got SiSoft Sandra Memory Latency:
-Lower is better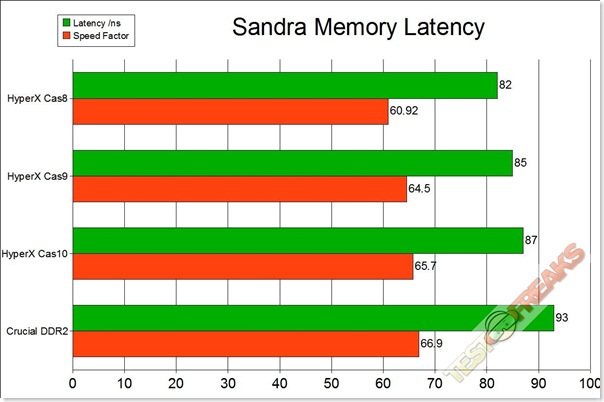 Here again  the lower CAS8 is the better choice, even the CAS5 of the Crucial is no match..
From these test we can conclude that yes DDR3 is better, but we knew that already. Depending what you're specifically doing with this ram is where you'll put the settings or timings and latencies of it.
Of course though you have to remember that not all ram is the same, some from the same batch will work better than others.
Conclusion:
So it is worth it going from DDR2 to DDR3? Yes it is, and the Kingston HyperX performs admirably well.
Of course we like to overclock our ram if possible but I couldn't get much out of it, but as we know not all ram is the same, so other peoples' experiences will differ.
The HyperX can run at CAS8 with no problems at all, so that's bonus there.
Pros:
Runs at low latency
Fast
Looks cool
Cons:
Really no difference between the latencies
Grades:
Overall:
Design:
Performance: