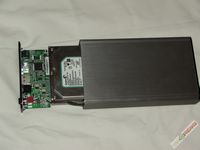 Hard drive enclosures come in many shapes, sizes and styles and they're all pretty much the same really, you put a hard drive in them and you're ready to take your data with you wherever you go, but they don't offer much in the way of security. Yes they're nice for their portability and ease of use, but if you lose it of it gets stolen then all of the data contained on it is compromised and most likely lost forever.
Qnap has created a hard drive enclosures that utilizes 256bit AES encryption to truly secure your data, it's called the QBack-35S and it also features a one-touch or automated backup system as well. The Qback is quite possibly the best option for a hard drive enclosure on the market today if you need to secure your data, but yet remain portable at the same time.
It's also inexpensive as well, coming it at about $60, it doesn't cost  much more than a standard HDD enclosure does, and the few dollars more is well worth the extra features that you'll get with the Qnap Qback-35s
As is now common please check out the unboxing video then continue on to the rest of the review:
Specifications:
QNAP QBack-35S Intelligent HAB (Hands-Free Auto Backup) Storage Enclosure is an intelligent encrypted data backup device especially designed for personal users who have a high demand for secure data protection. QBack-35S is a 3.5″ single SATA drive external enclosure which is compatible with major hard disk drive brands. It supports up to 1TB capacity, USB 2.0, and eSATA high-speed data transfer.
QBack-35S delivers simplicity and stability with stylish design. The eye-catching black titanium case can be placed vertically on the stands provided to minimize the space occupied.
QBack-35S provides the award-winning backup software QBack. It is a powerful utility that supports automatic encrypted data backup. By installing QBack and connecting the QBack-35S device to the PC via the USB 2.0 or eSATA* interface, Windows users can use the powerful backup functions. The exclusive backup technology supports handsfree and real-time automatic file backup, AES 256-bit data encryption, and e-mail backup. Four backup modes are provided including auto-sync backup, instant backup, one-touch-button backup, and schedule backup. Incremental backup technology is supported for speedy and reliable performance.
Besides serving as a backup device for Windows PC, QBack-35S can be applied as storage expansion for QNAP Linux- embedded products by formatting the drive on QBack-35 via these products. Users can enjoy large volume expansion as well as high-speed data transfer via the USB 2.0 or e-SATA connection of QBack-35S.
Hardware Spec.
Hard Disk     3.5″ SATA HDD, up to 1TB
Interfaces     USB 2.0 & eSATA
LED Indicators     Power: Blue (when the device is on)
HDD: Blink in Orange (when accessing hard disk)
One Touch Button     One Touch Backup Button (For USB Only)
Rear I/O Ports     1 x eSATA Port / 1 x USB B Type Connector/1 x DC-in Jack
Power Supply     Input: 100-240V AC, 47-63Hz
Output: DC 5V/ 2A, 12V/ 2A
Dimensions     210(D) x 123(W) x 38.75(H)mm
Weight     Net Weight: 0.57Kg
Gross Weight: 1.48Kg
There's not much to the installation procedures, you just slide the hard drive into the tray  making sure to connect the data and power connections, then use the provided screws to secure the drive to the tray, and you're about done. I did run into a small problem installing the hard drive, I thought the screws were all the way in but weren't so the screws hit the rails inside the enclosure and it wouldn't go in. So I took it back out, and tried to figure out the problem, of course not knowing it was the screws the first time, tried it again and same thing, eventually I figured out it was the screws hitting the rails, so I tightened them down some more, and tried again. Same thing happened, this time I really tightened the screws down to make sure they were flush with the tray, and the try then slid right in, it took quite a bit of force to tighten the screws to make them flush and I actually damaged the screw heads, not sure exactly what the problem was there at all…
Once that's done just plug it in and power it up, hooking it up to USB port first though to initialize the drive through the Qback software, you can't do it through the eSATA connection.
To initialize the disc you just need to install the included software and run it, you're greeted with several steps to walk you though the process, including partitioning the drive to public and secure and creating a password.
Once that's complete the software is running on your computer and ready to go, a little 'Q' sits in the taskbar waiting for your commands. The main menu features four options, Expert Mode, Instant Backup, Instant Restore and Settings.  The Expert Mode for me is really the easiest as all of the options are right there for you.
Once you're ready to start your backups you just need to select what you want to have backed up, and I like that this program allows you to pick specific folders. You can just keep going down into the file tree to find whatever you want backed up and put a check mark in the box, and only those thing will get backed up.
Backing up things you need to is easy to do and it works well.
Since you can create an encrypted partition it does take a bit longer to do the backups to the encrypted area, but this is not unexpected as the data being transferred has to be encrypted.
The performance of the public access drive is the same as any other standard enclosure.
Images
Conclusion:
The Qnap Qback35-s is probably the best hard drive enclosure you could purchase if you need one, it costs similar to a standard enclosure but yet offers advanced features that you won't get with a standard enclosure.
The quality of the Qback35-s is excellent, it's well made, and it's easy to use as well, and it's smaller than some enclosures I've seen on the market today making it very portable.
Pros:
AES 256bit encryption
Automated backups
Easy to use
Well made
Inexpensive
Cons:
User manual could be better
Can be hard to install HDD into Qback35-s
Grades:
Overall:
Design:
Performance: