Most people are very happy with their monitors and the colors they see, but then again most people use only one monitor. I've got a three monitor setup and I can see the differences between the colors of the monitors, taking a picture from one monitor to the other can reveal sometimes drastic color differences. It bothers me and I was looking into getting some sort of color calibration device, but luckily Datacolor sent me over their new Spyer3Express for review. The Spyder3Express will automatically adjust the colors of your monitor to what they should be, I was amazed at the difference before and after calibration, I knew something was funky, but the Spyder3Express fixed it for me quickly and easily.

The Spyder3Express comes in a small box with anther plastic box inside of it:
Inside the box you'll find a cleaning cloth, the Spyder3Express itself, user manual, suction cup and software disc.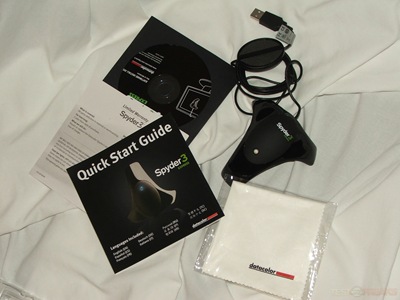 The Spyder3Express is fairly small, about the size of a mouse, smaller than some actually, and it sort of resembles one as well. On the top is an LED that blinks blue occasionally, the bottom has soft felt like pads that touch your monitor and the sensor is there.
The Spyder3Express is USB powered and in-line is a counter-weight that slides up and down the USB cable, the weight is used to hold the Spyder in place or you can use the suction cup. I personally opted for the counterweight as it's already there..
Specifications:
Get the most from your monitor
Spyder3Express adjusts the color on your monitor so your photos appear more accurately. Easy-to-use right out of the box, this award winning proven technology helps you calibrate your display – just like professionals.
There's a reason your on-screen colors aren't always true. Chances are, your monitor color is the problem, not your camera or your printer.
Spyder3Express is a revolutionary simple monitor color correction tool that automatically adjusts the color of your monitor so what you're seeing is more true.
Designed for:
Photo Enthusiasts, Advanced Amateurs, Passionate Photographers and DSLR users of all kinds.
Features & Benefits:
* Professional-grade results
Have fun with your images confident that you are seeing true colors using tools on which the professionals rely.
* Easy Software Wizard
You don't have to be a color expert to calibrate your display, the software offers help at every step of the way, resulting in great color in minutes.
* Unique Before & After Viewing Feature
Compare your display before and after calibration
* Reliable & Consistent Color
A result of years of research and development provides sophisticated software that makes calibration simple
* State of the Art Optical Science
Patented optics make your colors match accurately and simply outstanding reliability backed by a 1 year hardware warranty
Price: $89
To use it just install the software, plug it into a free USB port and just follow a few steps in the instructions.
You have to make sure you monitor is warmed up first, at least 30 minutes then you can start calibrating.
First you'll pick your display type:
Then you put the Spyder3Express on your monitor, the counterweight helps to hold it in place and I found I had to tilt the monitor back a little bit to get the Spyder to set against the monitor.
Once you've got it set in place you'll click next and a series of colors will flash on your screen, it takes a little over two minutes to complete the testing process.
Once it's finished you'll get a before and after screen, you can switch between to see the differences.. Using screen capture showed no real difference because that was direct from the video card, so I had to take actual pictures of the screen.

Here are the pictures of the screen:
The uncalibrated view looks a bit washed out, too much the blacks are faded and not very dark. I noticed this also when it came to whites, like viewing my Gmail, the gray divider lines were almost non-existent until I calibrated the monitor then they were clearly visible.
In the picture in might not look like that much of a difference, but it truly is, there is a huge difference when it comes to details especially.
Now running three monitors I was hoping I could calibrate all of them individually, but I couldn't do it. I could however load the color profile into my other monitors via Windows and essentially they all look the same now, very close but not exactly the same, but good enough for me I think. My main monitor is the Hannspreee 23" I reviewed recently and that's the one that I was most concerned about for colors.
The specs mention the Spyder3Express is for photographers, but really anyone can benefit from this product, it fixes the colors of everything from gaming to movies.
Conclusion:
IT doesn't matter who you are or what you do with your computer, you can truly benefit from having a product like the Spyder3Express, not only is it great for seeing the true colors of your pictures, but it changes the way you look at everything you do and see.
The Spyder3Express is quick and easy to use and you'll be surprised by the results you get, what you though was good colors probably isn't and until you calibrate the monitor you'll never know.
I can easily recommended this product to anyone looking to really see the true colors of what you're looking at. We all take pictures so why not have them look like they should on our computers? or why not have our games and movies look like they relly should, especially since High Definition content is so widely available.
Pros:
+Small and well made
+Very easy to use
+Truly works to correct colors
Cons:
-Does not work on multiple monitors
| | |
| --- | --- |
| Grades: | |
| Overall | |
| Design | |
| Performance | |