Nero is one of the most popular CD and DVD burning suites on the market today, and for good reason, it's easy to use and it comes packed with more than enough features for everyone to burn, create, copy, backup and play.
The new version of Nero aptly named Nero 9 doesn't bring too much new to in terms of looks compared to Nero 8, just a few graphical tweaks is about it, it looks pretty much the same overall. It does of course include the familiar programs like copying, burning and creating discs through Nero Express. It also includes improvements to the interface by adding commonly used things, blu-ray support, redesigned multimedia player, new video editing options, auto backup and even enhanced live TV experience.
Nero is and has always been, my favorite suite of software for the majority of my burning needs, I've been using it for many years now and it's become like an old friend. Sure there are others out there, but once you've used something for so many years you kind of get accustomed to it and really don't want to switch.

Nero 9 comes in a nicely done box that opens up so you can read all about it, inside of course we find the user manual and software disc actually in a plastic case, not paper that so many other companies use.
Installation is easy, just pop the disc in and away you go..  at the main screen you're greeted with three installation options, Nero 9, Nero BackItUp and a trial edition of Nero MediaHome, click one and away you go, while you're waiting for the installation to complete you get to check out the advertisements…
Specifications:
Simply Create, Rip, Burn, Copy, Share, Backup, Play, and Enjoy
Nero 9 is the next generation of the world's most trusted integrated digital media and home entertainment software suite. It features new cutting-edge functionality that makes enjoying digital media content simple.
This easy-to-use yet powerful multimedia suite, gives you the freedom to create, rip, copy, burn, edit, share, and upload online. Whatever you want – music, video, photo, and data – enjoy and share with family and friends anytime, anywhere.
With easy-to-use Nero StartSmart command center, your digital life has never been more flexible, feasible, and fun.
Nero 9 Highlights:
* Fast and easy rip, burn, Autobackup, and copy functions
* Backup files to CDs, DVDs, and Blu-ray Discs
* Create professional-looking DVD movies with integrated 3D menus
* Copy, burn, share, upload, and create music mixes like a DJ
* Convert music, photos, and DVDs to play on your iPod and other mobile devices
* Quick photo and video upload to My Nero, YouTube, and MySpace
* Watch, record, pause, and customize your live TV experience
* Play AVCHD and other HD formats

On the main interface you're greeted with two main sets of options, one across the top and one going down the left side. The one across the top open into more menus while the ones on the side are actual applications that Nero felt were the most commonly used by consumers through their research.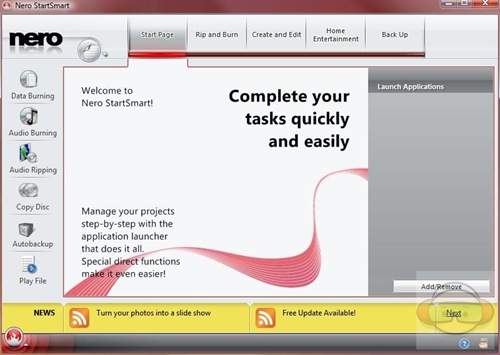 Across the top we've got 'Rip and Burn', 'Create and Edit', 'Home Entertainment' and 'Back Up'. Each one contains shortcuts to their related programs.
Down the left side we've got 'Data Burning', 'Audio Burning', 'Audio Ripping', 'Copy Disc', 'Autobackup', and 'Play File'. These open to the actual program to be used right in the interface window.
On the very bottom of the interface is another menu as well that opens up to lead to more shortcuts and more opens of additional programs.
On the top of the interface we've got another menu labeled 'Options' here you can find all of the options and settings for Nero like updates, copy options, ripping options, play file options and more.
Everything the is in the StartSmart interface can also be accessed from the Windows Start menu as well.
I've learned a long time ago that everyone needs to do regular backups, and Nero makes this relatively easy for you, though there are many options included with Nero BackItUp for the more advanced users as well.
Many people I've run across gripe that Nero is bloated with all this stuff that no one will ever use, well personally I like having it all there, it's a great suite of software and tools for most all multimedia needs. Yeah not everyone will use it, but it's nice to have it available if you ever do need it. If you went and purchased all of these things separately you'd most likely pay at least five time the price, for around $100 you get an entire suite of tools that allows you to most anything with your multimedia files and it even includes they're Nero Toolkit for diagnostics and information about your system.
As for the claims that Nero is bloated, well I opened up Windows Task manager and check that out as well. When you open Nero it also opens up NeroScout so that's two processes there, but here's a comparison to other popular programs:
Nero StartSmart: 42,784K
NeroScout: 7,000k
iTunes with song playing: 81,056k
FireFox with gmail open: 170,532
Outlook 2007: 33,512K<
So compared to those it's not really bloated in terms of memory usage, it doesn't use that much really.
Overall though Nero is Nero really, there's not too much that warrants the upgrade from Nero 8 to Nero 9 unless of course you need and are going to utilize the new features with it.
One thing that should be noted, Blu-Ray support is actually an added cost plug in that has to be purchased separately for $9.99
Conclusion:
Nero 9 is a great suite of software that give the user many options for all of their multimedia needs, it can be your one stop place for everything related to media. The newly redesigned StartSmart interface puts the most commonly used items right there for you at the start so you don't have to go searching for programs that you use most often. You can also add programs that you use most often as well to the StartSmart interface so it can be customized to each person.
One flaw could be all of the options, there are just so many of them that new users can easily get lost or confused with all of them.
Pros:
Tons of options
Redesigned with new features
Fairly easy to use
Cons:
Can be overwhelming for new users
| | |
| --- | --- |
| Grades: |   |
| Overall | |
| Design | |
| Performance | |