When you're looking to purchase a PC you've got many options, and most are all 'cookie-cutter' style systems, meaning that they all look the same really, the cases all just look similar. Now if you're like me you'll build you own system and possibly paint and mod a case to your own personal likings, but most people don't have the time or skills to build a PC, let alone paint one. So there are a few companies out there that will help you with that, for a premium of course, one such company is Smooth Creations. They'll build you a PC to your specifications, even overclock it, mod, and custom paint you a case and even paint the keyboard and mouse to match the case.
Today for review I've got a big review, it's my first official review of an entire system! Woo hoo moving up in the world!
Today we're taking a look at the Smooth Creations Lanshark Pyro system, obviously it's part of the Lan themed series so it's rather small and portable, the Pyro in the title refers to the paint job, it's painted with flames all over the case, and even some of the inside components are painted to match the theme as well. The case is actually a clear acrylic case so it's basically see through, besides the flames, but it's painted in a way that you can see everything inside to show it off at your next lan event. The actual system is based from a DFI Lanparty P45 motherboard with an Intel QX9650 Processor, Sapphire Radeon 4870 video card and four gigs of GSkill ram to round things out.
So sit back, grab a coffee, relax and read on…
First up I've got a rather long video for you, little over 14 minutes, it's the unboxing and tour of everything, it's actually a couple videos spliced together…
Now here's quite a few still pictures I took as well:
You can see quite a bit of care was taken with the packing, the FedEx shipping bill said this whole thing weighed in at 70lbs: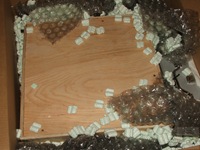 As I mentioned the Logitech keyboard and mouse were painted to match the system, very nicely done:
Smooth Creations even included a nice little locking accessory box, custom painted to match the system, in it was the manuals, power cable and discs:
The paint job is very nice, not quite my personal preference for the theme of the paint job, but very nice nonetheless. It's very smooth, you can't see any kinds of paint lines or marks or over spray. I do like the shark on the front, rather cool looking little guy… The 'SC' fan grills on the front are a nice touch as well.
The design is nicely done, though I'm not sure about the plexi/acrylic case, in my experience it tends to scuff easily, but I think most people will be very careful with this case anyway.
So here's a bunch of external pictures:
Now moving to the interior we've got an excellent wiring job, no lose wires hanging around at all, everything is secured and out of the way to provide optimum airflow inside of the case. The CPU is being cooled by a CoolIt water cooler, and it's also painted to match the system, and we can also see the power supply and drive racks are painted to match as well. The side panel is secured by four screws, one in each corner.
I don't have any complaints about the system build really, just one small one, since this is a lan machine meant to be taken to lan parties etc, why are there no USB or Audio ports on the front of the case? It just makes sense to me to have them on the front instead of having to reach around to connect things… oh well…
Specifications:
Smooth Creations Lanshark PYRO System
Motherboard: DFI LanParty P45
Processor: Intel QX9650
Graphics: Sapphire 4870 Radeon 512MB
Memory: 4GB G.Skill 1066MHz
Power Supply: Tagan 700w
CPU cooling: Cool It CPU water cooling
Hard Drive: Western Digital 150GB Raptor
Optical Drive: Lite-on DVD+R
Operating System: Windows Vista Ultimate 64
Case: FREE Custom Painted Lanshark
Free Logitech G15 keyboard
Free Logitech G5 mouse

As configured Price: $2299.00

First off let me say that I'm not going to delve into the graphics capabilities of the system too much, Smooth Creations asked me to review the graphics card separately so that review will be up next week, I'm putting it in my main rig and will be comparing the Sapphire Radeon 512MB 4870 to my Diamond Radeon 1gig 4870. I'm curious to see how much of a difference 512mb is in regards to gaming.
Here it is powered up and running, there's not much in the way of lighting in the case, the PSU and the CoolIt cooler have lighting and that's it, it might be nice to add a cold cathode on the bottom of the case or maybe some LEDs even to brighten things up a bit…
Once I got the system up and running I found out it's quite loud, the CoolIt cooler is the culprit here obviously. You can adjust the settings but I wasn't messing with them because Smooth Creations had it set, and I'm sure they know what they're doing. Personally though it's way to loud for my tastes, I like quiet and this thing most certainly is not.
Before we get into testing, here's some info from CPU-Z, Windows, CrystalCPUID ETC and a couple screenshots of the desktop: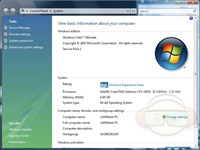 I also ran a quick test of the cooling system on the CPU, I used two instances of Orthos Stress Prime to get load on the system, it gives us some decent temps at load.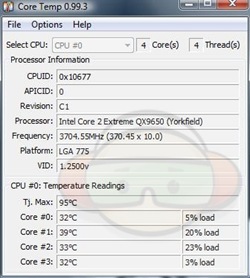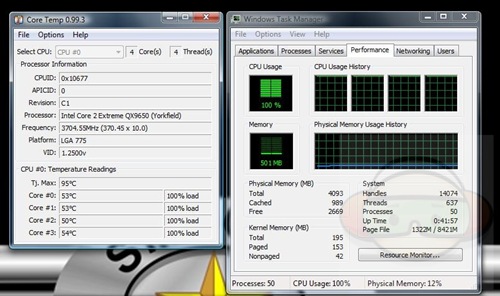 Opening up the Task Manager and checking out the running processes we find a couple that I wonder why they are running…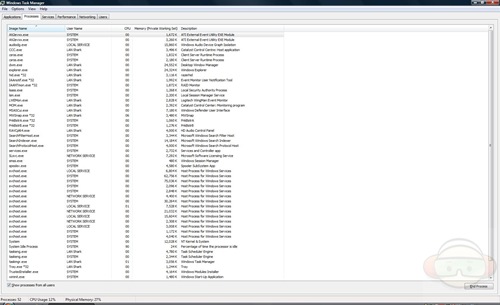 You have to wonder why two PunkBusters are running if you're not playing a game, you can set them to manual startup easily, and I have to wonder why RAID monitor is running when there's only one hard drive… Other than that it's not too bad, though I'm sure I could go in and prune it a bit more..
I figured I'd compare the LanShark to my current system, just to get a comparison, I've only got a Q6600 so I knew it was going to get beat up pretty bad, especially since the CPU is overclocked and there's a Raptor in there…
First up here's 3DMark06, my system has 4gigs ram, the Q6600 CPU and the Radeon 4870 1gig video card: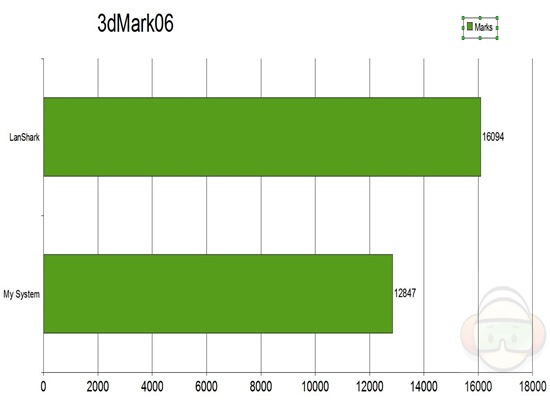 Yeah.. my system got stomped… good performance from the LanShark, nice high marks.
Next up is Crysis, only the LanShark system though, using DX9 and DX10 for testing. All settings are set to Very High. I set it to Very High to push the system to see if it could handle it.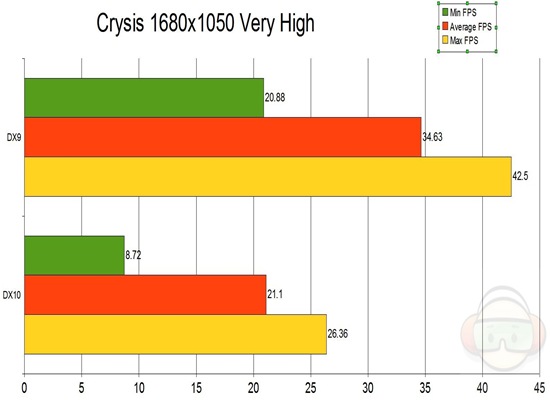 Not bad, but not great either, then again not many systems can run Crysis at maxed settings, especially with a single card setup like this…
Next up we've got FarCry2, DX9 and DX10, different settings for each:
Settings: Demo(Ranch Small), 1680×1050 (60Hz), D3D9, Fixed Time Step(No), Disable Artificial Intelligence(No), Full Screen, Anti-Aliasing(2x), VSync(No), Overall Quality(Optimal), Vegetation(Very High), Shading(Very High), Terrain(Very High), Geometry(Very High), Post FX(High), Texture(Very High), Shadow(Very High), Ambient(High), Hdr(Yes), Bloom(Yes), Fire(Very High), Physics(Very High), RealTrees(Very High)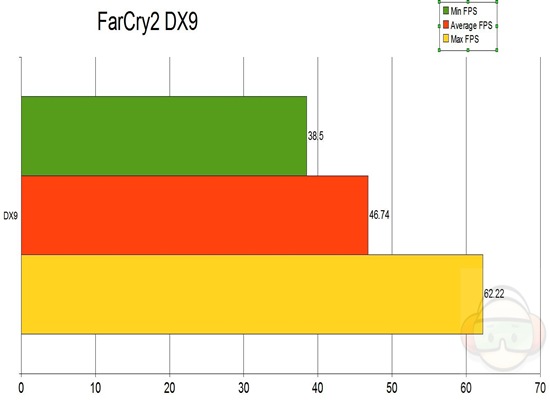 Excellent DX9 perfromance with the settings maxed out…
Now we've got DX10:
Settings: Demo(Ranch Small), 1360×768 (60Hz), D3D10, Fixed Time Step(No), Disable Artificial Intelligence(No), Full Screen, Anti-Aliasing(None), VSync(Yes), Overall Quality(Optimal), Vegetation(Very High), Shading(Very High), Terrain(Very High), Geometry(Very High), Post FX(High), Texture(Very High), Shadow(Very High), Ambient(High), Hdr(Yes), Bloom(Yes), Fire(Very High), Physics(Very High), RealTrees(Very High)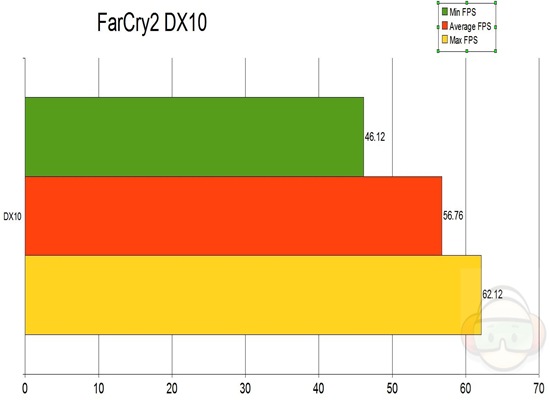 Next up is Crystalmark, it test the entire system and give us results. The first series of screen shots are from the LanShark, then there's the overall graph and the second series of screenshots is from my computer, I've included them if you want to check the actual breakdowns of the performance of the systems.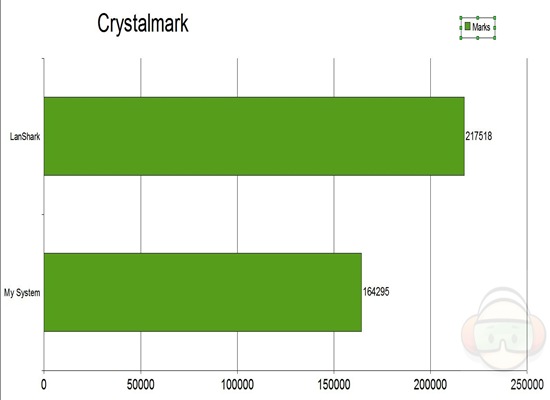 As expected my system got stomped on yet again…
Next up we've got a few tests from SiSoft Sandra 2009 and that'll be the end of it…
First up is Cache and Memory Test, higher is better: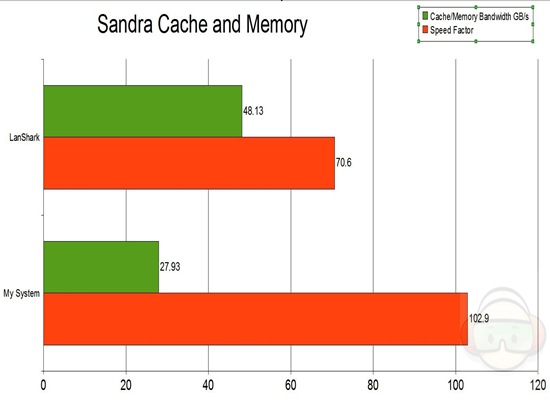 nothing to say…
Next up is the Processor Arithmetic Test, higher is better: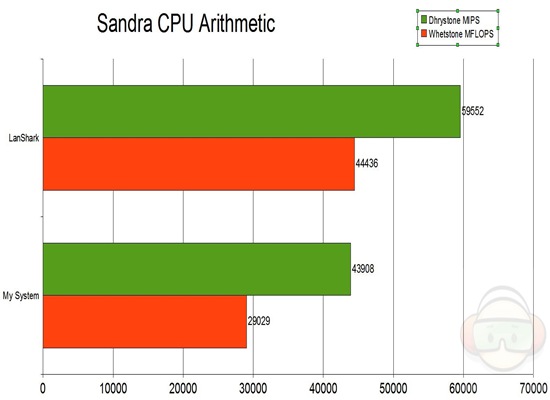 umm yeah… time for me to upgrade me thinks…
Next up is Sandra Processor Multimedia, again, higher is better…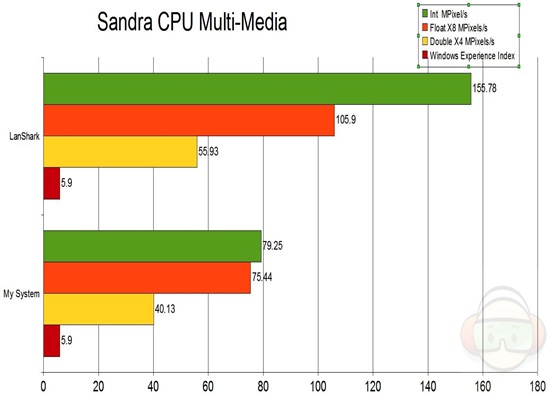 just reiterates my point that I need a new system….
Now we have the Memory Bandwidth test: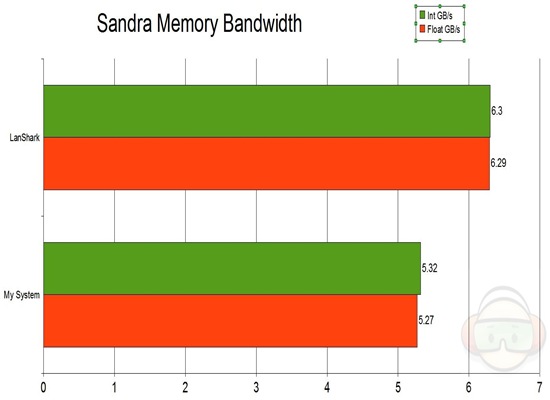 closer here..
now we have Sandra Memory Latency Test, lower is better with the Random Access test in this one…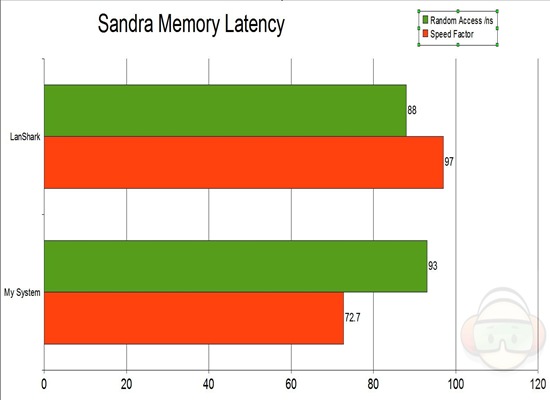 Close.. but still not good enough
And finally we've go SiSoft Sandra 2009 Video Rendering Test using DX10.1: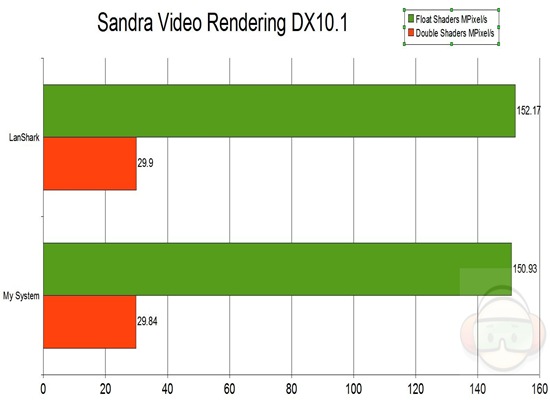 hey, finally my system caught up, well came close anyway…
Well what have we learned from all of these tests? I learned that I need to upgrade my system… seriously though the performance of the Smooth Creations LanShark Pyro system is very good overall,
Conclusion:
If you're in the market for a sweet looking, quality painted and modded case then Smooth Creations should be your first stop, the case is very nicely done.
The system inside is decent, nothing spectacular really, but it's good enough to play most every game on high or very high settings. You can of course visit Smooth Creations and custom design your own system or get one of their pre-configured ones, the prices vary greatly between them all.
Only two real complaints, there's no USB or audio ports on the front of the case and it's very loud.
I will add the price as a con, but really it's not if you consider everything that went into it and the overall build quality, I think it's well worth the cost, but I'm some won't…
Pros:
Very well made
Looks great
Excellent build quality
Good performance
Cons:
Loud
No front ports
Expensive
| | |
| --- | --- |
| Grades: |   |
| Overall | |
| Design | |
| Performance | |