External hard drive enclosures are nice products, but they can be a hassle, taking them apart all of the time just to transfer files, especially if you've got several hard drives floating around. You'll either need to take the enclosure apart all of the time or invest in an enclosure for each drive you have. There is an easier way to handle things though, just get an HDD docking station, these are a great way to quickly and easily transfer files to and from hard drives that you have lying about not inside an enclosure, I personally use on quit often.
Today for review I have the Voyager Q FireWire USB eSATA – SATA Hard Drive Docking Solution, or docking station. It's the first HDD docking station I've seen that has all of those interfaces built-into it, the Voyager Q certainly has got you covered when it comes to interfaces. I've put it up against the Thermaltak BlacX that I use now for comparison, so read on to learn more and see how it performs.

First up, I have a quick unboxing video for you.
Specifications:
NewerTech Voyager Q
"Quad Interface" FireWire 800/400/USB 2.0/eSATA – SATA I/II Hard Drive Docking Solution
Newest Generation of "Quad Interface" Docking Solutions!
Whether you're on a data recovery mission or just want to check the contents of an older swapped out hard drive, NewerTech Voyager is the easiest, most convenient way to access data from any Serial ATA (SATA) hard drive.
Just insert any standard 2.5″ or 3.5″ SATA I/II hard drive with up to 2.0TB capacity into the compact docking base and select one of the four interfaces supported by your Mac or PC for the fastest data transfer performance. Then, start reading and/or writing data to the docked hard drive. There's nothing else to install or configure!
Features:
1. 2.5″ & 3.5″ SATA I/II drive connector
2. Hinged flap for 3.5″ drive access
3. Hard drive eject lever for safe removal of 3.5″ drives
4. Status LED:
Blue = Power
Flashing Red = Disk Activity
5. Power receptacle
6. USB 2.0/1.1 Mini-B port
7. eSATA port
8. Two FireWire 800 (1394b) ports
9. FireWire 400 (1394a) port
Specs:
Bridge Chipset: Oxford 934DSb
Material: ABS black plastic with non-skid rubber feet
Interface/Ports
* (1) eSATA port
* (2) FireWire 800 (1394b) ports
* (1) FireWire 400 (1394a) port
* (1) USB 2.0/1.1 Mini-B port
Dimensions and Weight: 3.937″ x 5.925″ x 3.169″ (W x D x H), 1.32 lbs. (without drive)
Warranty: One year warranty
Price: $99.95
There's not much to the installation of this product, just plug it into power and then choose the interface and plug it into your computer. I don't have any FireWire devices to compare the Voyager Q to, so I'm just comparing the USB and eSATA interfaces. Currently I use the Thermaltake BlacX SATA HDD Dock for my quick transfer needs, so that's what I'm comparing the Voyager Q to. I'm using the Patriot 128GBWarp SSD drive for the tests.
On the front of the Voyager Q is a power button that is ringed with an LED, it lights up blue for power and blinks red for activity.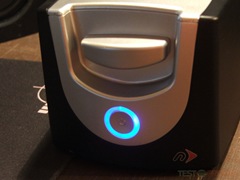 First up I used ATTO Disk Benchmark, no graph here, just the results for you:
Here's the eSATA testing:
You can see the Voyager Q is a bit faster with read speeds.
Next up is the USB testing:
Here they're pretty close overall.
Now I've got testing using SiSoft Sandra 2009 SP3 Removable Storage benchmark, first up is eSATA testing: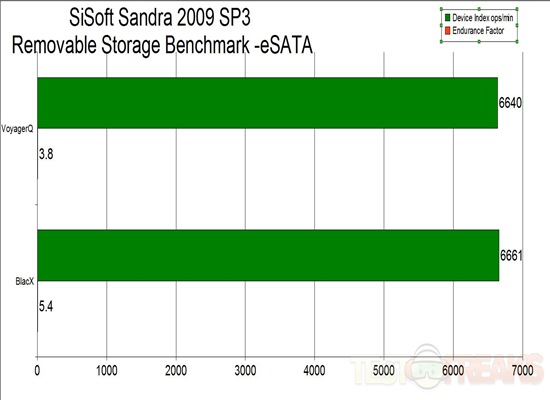 Here the BlacX is a little bit faster.
Now here's the USB testing with SiSoft Sandra: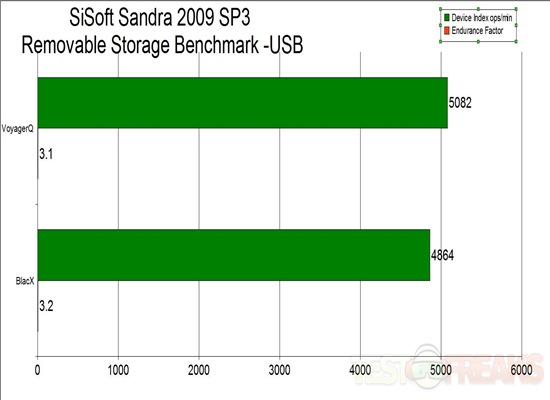 As you can see the Voyager Q is a bit faster when using the USB connection.
Now I've got DiskBench testing. I used a 350MB .AVI Video file for all of the testing. First up is the times to transfer the file to and from the docks via eSATA.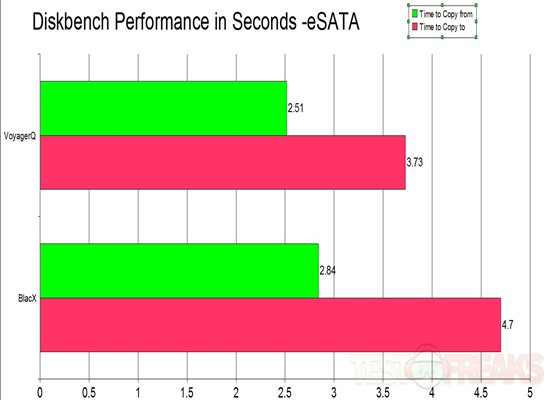 The Voyager Q is faster overall, but not by much, about one second.
Here's the transfer rates in MB/s for the above test: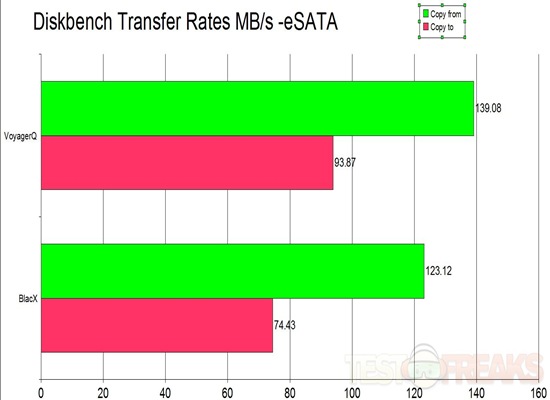 As you can see the Voyager Q is quite a bit faster than the Thermaltake BlacX.
Finally we have testing via the USB interface: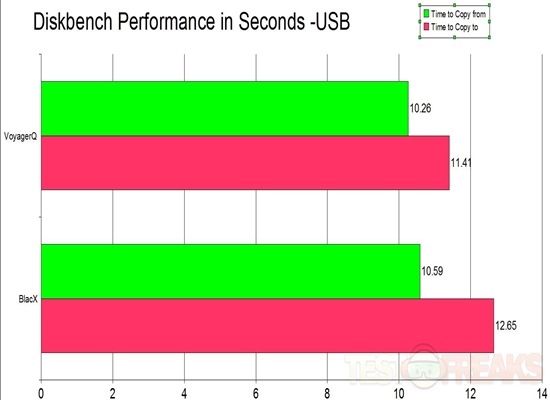 Again the Voyager Q is a bit faster here, but we're taking one second maybe
And here's the transfer rates for the USB test: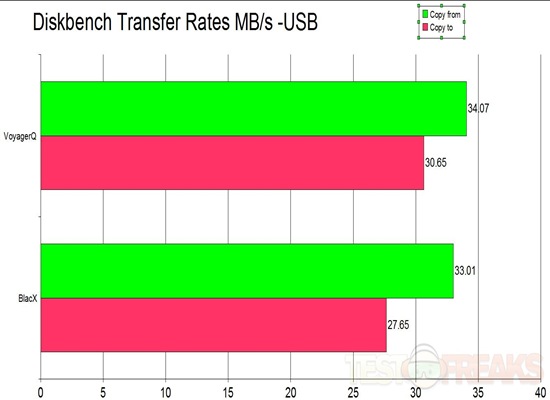 As you can see from the testing results the Voyager Q is a excellent performing product, it's also well made, and I like the eject button on it as well.
There is one rather large complaint I could have about this product, and that's the price. The Thermaltake BlacX has USB and eSATA interfaces on it and sells for about $30, the Voyager Q of course has FireWire, USB and eSATA, but sells for $99.95, that's about a $70 difference there just for the addition of two more ports, is it worth it? To me, no it's not, the main reason being that I don't use FireWire at all, and even if you did use FireWire, I'm sure there are cheaper solutions out there. Maybe $50 would be a good price point, but $100 is just a bit much for this product, but that's just my opinion.
Conclusion:
There's no doubt the Voyager Q is one of the best performing hard drive docks I've tested, it has excellent transfer speeds and it's well made. The addition of the eject button dos make life a bit easier when removing drives, it's a nice feature to have.
The problem with this product though is the price, even if you can utilize all of the interfaces, I just don't think it's worth the high cost of it, even if it's fast. In the end we're talking about 1 second faster on average than the Thermaltake BlacX, and to me spending $70 is certainly not worth the couple seconds I might save in transfer time, I'm not in that much of a hurry really. At this point in time I think USB and eSATA are the dominant types of interfaces out there, FireWire has its uses sure, but it's not worth the high cost of it.
Then again, if you are a die hard Mac user that utilizes the FireWire interface commonly, then this might be the product you need, as it's the only dock I know of on the market that offers both types of FireWire connections
Pros:
+Well made
+Small size
+Excellent performance
Cons:
-High Price
| | |
| --- | --- |
| Grades: | |
| Overall | |
| Design | |
| Performance | |