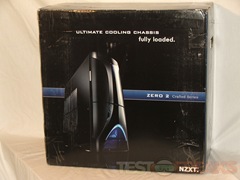 We all desire to be unique, to set ourselves apart from other people, so why should our computers all look the same? They should match our personalities, they should be as unique as each of us. One reason why PC case manufacturers do so well is this desire to be different, a desire to not have our computer all look the same. Our computers have become like a piece of furniture really, they can accent our workspaces as much as painting, or other decorations we have around us.
Today for review I've got the NZXT Zero 2 Crafted Series PC Case. The Zero 2 is a rather large case, but being large it's got a lot of room inside for all our your components. This case comes with three fans built-in for good cooling and the ability to add six more for even more cooling power to keep those high end system cool. The Zero 2 is a screwless design so for most of the installation you won't need tool making the installation fairly easy and painless.

The first thing I've got for you here is an unboxing/tour of the Zero 2, check that out and continue on for the still pictures.
The NZXT Zero 2 is a very well made case, it's mostly made of steel thus making it fairly heavy. The front bezel is plastic and features a door that opens to expose the drive bays. On the right side, top and bottom you'll find space for additional fans if required. The top is also where you'll find the USB, FireWire and audio connections. On the back you'll find the standard PCI slots and I/O cover, but what's not standard on many cases is the included dual 120mm fans that act as the exhaust for the Zero 2. The power button is on the front of the bezel, below the door, it sort of blends into the case, the reset button is behind the door.
Inside the NZXT Zero 2 we find an accessory package with screws and drive rails. The bottom fan spot also includes a removable filter as well. There's plenty of room inside the Zero 2, room for six hard drives and five 5.25" devices.
Specifications:
NZXT ZERO 2 Crafted Series PC Case
ZERO 2 Crafted Series
Steel Full Tower Chassis
Introducing the Zero 2, the follow-up to the successful ZERO, featuring the same extreme cooling capabilities, the ZERO 2 is the perfect home to enthusiast and gaming users. Featuring a sturdy 1.0mm steel chassis, the Zero's structural integrity cannot be doubted. Weighing at 10.2KG the zero 2 is a beast of its own. Zero 2's quad side fans are perfect for users running multi GPU systems.
Features
* Full tower steel chassis
* Quad 120mm fans dedicated for CPU and GPU cooling
* Dual 120mm exhaust
* Screwless installation for 5.25" and 3.5" devices
* Intel HD audio compatibility
* Top mounted USB, Audio, and E-SATA Ports
* Sturdy 1.0mm steel chassis
Specifications:
MODEL: Zero 2 SERIES
CASE TYPE: FULL TOWER Steel
FRONT PANEL MATERIAL: PLASTIC
DIMENSIONS (W x H x D): 210.5 X 532 X 536 mm
COOLING SYSTEM   
FRONT:  1 X 120mm Blue LED (included)
REAR: 2 X 120mm (included)
TOP/BOTTOM: 1 X 80mm, 2 x 80mm fans (optional)
SIDE: 4 x 120mm (optional)
DRIVE BAY: 13 DRIVE BAYS
-5 EXTERNAL 5.25" DRIVE BAYS
-2 EXTERNAL 3.5" DRIVE BAYS
-6 INTERNAL 3.5" DRIVE BAYS
-Screwless Rail Design
MATERIAL(S): Steel Construction
EXPANSION SLOTS: 7
WEIGHT: 10.2 KGS
MOTHERBOARD SUPPORT: ATX, MICRO-ATX, BABY AT
For installation I figured I'd upgrade my children's computer, they had an older case that was getting a bit beat up. It's just a basic system, something for them to play kids games on and surf the internet.  I did add more fans to fill in the top and bottom spots on the Zero 2, I also used the NZXT Sentry LX as well, it made a nice accompaniment for all of those fans. They've only got one hard drive and one optical drive, so I had no problems getting everything in there. Overall installation was very easy, with no complaints really, but it would be nice if the motherboard tray was removable. The front 120mm fan has a blue LED in it that shines though the front of the case and into the inside as well. The front bezel also features blue lighting accents when the system is powered on.
Conclusion:
The NZXT Zero 2 PC case is very well made, with a lot of room for even the most powerful system out there, you'll have plenty of room for hard drives and video cards in there.  The included fans do an excellent job of cooling, and you've got the option of adding even more fans if you want even more cooling for your system.
The lack of removable motherboard tray isn't a big deal to me, but some might not like it, I also do not like the top mounted connections, I would much rather have them in the front. The Zero 2 sits inside of my kids computer desk and with the connections on the top, it's a bit hard to access them.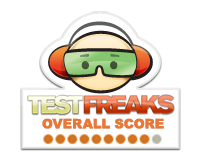 Pros:
+Lots of room
+Very well made, and sturdy design
+Easy installation
+Excellent cooling abilities
Cons:
-Mobo tray not removable
-Heavy
-Top mounted connections
| | |
| --- | --- |
| Grades: |   |
| Overall | |
| Design | |
| Performance | |