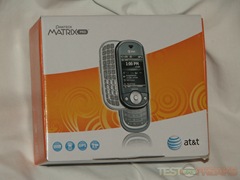 Back in October I took a look at the Pantech Matrix and I found it to be a very nice phone overall.
Recently Pantech released sort of an upgrade for the Matrix, aptly named the Matrix Pro, it's a Windows Mobile enabled phone so you'll find several great features over the original Matrix. The Matrix Pro takes the best features of the Matrix and builds upon them, improving an already good phone, making it more useful and more fun.
First off is the unboxing video:
As you saw in the video, Pantech included a little case with the Matrix Pro, a nice added touch to help protect the phone a bit.
It is a dual slider, so you've got a vertical slide that reveals the standard keypad and a horizontal slide that reveals the QWERTY keyboard:
Specifications:


THE MATRIX PROTM, DESIGNED TO LET YOU DO MORE-WITH STYLE.
The new Pantech Matrix ProTM combines a sliding QWERTY keyboard and numeric keypad with an intuitive user interface and powerful Windows Mobile® functionality. And it's all wrapped up in a rounded, mirror-finish case that fits smoothly in the palm of your hand.
Slide one way to quickly call or text a friend, slide the other way to type an email to the office. If you're ready to take your mobile life to the next leve, the Matrix Pro is the smartphone for you.
The Matrix Pro features:
-Dual-slide design with QWERTY and numeric keyboards
-Windows Mobile 6.1 Standard
-Corporate email
-UMTS/HSDPA tri-band
-GPRS/EDGE quad-band
-2 megapixel integrated camera
-AT&T Navigator
-Threaded SMS messaging
-Video Share calling
-Instant, text, and multimedia messaging
Specs:
– 4.2" (H) x 2.0" (W) x .09" (D)
– Weight 5.34 oz.(with standard battery)
– Battery Type Standard Lithium-Ion (Li-Ion)
– Talk Time Up to 6 Hours*
– Standby Time Up to 12 Days*
– Supports up to 32GB microSDTM card*
Features:
* Windows Mobile 6.1 Standard
* Microsoft Office Mobile (Word, Excel, PowerPoint)
* Xpress Mail for POP3 access
* Microsoft Direct Push – syncs your email, contacts, calendar and tasks
* PC Tethering
* Sliding panel user interface – for easy access to favorite tasks
* Mobile Banking
* Multitasking – use voice & data simultaneously
* Tools: alarm clock, calendar, notepad, voice memo, calculator, tasks, stop watch, unit converter
* Address Book with up to 1,000 Contacts
* Flight Mode (RF off)
* Send business card information as a multimedia message
To start off with here's a video of the interface, it's about 10 minutes, sorry for the long length, but I wanted to try and cover everything.
As for service I have no problems with AT&T and getting a signal or dropped calls, I had no problems while using the Matrix Pro.
The interface is very difficult to get accustomed to if you are coming off of a Windows Mobile touch screen phone, but after two weeks of using it I got it figured out, in fact when I went back to my Tilt I was kinda wishing the sliding interface was there for me to use along with the touch screen.
Making calls with the Matrix Pro is fine as you use a keypad, so nothing new there, overall the phone works well for that.
Now the interface itself, and using it is a bit odd in that it can sometimes take quite a while for the phone to react, especially when switching from portrait to landscape mode. If you paid attention to the above video you would have seen where it takes a few seconds for the Matrix Pro to react when sliding, it's almost as if the CPU is not powerful enough to run WinMo on this phone.
As for what's on the phone, we find the usual clutter from an AT&T product, and it seems they are throwing more trial games on now as well. Included is Microsoft Mobile Office so you can get things done.
It would be nice if there was WiFi on this phone, I'm thinking all Windows Mobile phones now are WiFi enabled. The only wireless is BlueTooth which is basically standard on all phones now, I used the Matrix Pro with my Jawbone 2 and a new BT headset I got, the Zivio Boom, both worked perfectly fine with the Matrix Pro.
Sound quality is very good, other people told me that I sounded fine when I talked to them as well.
The slider works very well both ways, in fact I sat here while watching a movie and was just sliding the phone open and closed both ways constantly for good half hour, no problems at all with it, it slides very smoothly, and easily.
The build quality of the Matrix Pro is nice, though it is a bit thick compared to many other phones out there, so that might turn some people off, personally I like a phone with a bit of body to it, so this didn't bother me at all.
Here's a couple comparison shots of the Pantech Matrix Pro and the regular Matrix:
Here's a quick sample video, the resolution on the video camera is very small:
As you can see it's not that great the video is very grainy and the audio even sounds a bit off
Here are a few sample pictures I took:
Here's the zoom, first is no zoom, then the second is zoom all the way in:
Overall the pictures aren't too bad, I've seen worse, even with indoor lighting, of course though you've got to hold the phone steady, it seems that far away pictures are much better than close up ones. The colors seem to be correct when you get a good picture. One complaint I could have about the camera though is that it seems to take quite a while to process the pictures before you can take another.
Conclusion:
Obviously the Matrix Pro is based off of the Matrix which is aimed more towards people whole like to text a lot, the Matrix Pro keeps the good aspects of the Matrix and adds quite a lot more functionality in the same form factor with the addition of Windows Mobile and all that comes with it.
The design of the phone is nice, where the original Matrix had sort of a square look and feel to it the Matrix Pro adds some sexy curves with a much more softer and rounder look.
If you liked the Matrix, then I'm sure you'll love the Matrix Pro, it just brings so much more usefulness to an already decent phone.
Pros:
Easy to use
Good sound quality
Well made
Cons:
Interface can be very slow to react at times
Video camera is bad
No WiFi
| | |
| --- | --- |
| Grades: |   |
| Overall | |
| Design | |
| Performance | |