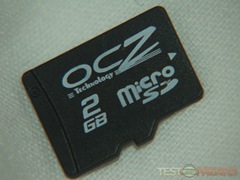 Yesterday I took a look at the OCZ CrossOver 8gb USB drive with integrated microSD slot, today I'm taking a look at an OCZ microSD card, specifically their 2gb model. It's a standard microSD card, not an SDHC card though, just regular SD so it will be compatible with everything basically. There's not much more to day about this product, it's a microSD card after all, it also comes with an SD adapter, and a carrying case as well. I've compared this card to a few other SD and SHC cards I've got on hand to see how it stacks up

The OCZ 2gb microSD card comes in the standard sealed plastic clamshell style package, you can see the card, adapter and case through the package along with some basic information listed.
Inside we only find the microSD card, adapter and case, nothing else is really needed is it?
Specifications:
OCZ 2gb MicroSD Secure Digital Memory Card
OCZ microSD cards are a necessity for cutting-edge cell phones and mobile accessories that can store high-resolution multimedia files. With up to 2GB storage capacity, an OCZ microSD card can hold hundreds of digital songs, pictures, games, and hours of video. As the smallest form of flash memory on the market, microSD is the most common storage option with new cutting-edge electronics, ensuring your OCZ card will be compatible with multiple devices.
The OCZ microSD utilizes the latest technology in flash memory, and at one-fourth the size of a standard Secure Digital card it is the ultimate portable media device. OCZ microSD cards come complete with an SD adaptor to make transferring and viewing data between various devices easier while a second version also includes a miniSD adaptor for maximum compatibility.
All OCZ microSD flash cards come backed with a 1 year warranty for unparalleled peace of mind, upholding the OCZ commitment to quality.
Specs:
-Available in 66X Speeds      
-Available in 1GB and 2GB Capacities      
-Official Secure Digital (SD) Compliant
-microSD Compliant           
-SD adaptors included      
-1 Year Warranty
Part #:
MicroSD with SD Adaptor 2GB- OCZMSD2A-2G
Price: $6.50 (NewEg at time of review)

For testing I put it up against a few other brands like Kingston, Dane Elec and ATP.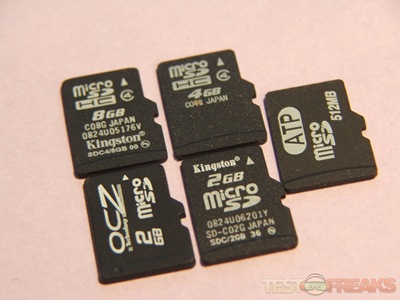 I used the card reader I've got in one of my 3.5" bays in my computer for testing, it conveniently fits microSD cards without an adapter.
For testing I used SiSoft Sandra 2009 SP2 Removable Storage Benchmark as usual.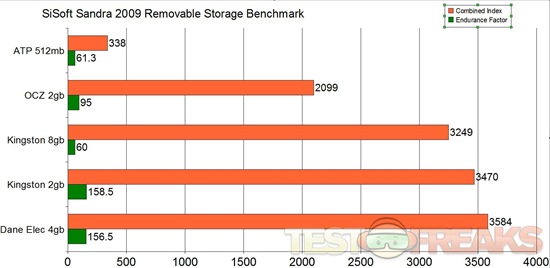 As you can see the OCZ Card is fairly slow.
Here's the 256MB files test with Read and Write Performance: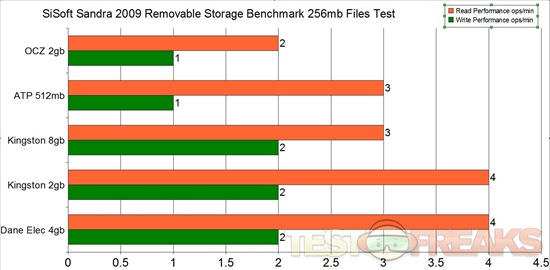 As you can see the OCZ card is pretty slow at large file transfers, but most people aren't going to be using it for large transfers really, it'll be in their phones most likely, and there many times only smaller files will be utilized. There are exceptions of course for like movies, but most stuff for a phone is well under 256MB, and you really don't need super fast cards to use for yuor phone either. Still even so, the OCZ 2gb microSD card is slow compared to others out there and to be fair, the Kingston 2gb microSD card I used or testing actually costs a little more than the OCZ card does, about 50 cents more actually. Oh well, can't win them all right, but for $6.50 if you need a microSD card it's not a bad choice.
Conclusion:
Taking what it's going to be used for into consideration, the OCZ 2gb microSD card is not a bad card, it's inexpensive and gets the job done.
It is slow yes, but then, as I mentioned, you don't really need a super fast card for storage on the majority of cellphones out there today.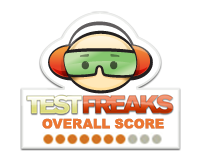 Pros:
Inexpensive
Cons:
Slow
| | |
| --- | --- |
| Grades: |   |
| Overall | |
| Design | |
| Performance | |