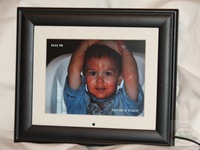 One of the most popular gifts this year and last year is the Digital Photo Frame, they've come down in price quite a bit since last year, and they're becoming more and more feature packed. They're a great way to show off your pictures instead of leaving them in digital format, and they make great gifts.
A little bit ago I took a look at the Photolink Scanner from Pandigital, today I've got an 8″ LCD Digital Photo Frame from them. The frame is very nice, the LCD is crisp and clear and it's got some great features like a built in card reader, remote control and the ability to not only show your pictures but play videos and music as well.

First up is the video unboxing, check it out and continue on:
Specifications:
Pandigital 8″ LCD Digital Photo Frame
Move Digital Images Out Of Your Camera And Into Your Home.
Model: PAN811-B
Complete Storage
Stores up to 298 two megapixel images, 256MB of internal memory
Complete Compatibility
A built-in 6-in-1 card reader
Complete Connectivity
Transfer files easily from your memory card, camera or PC
Complete Style
Beveled black wood frame
Complete media Support
Supports JPEG, AVI, MPEG-1, MPEG-2, MPEG-4 and MP3 files. Accepts SD/MMC/CF/MS/XD memory cards allowing you to store thousands of photos, songs or video.
Features
Clock, Calendar, Alarm and Programmable On/Off  and remote control
Price: $149.99 (depending where you look)
Loading pictures on the Pandigital 8″ LCD Photo Frame can be done a few different ways, via memory card, USB drive or right from your computer, and it's very easy to do.  The frame itself seems very well made, solid and sturdy, but yet lightweight.
There's also an interesting Zoom feature on the remote as well, not exactly sure why you want to zoom in on pictures though, but I guess it's a nice feature to have. Here's the original picture first with the levels of zoom, this was my son with orange whipped cream…
The remote control is used to easily access the features and setup of the frame, or you can use the buttons on the back, I like the fact that there are two sets of controls so if you lose the remote you're not stuck with no controls. One of the things about the remote is that it is an IR remote with limited range and angle of usability, you pretty much have to be pointing straight at it for it to work.
The quality of the pictures is very nice on the LCD, I tried to capture them with my camera but it's hard, I'm impressed though, they look very sharp and clear.
There's also on-screen displays for the setup and controls, where you can adjust some things about the display.
There is a built-in card reader which is nice that it accepts several types of cards, it not only reads them from the card, but you can copy them to the frames memory or you can use the card as a storage device. You can also do the same thing with a USB drive as well. You can use memory cards, or USB for videos, music or pictures so it's a versatile system.
One the the features I like is the Clock/Calendar with pictures displayed, you can just leave the frame set like this and you've got a calendar and clock display along with a slideshow of your pictures, though I wish the time displayed was a bit larger, and I would be happy if the Pandigital logo wasn't in the corner either.
I mentioned the remote already, but a small problem I ran into is the built in stand, it's not that stable really, you'll want to make sure it's out of reach from children and pets, just lightly bumping it of the table its on makes it fall over. There are mounts on the back so you can mount it on the wall, but then you'd have a cord hanging down from it for power.
I did try a movie with it, it's nice for a novelty effect, but the speaker in located in the back and it really isn't very loud and the quality isn't the greatest, but it's not too bad either, better than I expected it to be really.
Conclusion:
The Pandigital 8″ LCD Digital Photo Frame is very nice choice for your home or to give as a gift, it's got the aesthetics to look good in most any decor. The features that are included are excellent, as is the overall build quality.
Pros:
Nice clear display
Very easy to use
Plays videos, pictures and music in popular formats
Built-in card reader
Dual controls
Cons:
Range and degree of remote could be better
Stand is not the greatest, falls over easily
| | |
| --- | --- |
| Grades: | |
| Overall | |
| Design | |
| Performance | |