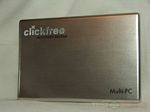 Our computers have become much more than just something to surf the net or play games, for a lot of us they are our main source of income and if something happens to them we'll be in a world of hurt. Those who don't use their computers for business though still have a personal attachment to the data that's on them, it could be our family photos, important documents or whatever your priorities might be, the stuff in our computers is important to all of us in one way or another. I've learned the hard way about what happens if you don't do regular backups, it's not fun to lose gigabytes of data when your hard drive crashes and you didn't back it up. At the present time I back everything up to a NAS box on my network weekly, and every month I also back things up to DVDs as well so I have a backup of my backup essentially. No matter who you are or what you use your computer for there is a need to back up your data, if catastrophe happens there will be something on your computer that you will miss I'm sure, be it emails, photos or whatever. I know most of you out there do not do regular backups, for whatever reasons it may be you just don't do it, once you have a hard drive die and lose your data, you'll quickly change your habits about doing backups I'm sure. I'm also sure there's many reasons why people don't do backups, it could be that they're time consuming, and/or some of the options out there can be a bit confusing and even be considered a daunting task, but what if there was a way to backup your important data by just plugging something in to your PC or Mac with essentially no user input required?
Today for review I have a backup solution that I found to be one of the best and probably the easiest system to use for your backups. It's called the Clickfree Traveler, it's a 16gb flash storage device to automatically backup your data, it's the size of a credit card and about as thick as three or four of them so it's very portable. The Clickfree Traveler has a small USB connection on it that plug into your computer, when plugged in it automatically searches your computer for a number of types of documents and automatically backs them up for you. You literally just plug it in, run the program and let it work, it does everything for you. it does have more advanced options yes, but for a quick and easy backup solution I've not found one that is this easy and simple to use. So read on to learn more a bout a backup solution that is so easy even a child could do it…

The Clickfree traveler comes in everyone's favorite sealed clamshell style package.
Inside you'll find the Clickfree Traveler itself and an instructions manual.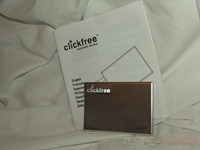 The Traveler looks like an aluminum business card and is the size of one. On the front you'll find the Clickfree logo.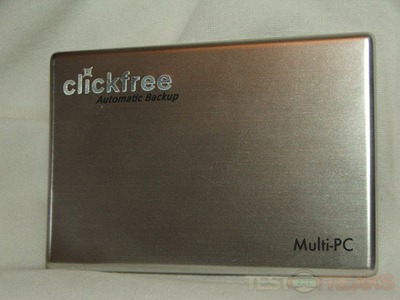 The Traveler is about as thick as three or four business cards.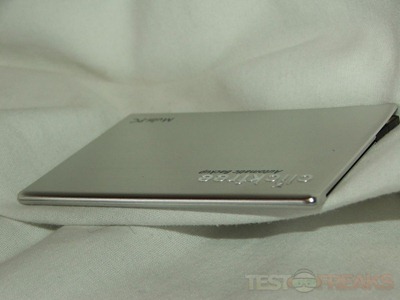 On the back at the bottom corner is the USB connection that flips out. The connection is a thick ribbon style cable making it flexible and thin to fit inside of the Traveler.
Specifications:
16GB Solid State Capacity
Silver Aluminum Chassis
Price: MSRP $69.99 USD
The Clickfree Traveler is a Sleek, Automatic Backup Solution that's the Size of a Credit Card!
Wrapped in a Durable Aluminum Chassis, the Traveler easily connects to your PC or MAC with its slim USB connector that swings out from one side.
Clickfree's Automatic Backup software can Restore your "irreplaceable data" including Personal Photo's, Music, Video, Documents and Email.
Simply connect into your PC or MAC – The Traveler immediately starts to backup your files.
WORKS WITH:
Windows 7, Windows Vista, Windows XP and Mac OS X 10.5 or later with Intel processor
PRODUCT HIGHLIGHTS:
-No Software to install
-PC and MAC Compatible
-Durable Aluminum Chassis
-Supports 14 Languages
-Low Profile USB Connector
-Backup Multiple Computers
Price from Amazon: $48.00 (at time of review)

It didn't look like there was any LEDs on it, but once I plugged it in I noticed there is a small white on the USB connector itself.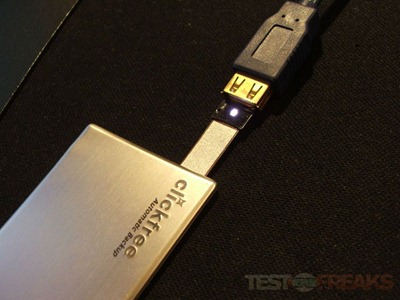 When you plug it in two options will pop up, one to browse the drive and the other to start the program itself. If you have autorun enabled on your PC then the program should start automatically, I don't so that's why it pops up this way.
Starting the program it opens up and automatically starts a countdown to backup your computer.
Once the countdown is complete it starts searching for all important files like email, photos, spreadsheets and several more file types.
Once it was was complete on my computer I got an error of course. The Traveler I received for review is 16gb, and I've got a 2TB hard drive in my system so it's not all going to fit.
On the next page you can see what the program found and select what you think is most important to backup that will fit on the Clickfree Traveler.  I selected emails, Text Documents, Spreadsheets and Favorite Websites.
You can also specify certain things to remove or only backup. Across the top are tabs to Browse Files, Search Files and View Photos. What's nice about being able to select what you want backed up is that there's stuff you won't need backed up, it searches for every thing so I ended up with EULA agreement in the text files and things like photos that my ATI drivers use for ads and during the installation, so we really don't need things like that backed up.
After you're done figuring out what you want backed up it starts the job, but it found some files in use at the time so it had to continue after I gave it permission.
The process took about 10 minutes, maybe a little longer only because I was exploring a bit, but the actual copy or back up process was done in about 5 minutes. Once completed you get a summary of what was backed up.
At the bottom of the summary display are a few more choices like 'Options', 'Restore/Transfer', and 'Enable Security'.
Clicking the options choice opens a new window with tabs across the top to manage Settings and PCs, Tools, Reminder, Support and Restore/Transfer. The Reminder tab is actually for installing a small program on your computer that will remind you it's time to back up your files, a helpful little program for those of us that are too busy to remember things like this. The Tools tab is to reset the Traveler, Update the software or change the language.
Back on the summary page you can click the Enable Security button to create a password to protect your backed up data.
You can go back and specify even more things you want or don't want backed up by single files or even entire folders and you can specify file locations as well.
Overall the Clickfree Traveler is very simple to use, just plug it in and back up your computer, it couldn't be simpler really.
Conclusion:
The version I got for review is only 16gb in capacity but you can get it in 32gb and 64gb sizes. This versions is one that I would use just for my emails and maybe some other important documents. Once you specify what you want backed up you're set, just remember to do your backups, or install the reminder software so it can let you know it's time to do a back up. The MSRP is $69.99 but I found it on Amazon for only $48, either price is well worth it for the ease of use and the fact that you know your files are backed up in case disaster strikes.
Yes it's small and portable, but I wouldn't exactly call it durable or rugged. I bent the edge just trying to get it out of the package, that's just aesthetic, but I wouldn't recommend carrying this in your wallet as it is flexible and you could possibly damage it. I'd keep it in a pocket of my laptop bag and have it right there for me whenever I need it. The connection is what I would call delicate, it's just a thin ribbon cable, but it does lock securely into the housing, still though while in use I'd be careful with it.
You can password protect your data, but it's not encrypted which isn't that big of a deal but it would be nice if it was.
I really like the fact that you can use it with multiple PCs, just plug it in and do your back ups, no need to worry about getting more licenses like some back up software and solutions might require.
I also like the fact that you can configure it how you want, yes it's a few more steps, but like I mentioned you don't want to back up things that are really not needed, and at the default setting it will back up everything and anything it finds basically.
Honestly this is a great product with little or no true flaws, it's the simplest backup system I've ever had the chance to review or own.
Pros:
+Low price for what it offers
+Extremely easy to use
+Configurable
Cons:
-No encryption
-Not exactly rugged
-Connector is thin and delicate
| | |
| --- | --- |
| Grades: | |
| Overall | |
| Design | |
| Performance | |
To learn more about our review policy please visit this page HERE.