Up for review I've got another LED light from our friends over at 1byone and this one is a rather large crystal dome that gets very bright and offers all sorts of options. The light also has a sound activated feature so you can play music and the lights will move or dance to it, and it's well made overall and fairly easy to use. Read on to learn more…

Specifications and Features
1byone O00QS-0060 8.6″ Crystal Super LED Stage Light with Sound Activated & Dmx512 Control
-This magic ball can absolutely shock your eyeball with colorful lighting. It contains 2pcs red LEDs, 1pc yellow LED, 1pc green LED, 1pc white LED, 1pc blue LED. High brightness, colorful and romantic lighting effect, it is ideal for Disco, Party etc.
-Light Color: Red, Yellow, Green, White and Blue. Control mode: Auto, voice, activated ,DMX512 control panel. Control rotation speed, colors and strobe through DMX512 control panel or voice control.
-Advanced LED technology, creating very powerful beams similar to a 150w discharge lamp. Long lifespan LEDs (rated 100,000 hrs.), no need to change lamp. Low heat, low power consumption no duty cycle runs all nights.
-Mini size, easy to use, you can put it many where or hang it without using much area. Small and exquisite in appearance and easy installation. FCC and RoHS approval, ABS and SPCC environmental protection materials, High quality warranty, safe and reliable.
-What you get: A magic of starlight Effects indoors. Create a romantic mood for lovers. Popular cosmos Star Projector lamp. It will not only give your child universal Astronomical Science, but also give you the couple to create a romantic surprise!
Price: $36.00 (from Amazon at time of review)
The Review
Let's start with a video unboxing:
The packaging is nice, the light comes in a sturdy box with a plastic handle on it. Inside you'll find the light wrapped in bubble wrap for protection along with user guide, power supply and other documentation.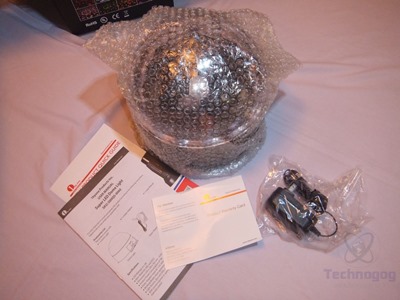 The light looks very nice, it's big at about 8.5 inches across and it's about 7.25 inches high. Overall it seems well made, mostly plastic with a metal base.

The bottom is a metal plate with spaces for screws on the sides so you can mount the light to the ceiling or a wall, there's also ventilation slots there to keep the light cool and a fan inside to circulate air around.
On the the front is the control panel with four buttons for Menu, Up, Down and Enter. The panel has the microphone there along with a four digit display and an indicator for DMX activation. The menu button is used to select the modes and up and down buttons is used to adjust the rotation speed and then the enter button is used to save the current mode.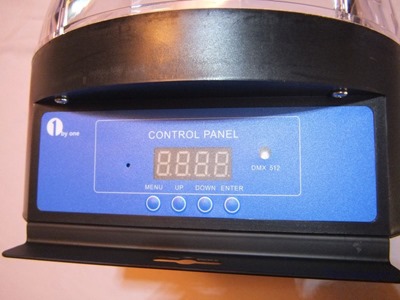 On the back is the power port, 'intelligent degree' knob for adjusting sound sensitivity and then there are output and input DMX ports so you can chain more than one together.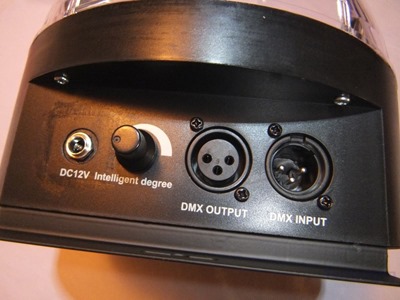 The control panel lights up a nice bright red which is easy to see in the dark. The control panel is easy to use, it's just menu for selection of the modes and then up and down for speed and that's it really, but there are many options for all those to sort through. You can pick single colors, or multiple colors to display.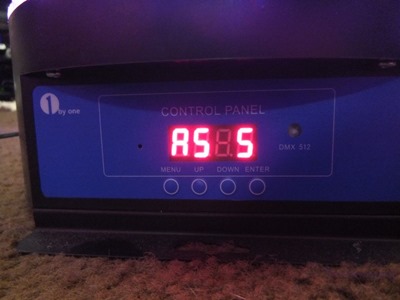 The light patterns are basically small dots, small circles and large and medium circles of varying numbers and varying colors. The lights are extremely bright, they can easily light up a whole room. The lights comes out of the whole crystal dome and not just the top so it really fills the room with light. There are numerous colored LEDs inside, red, blue, white, green, and yellow.
On thing I noticed missing is any power button, basically you have to plug it in and unplug it for power.
The sound activation is a great feature you can turn on music and the lights will dance to it as you might expect, it works clapping and even talking if you're close enough.
Conclusion
The 1byone Crystal Super LED Stage Light is a decent product overall, it's well made, it's very, very bright and it works well, it would be great for parties of any kind.
The cooling fan is a bit loud but that's only when it's quiet and when you're fairly close. If you've got music playing or even loud conservation you won't hear it, but it it's a quiet room you'll hear the fan and the motor.
I don't like the fact that there isn't an actual power switch on it, it turns on as soon as you plug it in.
The light is very bright, you can't look at it without hurting your eyes really, it will easily light up an entire room.
The light is very colorful, there are plenty of options to choose from with varying colors and speeds and I like the sound activated feature.
Pros:
+Simple to use
+Very bright
+Sound activated
Cons:
-No power switch
-Fan is a bit loud
| | |
| --- | --- |
| Grading | Scores Out of 10 |
| Overall | |
| Design / Aesthetic | |
| Value / Price | |
| Performance / Usage | |

Disclosure: This product was given to us for review by the company for review purposes only, and is not considered by us as payment for the review.
To learn more about our review policy please visit this page HERE.