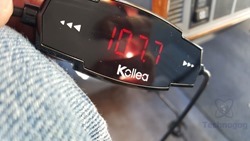 Up for review today I've got something that might come in handy for lots of people, it's an FM transmitter. My former car had a 3.5mm audio jack built into it, but my current one doesn't and I've been meaning to get a new stereo for it but just never have so I need to use something like an FM transmitter or keep using and changing CDs. I have the Kollea FM transmitter for review today which is powered right from your car and has a USB port on the power adapter so you can charge your other stuff while using the transmitter. It's a decent product for sure, read on to learn more…
Specifications and Features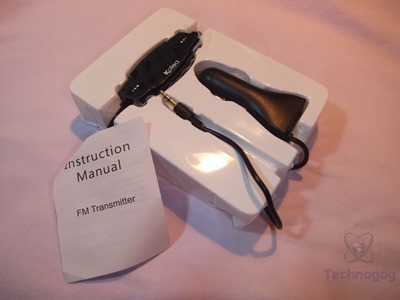 The transmitter is not wireless, in fact it's a really long wire going from the car adapter to the transmitter and then another shorter one that ends in a 3.5mm audio jack to connect to your phone or MP3 player.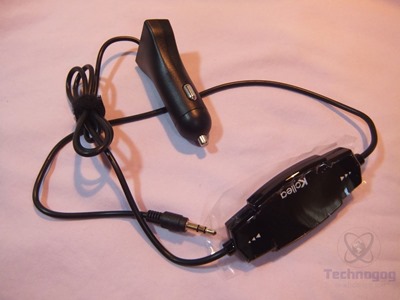 The transmitter doesn't use batteries which I like, it's always plugged into your car power outlet and on the end is a USB port so you can still use it to charge your phone or whatever. The transmitter itself is small which buttons on each side and then a display in the center.
The USB port for charging does have a red LED in it which is nice so you can easily see it to find it in the dark.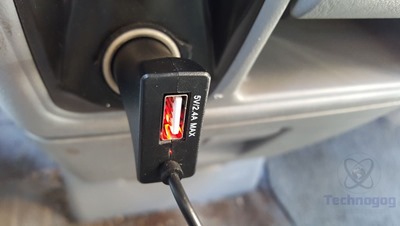 The display isn't the best honestly, in the sunlight you can barely see it really, but in the dark it's fine.
I used this transmitter with my Zune HD and my Samsung Galaxy S6 Android phone and they both worked fine. How it works depends on where you live as to how well the transmitter function will work, but basically you find a station on your car radio that's playing static and tune the transmitter into that frequency and then just press play on your device to start listening to music.
Conclusion
The transmitter is well made and the cables are very long. My power outlet is low underneath my console and the wires are more than long enough to reach for me so I don't think it will be a problem for anyone else.
As far as sound quality, it's what you'd expect, slightly hollow sounding but I get that from every FM Transmitter I've ever owned so it's no big deal to me. The sound is good though, it's clear and you can hear everything just fine. I didn't run into much of any interference really, just once or twice it got a little static mixed in but again, that's common for FM transmitter to get static every once in a while.
As far as FM transmitters go though, this one does seem nicer than others I've owned and my wife and I have had a few of them over the years. I very much like the fact of no batteries and the USB port in the adapter.
Like any FM transmitter I've ever owned and used it all depends on the are you live in as to how well it will work for you. If you live near a radio station you'll have problems with a transmitter and how well it's going to work for you I can't say at all. For me it was fine for the most part, I live close to a radio station so I always have issues using these unless I stay far away from their frequency and even then sometimes I get some static. I have to say this is one of the nicer ones I've owned though and I think I like the idea of having a pass-though power plug with the USB so you don't lose access to the power. I have two outlets in the front of car in the console so it's not an issue for me but for other people it might be.
Pros:
+Well made
+Simple to use
+LED in USB port to see in dark
+Bright display in dark
Cons:
-Can barely see display in sunlight
| | |
| --- | --- |
| Grading | Scores Out of 10 |
| Overall | |
| Design / Aesthetic | |
| Value / Price | |
| Performance / Usage | |
Disclosure: This product was given to us for review by the company for review purposes only, and is not considered by us as payment for the review.
To learn more about our review policy please visit this page HERE.