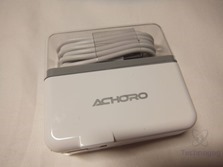 Everyone is mobile these days and it seems we never have enough USB ports for charging our stuff. Today I've got a quick review for you of the Achoro dual USB port travel charger and it's a decent little product that works well. Read on to learn more…


Specifications and Features
The Achoro charger looks nice really, it has a clear top and inside you'll find a lightning cable to charge Apple devices. The clear top comes off but it does secure firmly to the charger so you won't have to worry about it coming off in your bag.
There are two green colored USB ports to charge your devices. One is labeled 1.2amps and the second is labeled 2.4amps, it depends what type of device you're charging as to which port you'll use.
The actual plug prongs fold into the base of the charger for storage and transport.
The adapter does have a green LED to indicate power and ready to charge. I charged my Samsung Galaxy S8 and my Fire Tablet with no issues. I don't do Apple products so I had no use for the included lightning cable but I'm sure it works fine, I'll end up giving it to someone I know who has an iPhone as I'm sure they'll appreciate it more than me. I was a bit disappointed though when I noticed it wasn't quick charging my phone, but oh well.
Conclusion
The Achoro works fine for what it is, it does look nice for sure and I really like the storage compartment so you can take a cable with you and not lose it.
The charger works but neither port would fast charge my phone even though it's capable of it.
I do have to say that in my opinion this charger is a bit overpriced for what it is. Yes it does come with a lightning cable but that doesn't justify paying $30 for a charger in my opinion.

Pros:
+Seems well made
+Works fine
+Includes cable storage compartment
+Includes Apple lightning cable
+Small and portable
Cons:
-Rather expensive
| | |
| --- | --- |
| Grading | Scores Out of 10 |
| Overall | |
| Design / Aesthetic | |
| Value / Price | |
| Performance / Usage | |
Disclosure: This product was given to me for review by the company for review purposes only for free or at a discounted price.
To learn more about our review policy please visit this page HERE.