I've got a really quick review for you in the home and bath category and that would be shower curtain rings. You might wonder what's so special about shower curtain rings? Well if you've ever tried to find a good set then you'll know what I mean, they're hard to come by. I've tried many, many brands and styles of shower curtain rings and they just never last. Today for review I've got a set of Amazer that are stainless steel and have acrylic rollers on them making your curtain opens easier. Read on to learn more…
Specifications and Features
You'll get a set of twelve rings in the package and they do seem very well made. The rings are stainless steel so they won't rust and they should last for many years to come.
On the top of each of the rings you'll find five acrylic balls or rollers that allow the rings to just roll across the shower curtain rod making it easier to open and close your curtain. You can get them in various colors and I got black as that's why I prefer.
The hook part of these is heavy duty and they basically lock in place when you close them. One of my biggest complaints about other shower curtain hooks is that they don't stay closed, these should hopefully.
So I installed them on my shower curtain and have been using them for about a week, actually all of us in the house have been using them. The rollers do really make it easier to open and close the curtain, it just glides or rolls across the shower curtain rod.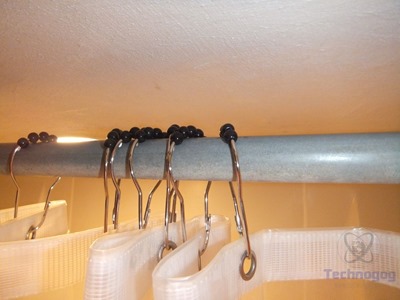 Conclusion
The Amazer Shower Curtain Rings are exactly what I've been looking for. I've been trying to find a decent set of rings for a long time, ones that stay closed, won't rust, easy to use and just make life easier and these do all of that.
The acrylic balls on the rings make opening and closing the shower curtain very easy, they just glide across the rod quickly and easily.
There's not much more to say about these honestly, they're awesome, they're excellent really. If you need a good set of shower curtain rings then look no further than these from Amazer and you won't be disappointed.

Pros:
+Heavy duty
+Stay closed securely
+Acrylic balls make opening and closing much easier
+Very well made
+Simple installation
Cons:
-None
| | |
| --- | --- |
| Grading | Scores Out of 10 |
| Overall | |
| Design / Aesthetic | |
| Value / Price | |
| Performance / Usage | |
Disclosure: This product was given to us for review by the company for review purposes only, and is not considered by us as payment for the review.
To learn more about our review policy please visit this page HERE.