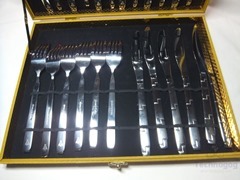 I've got a review from the home and kitchen category today, it's a stainless steel silverware set from a company called AMZ Soaring. The silverware set contains 24 pieces or six place settings and comes in a sturdy and nice looking wooden box for storage and transport. The silverware set is heavy, the pieces are well made and they look nice, they're made of 18/10 stainless steel which means they should last for a long time. The pieces have a subtle pattern on them which would be fine for everyday use or special occasions. Read on to learn more…
Specifications and Features
Amz Soaring Silverware Set, Stainless Steel Flatware Cutlery Set, 24 pcs Kitchen Dinnerware Tableware Utensil Set Service for 6 Include Luxury Gift Box, 6 Exquisite Place Mats
This 24 pieces flatware set is made of 18/10 stainless steel with mirror polished, can serve 6 people, sturdy and durable, suitable for daily use at home, restaurants or hotel.
Simple and elegant appearance can easily match with all your existing table wares, adding much fun to your dining experience.
Sturdy and Stylish- Premium high quality 18/10 heavy duty stainless steel mirror polished flatware sets, heat-resistant, anti-rust, sturdy and durable, simple and stylish, match with all contemporary tableware dishware. With elongated working ends, it is very comfortable for both adults and children to hold these dinnerware in hand and use it to enjoy the gourmet, eating food
Kitchen Cutlery Set Serves 6 People- This best new 24 pieces real silverware sets offers service to 6 people, Best cutlery set contain 6 dinner forks, 6 dinner knives, 6 dinner(soup) spoons,6 teaspoons and 6 placemats. Sturdy enough for everyday use, elegant enough for a party
Dishwasher Safe- Easy to wash, your proper care can make this utensils set always looks as good as new, and enable it to last for many many years
Luxury Gift Box Packed and Widely Used- This casual modern table cutlery set is perfect for kids, home using, outdoor bbq, travel camping picnic, restaurants & hotel use; ideal as wedding, new house (housewarming, anniversary) gifts to your friends and family
Price: $27.99 (from Amazon at time of review)
The Review

Let's start with a video unboxing and then move on:
The AMZ Soaring silverware set comes in a very shiny metal covered sturdy wooden box. The box is secured closed with a decorative metal clasp. The box is about 13.5 x 10 x 1.5 inches in dimensions.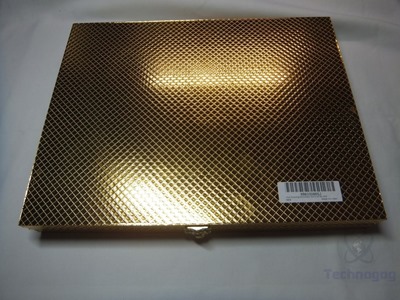 When you open the wooden box you're greeted with the spoons at the top and then the six placemats on the bottom.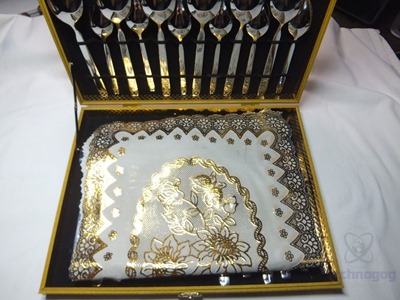 The placemats are nice looking, shiny and golden, they are a vinyl material but sadly they're not very good quality, we found they rip very easily. The first day we used them one of them ripped and we're down to just three of them after about three weeks of use. So they look nice but don't expect them to last.
The inside of the box is lined with a black felt but it appears that during shipping some of the silverware cut or scraped some of it off, not a big issue but it's not very aesthetically pleasing. The spoons are lined at the top half of the box while the knives and forks are on the bottom, all are held in place but elastic.
In the box you get 24 pieces of silverware, six of each knives, forks, teaspoons and soup spoons, enough for six place settings essentially. I have to say I was very much surprised by the quality of the silverware, it's thick and heavy, about twice as heavy as my old set of silverware really. They are sturdy and really don't bend at all and they seem well finished without machine marks or anything like that on the pieces.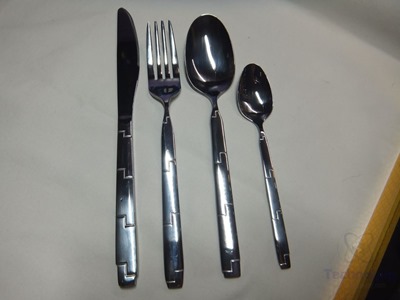 All of the silverware is 18/10 stainless steel which means it should last a while and it's dishwasher safe. 18/10 stainless steel is 18% chromium and 10% nickel which has a high polish and good rust resistance, essentially means it will stay nice and shiny and look good for a long time and it should be durable and sturdy. The knives are partially serrated and sharp enough for most uses, they're not steak knives of course.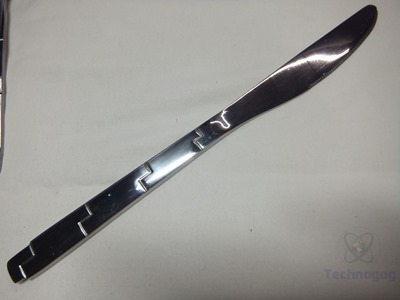 I do like the pattern on the handles, it's sort of plain but yet not, it's subtle or subdued, good for everyday use but also fine for a special occasion. The backs do have the AMZ Soaring logo on them which I think is a bull.
Conclusion

For my uses this silverware is fine, I'm using it just for everyday eating or usage but it is very well made and nice looking. You can use this silverware for just home and everyday use or for special occasions as it does look very nice and it's well made.
The included placements are nice looking but they're not very well made at all, half of them have ripped in about three weeks of use. I didn't get this set for the placemats so to me it's not an issue, it's more of a bonus I guess.
The storage box is very sturdy and well made and looks nice, but the felt lining was scraped off during shipping which takes away from the nice looking appearance. The box is a nice addition to have but personally I won't even be using it, I got this silverware for our everyday use to replace our old set that was missing pieces and just old.
Pros:
+Sturdy and nice looking storage box
+Heavy and nice looking silverware
+Silverware seems very well made
Cons:
-Placemats don't last, rip easily
-Box lining scraped off during shipping
| | |
| --- | --- |
| Grading | Scores Out of 10 |
| Overall | |
| Design / Aesthetic | |
| Value / Price | |
| Performance / Usage | |
Disclosure: This product was given to me for review by the company for review purposes only for free or at a discounted price.

To learn more about our review policy please visit this page HERE.