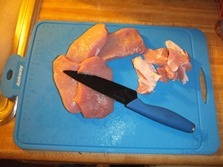 It seems I'm reviewing a lot of kitchen stuff lately, but that's fine for me for the most part as I love cooking and it's nice to get some new kitchen stuff and I think you can never have enough stuff for the kitchen! Today for review I've got another cutting board from a company called Ankway and this one is silicone but it's very thick compared to others. This board is antimicrobial and I've noticed that my knives don't leave marks like they do on other silicone cutting boards. Not having cut marks is nice as there's then no place for bacteria and dirt to hide making for a more sanitary board. Overall I like this board a lot, it's well made, it's inexpensive and it's a great choice for the kitchen. Read on to learn more…

Specifications and Features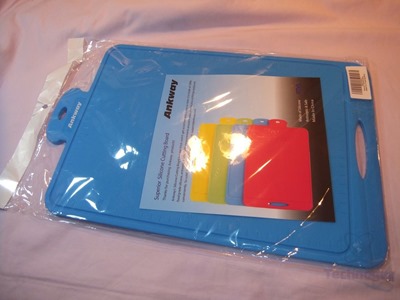 The board is nice and big at about 15x10x.3 inches, it should be fine for most any cutting job but not take up a lot of space really. It's a nice medium-large cutting board I think, it's a size that I like, not too big and not too small, it works for most any job for me.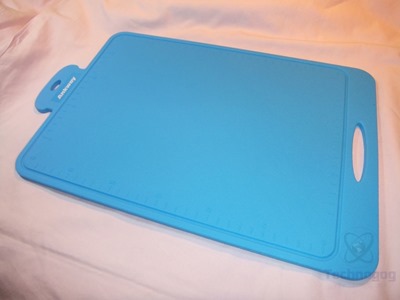 The back or bottom is just flat with no markings, this side would be great for pounding/tenderizing meat etc or for cutting when you just need a little extra room without the juice groove.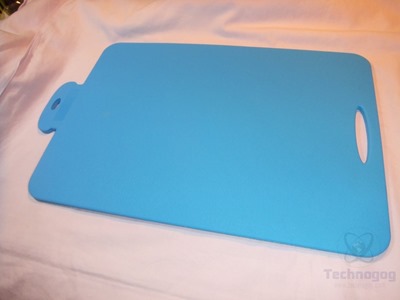 On the top you'll find a tab with a hole in it so you can hang the board up if need be and then on the bottom is a handle, the two ends can actually interlock together to make pouring your cuttings easier.
All around the edges you'll find measurement markings which could be handy if to needed to cut something to a certain size. There's a juice groove as well all the way around the edge.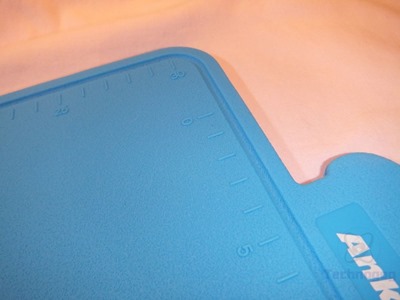 The surface isn't exactly perfectly flat or smooth, it does have a texture to it and it's great for any type of knives including ceramic.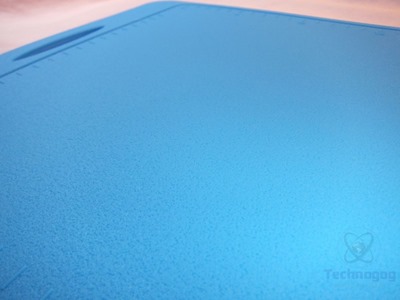 For testing I used it to cut stuff on, how else would I test it? I used both metal and ceramic knives with it and I found that the knives didn't leave marks in the cutting board which surprised me. I have other silicone cutting boards and they all have visible knife marks in them but this one doesn't even though I've been using it only for the last couple weeks.
Here's a quick video as well for you, sort of a mini review:
| | |
| --- | --- |
| Grading | Scores Out of 10 |
| Overall | |
| Design / Aesthetic | |
| Value / Price | |
| Performance / Usage | |
Disclosure: This product was given to us for review by the company for review purposes only, and is not considered by us as payment for the review.
To learn more about our review policy please visit this page HERE.