Drones are the big thing now and it seems every helicopter and quadcopter is a drone and that's wrong I think, but there's nothing I can do about it, drones are popular and they sell. Anyway, today for review I've got quadcopter or drone from DBPower and it's called the Hawkeye-II and it has a camera built-into that you can actually connect to your phone and see through so it's like you're in it flying along. I love remote control products, especially those that fly and this one needs some improvement. Read on to learn more…

Specifications and Features
DBPOWER Hawkeye-II FPV Wifi G-sensor Control Quadcopter 4CH 6 Axis RC Drone with 0.3MP Camera for IOS Android
Drone operation difficulty index: 4 stars, Recommended age: 14 years and up.
FPV: Allow you to see what the drone sees, monitor realtime video with your Phone directly; Flies in the dark with 4 LED night lights
2 Control Modes: A. Controlled by transmitter, view by phone; B. Controlled and view by phone directly for IOS Android
This FPV Quadcopter can perform many flight movements, including 360º flips and hand throwing fly. The excellent flying 480P camera can take many photos and record from sky. And you can monitor real-time video from the X4 Quadcopter's FPV camera by your phone. It is about to get flying!
Incredibly Easy to Fly, for Beginner
4 motor driver and 6-axis gyro guarantee stable flying and precise positioning
Speed mode changes with the flip of mode switch, low/medium/high
With a 2.4G transmitter, easy to control, can support many flight movements, including 360º flips and hand throwing fly
Durable blades with protective guard which is made of ABS, can protect your quadcopter from crashing
Provide detailed teaching video and local user manual, help you break into quad drones.
Unprecedented Photographic Experience
The Hawkeye-II carries an 0.3MP camera. Its First Person View (FPV) camera captures 640 x 480 resolution video and still photographs which will be stored on your mobile device, achieves a whole new perspective looking down from sky!
Specification:
Function: Forward, Backward, Up, Down, Left, Right, Sideward Flight, Hovering, 360°Rotation, Throw to Fly
Remote Type: Radio Control and WIFI Control
Download APP for Phone: Enter"APP STORE" and search"CX-WIFIUFO"
Remote Control Range: 30M
WIFI Image Transmission Distance: 20M
Flying Time: 5-8min
Charging Time: 90min
Aircraft Battery: 1 x Rechargeable 3.7V 700mAh Li-Po (included)
Transmitter Battery: 4 x AA Battery (not included)
Suitable Age: 14+
Price: $120.99 (from Amazon at time of review)
The Review
Let's start with a video unboxing and then move on:
The packaging is fine, it's a large box that offers a lot of protection for the copter inside. The copter and remote are in a large plastic tray with a clear plastic cover of it and inside you'll find an accessory pack, and user guide along with the copter and remote control.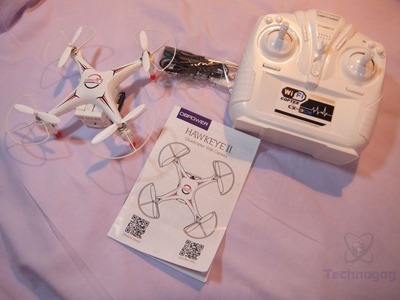 Inside of the small bag you'll find four extra propellers, USB charger, and two screwdrivers.
The quadcopter is white with red and black markings and it's rather small, about 7 1/2 inches tip to tip or diagonally across the blades and it's about 2 inches high at the highest point. It is lightweight of course as it's a drone and it's supposed to be lightweight so it can fly well.
The battery compartment is under the body and it's rather difficult to get to honestly. The battery is small to keep the weight down, it's 3.7v 700mAh and should provide 5-8 minutes of flight time, but I got a little more than that actually, which is good.
Each blade does have a protective guard to keep them safe from breaking but they really don't work well.
below the battery compartment is the wifi and camera module. The wifi antenna is small and fat and it's attached to the side of the camera pack with just a plastic clip, it comes off very easily really.
Below each rotor blade is a leg with a rubber foot on it, sadly the feet aren't attached, they just fall right off.
The remote is large at about 5.5 by 6 inches and it's about 2.5 inches thick but part of those dimensions is the phone mount that's attached to the back. There are two control sticks forward, back, right and left, throttle and rotate. There are two small buttons on the right side for high and low modes or speeds and then there's a flip button. There are also trim controls located to the sides and bottom of the sticks. The trim controls can only be used though while it's not moving, it seems you adjust it and then fly, and then land and adjust it again.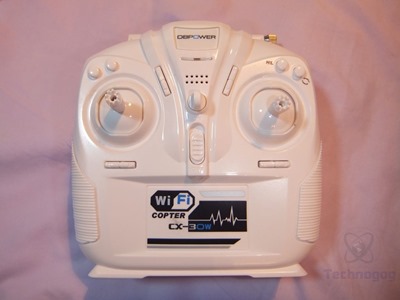 The phone mount is on the back and can be adjusted as needed. The mount is spring loaded and you just need to pull up on it it and insert your phone into it and it holds very well. The top and bottom has rubber to protect your phone from damage.
For testing I flew it indoors and outdoors. Flying indoors is tricky as there's all kinds of stuff around to run into so you need to be careful of course. There is a low made for it so you can use it indoors with more control and it's not as fast.
Flying the Hawkeye II is lots of fun yes, but I love RC stuff so I might be slightly biased here.
Objectively the controls can use some work. No matter what I tried I could not get it hover stationary, it was constantly moving and I had to keep adjusting the controls. You can turn right and left and you can rotate the whole copter which is fun and interesting to do.
There is a button on the control to make the copter flip but it's pointless, sure it's neat but there's no real reason for it and you need a lot of room to allow it to work.
High and low mode is nice. I took it to the local park with a baseball field and flew it there and it was windy and the copter just kept getting swept away by the wind and then I remembered it had a high mode. When I switched to high mode the copter than had no problems with the wind and it easily flew against it. Low mode is for indoors basically, high mode is for outdoors and they do work well.
Here's a video of me flying it:
The camera doesn't have a very high resolution but it isn't bad overall. It is very neat to see where the helicopter is flying using your phone as the screen, it's sort of like a first person video game or like you're flying in the copter.
Here's some still pictures I took for example, they're grainy and not the greatest but it's only a .3mp sensor:
Here's an FPV video for you:
The LED lights are nice but one set already stopped working. Yes I crashed it a few times as is bound to happen but it was nothing major, no severe impacts. I've been flying RC helicopters for years and have had very expensive ones so I do know how to fly RC things.
The battery compartment is very annoying. The cover won't stay on unless the battery is in it. The compartment is very tight, you put battery in, connect it and then stuff the wires in and then force the cover on which is hard as it's small. There is no on/off switch on the drone so you have to fight with the battery compartment all the time.
Battery life is fine for what it is, it's a very small battery and I got about ten minutes of use from it. I would definitely buy more batteries.
Wi-fi connection is very spotty. I used the copter with my Samsung Galaxy S6 Android phone. You have to download the free app of course, and the app is adequate I guess. As far as wi-fi though, I can have my phone and the copter sitting right next to each other and they won't connect. I've tried turning wi-fi on and off, turning the phone on and off and the copter on and off and it still won't connect and then all of the sudden, after I gave up trying, it connects. Makes no sense to me, it's just weird.
The other odd thing is that you connect your phone to the copters wi-fi so you're not using your wi-fi anymore so you might end up with some extra data charges on your phone you weren't expecting.
Controls are very good with the actual controller. You can use your phone to control it back I don't like it, there seems to be some slight lag and it's not as accurate as using the control sticks. Outside yes you can use the phone for control as you've got more room, but I wouldn't use it for indoor use.
The blades break too easily, I broke all of them. I broke one when when I landed in the grass, yes I checked there were no rocks or anything there, just grass and the blade was broke.
It seems to me the blades only fit or work in certain spots on the copter and it doesn't say that in the manual. If you look closely at the blades the pitches are different, or they sent the wrong replacement blades.  Either or is an issue here as now I can't fly it anymore. It spins but it won't take off as one of the blades is pushing down instead of up. It's not the motor, it's the blade as I can more it to other positions and it does the same thing. The blades are labeled and numbered but the manual says nothing about it. I'm thinking they're supposed to go in a certain position on the copter but who knows where?
The blade guards are a soft plastic but they bend very easily and they end up hitting the rotors so you have to bend them back. I would think the plastic would bend yes, but it should then spring back to the original position, these don't do that, they stay and block the spinning of the blades.
I contacted support about six issues I had and they told me to replace the motor which makes no sense to me and they didn't address the other issues at all. Where would I get a new motor for it? I asked them to clarify and they told me again to replace the motor. So I don't know, I tried and they didn't help.
Conclusion
I wanted to like this product, I really did, I think mostly because I love remote control helicopters, but also because drones are the popular thing and I wanted to see what it was all about, but I can't even use it anymore. I don't even think I used it for an hour in total and I was very careful and I do have a lot of experience with R/C products so it's not me where the problem is here, at least I don't think it is.
I've never dealt with an R/C product that uses wi-fi but if you're going to have wi-fi as a feature then it needs to work and this one is just very spotty and it doesn't work all the time.
The blades just break very easily and I see nowhere to get them replaced.
The Hawkeye II could be a great quadcopter but there's just too many issues with it that can't be ignored sadly.
Pros:
+High and low modes for indoor/outdoor use
+Can use phone to see through camera live
+Fun
+Integrated camera with FPV mode
+Good battery life overall
+Extra blades and tools included
+Accurate controls
Cons:
-Blades break easy
-Expensive for what it is
-LEDs stopped working already
-Wifi connection is spotty
-No on/off switch
-Battery compartment needs improvement
-Blades are specific to sides it seems possibly
-Feet aren't attached, lose easily
-Flip stunt mode is pointless
-Don't know where to buy replacement blades
-Instructions are bad
-Short range overall and it just falls when out of range
-Blades guards easily bend and catch rotors
-Support not the best
-Wi-fi antenna keeps falling off, not very secure mounting system
-Possible data overages with cellular service
| | |
| --- | --- |
| Grading | Scores Out of 10 |
| Overall | |
| Design / Aesthetic | |
| Value / Price | |
| Performance / Usage | |

Disclosure: This product was given to us for review by the company for review purposes only, and is not considered by us as payment for the review.
To learn more about our review policy please visit this page HERE.