Lately it seems that Apple is all about the iPhone, iPod Touch and iPad. This past week Apple held their "Back to Mac" event to remind people they still make computers. Besides discussing their upcoming OS X version – Lion, they also revealed a refresh of their MacBook Air line of laptops. The redesign combines features of a Macbook line with some of the functionality of an iPad.
These new laptops run OS X Snow Leopard like current Macs but are now housed in a machine that weighs just 0.7 lbs more than the iPad. In addition the old school platter hard drives have been replaced with SSD (solid state drives) meaning that there are no moving parts found within the machine.
The new MacBook Airs are available in two flavors the 13.3" model which is the same size as the prior models and the newest size – the 11.6" version. Some say that this smaller model makes that version Apple's equivalent of a, gulp – a netbook; however its full sized keyboard, NVIDIA GPU and Core 2 Duo CPU make an argument against that suggestion.
Critics have pointed out that the new Macbook Air machines are using dated processors with Intel's older Core 2 Duo chips instead of the current Core i5 or i7 models. But to take advantage of NVIDIA's integrated GPU they need to use the Core 2 Duo CPUs. Another sticking point is these machines have no user replaceable parts including memory, SSD and battery making these machines doomed to eventual obsolescence.
Today we will look at the 13.3″ base version Macbook Air which features a 1.86GHz Intel Core 2 Duo processor with 6MB on-chip shared L2 cache, 128 GB SSD, 2GB of DDR3 @ 1066 MHz, Nvidia GeForce 320M using 256 MB of DDR3 SDRAM with Mini DisplayPort output and a 13.3″ display capable of 1440 × 900 resolution.

Apple's boxing for the MacBook Air is similar to other MacBook and MacBook Pro packaging. A single picture showing the thinness of the MacBook Air is seen on a black background on the cover of the box. The back of the package lists the specs of the machine along with its serial number and UPC.
Removing the cover we are greeted by the MacBook Air resting in a plastic protective rectangle insert. The protective plastic found on most every Apple device covers the MacBook Air. Removing the laptop from the box we find the AC adapter, extension power cord and Getting Started packet nestled in this plastic laptop holder.
Inside this packet is something unusual, instead of a restoration CD, Apple now packs a restore USB. This makes a lot of sense for the MacBook Air since it does not have a built in optical drive thus making system restore a simple process. Besides this thumb drive we find an instruction booklet and a white Apple sticker.
Looking at the MacBook Air you can't help admire its razor thinness. It tapers down from the back towards the front going from 0.68" to 0.11". Somewhere online the shape of the Macbook Air's profile was compared to that of an axe; which seem apropos. The external housing is composed of recyclable aluminum and matches the MacBook Pro line in terms of aesthetics.
The top of the machine has the familiar Apple logo which lights up when powered on. The left side of the MacBook Air houses the power connector, USB 2.0 port, Omni-directional microphone and headphone mini-jack. Apple does support Apple Earphones with remote and mic to be used with the machine as well.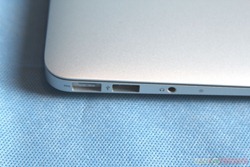 The MacBook Air uses the MagSafe power connector which works with the magnetically attached 45W MagSafe power adapter with cable management system. The laptop has a built in 50 watt hour lithium polymer battery which is supposed to provide 7 hours of wireless use and 30 days of standby capacity. This standby feature is something derived from the iPad and means you don't have to turn your MacBook Air off even if you don't plan on using it for a while.
Over on the right side of the machine is a second USB port, Mini Display port connector and SD slot. According to this prior Kingston SDXC 64 GB most likely won't work on the SD card reader on the new MacBook Air. Bummer. The MiniDisplay port supports DVI, VGA, dual-link which is an additional purchase. Also noticeably missing is a LAN jack. To obtain Ethernet access Apple offers a USB Ethernet jack which must also be bought from Apple.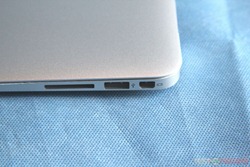 To get online, Apple provides AirPort Extreme Wi-Fi wireless networking which is also 802.11a/b/g compatible. In addition the MacBook Air features Bluetooth 2.1 + EDR (Enhanced Data Rate) wireless technology.
With the MacBook Air closed, there is a tiny lip on the front to lift the screen upwards, no locking button is found on this machine. On the bottom we find four black rubbery feet. These feet raise the machine off the resting surface a few millimeters keeping the underneath aluminum from getting scratched up. To my surprise they were not very tacky and the MacBook Air slid rather easily on my kitchen table.
Opening up the MacBook Air reveals a familiar looking layout; at first glance you'd be hard pressed to determine if this was a MacBook Pro 13" model or the new MacBook Air. Only the profile and the screen bezel color give away the difference. Surprisingly the display on the MacBook Air offers better resolution than the Pro model which maxs out at 1280 x 800 versus 1440 x 900. One physical difference between these machines is the power button is now incorporated into the layout of the keyboard sitting next to the F12/Eject button.
Apple offers the multitouch trackpad which allows the ability to pinch, swipe, or rotate to adjust an image, zoom in on text, or advance through a photo album. Coming from an older MacBook Pro it does take a little time to adjust to this newer trackpad but after a day or so I was comfortable using it.
Sadly missing from the MacBook Air is a backlit keyboard, meaning those who wish to work in dark environments better be comfortable with sightless touch-typing. The keyboard is full sized with 78 (U.S.) or 79 (ISO) keys, including 12 function keys and 4 arrow keys (inverted "T" arrangement). The keyboard is the chicklet style version, which Apple now offers with all its machines. Although I am a fan of the silver keyed MacBook Pro, I found typing on this machine comfortable.
Unlike the 13" MacBook Pro, the MacBook Air features a silver bezel around the display with an iSight camera now known as the "Facetime" camera found on the top center. Unfortunately Apple does not publish the specs for this camera nor was I able to locate them online. Supposedly it is thinner than the camera found on the iPhone 4.
The display comes in glossy only, so those who are fans of the matte style screen including myself are out of luck. Glossy makes the screen colors stand out but in brighter environments you will have to deal with the glare issue.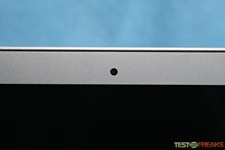 Overall the industrial appearance keeps in line with recent machines in the MacBook Pro and previous MacBook Air lines. To many it may not seem too different until you pick the machine up. Having a full powered laptop that weighs almost as much as an iPad is delightful. Carrying the MacBook Air in one's bag or backpack feels like you are carrying nothing especially if you are like me and going from a MacBook Pro 15" model.
Specifications:
Apple MacBook Air 13" (MC503LL/A)
All-Flash Storage.
Instant-on gratification.
If you have an iPod, iPhone, or iPad, you're already taking advantage of all that flash storage has to offer: reliability, speed, and efficiency. So the decision to use flash storage in an ultracompact notebook like MacBook Air makes perfect sense. Flash allows you to access data quickly, and it gives MacBook Air the astonishing ability to remain in standby mode for up to 30 days.1 Which means your MacBook Air snaps to in an instant, whether you open it tomorrow, next week, or next month.
Multi-Touch Trackpad.
It's love at first click, tap, and scroll.
The new MacBook Air includes a spacious Multi-Touch trackpad with a buttonless design, so you can click anywhere. The Multi-Touch trackpad also lets you pinch, swipe, or rotate to adjust an image, zoom in on text, or advance through a photo album. Try the four-finger swipe, swiping up or down to use Exposé and swiping left or right to switch among active applications. Or perform the new three-finger drag to move your windows from one place to another.
High-Resolution Display.
Millions of pixels. Millimeters thin.
Corner to corner and pixel by pixel, the display on the new MacBook Air is both an engineering feat and a design breakthrough. It measures a mere 4.86 millimeters (0.19 inch) thin, yet the resolution is so high, you'll feel like you're looking at a much larger screen. And with good reason. The 11-inch MacBook Air features a widescreen 16:9 aspect ratio and a resolution greater than that of a typical 13-inch notebook, while the 13-inch MacBook Air wows with a resolution equivalent to a typical 15-inch notebook.
FaceTime Camera.
Hello, iPhone. (You too, iPod touch.)
Hidden inside the wafer-thin MacBook Air display is another engineering achievement — the FaceTime camera. It's so thin (even thinner than the camera on iPhone 4) you barely notice it, but it's incredibly capable. Using the new FaceTime for Mac application, currently in beta, you can make FaceTime calls over Wi-Fi with anyone who has a Mac, an iPhone 4, or the new iPod touch. And the video quality is so good, you can even chat in low-light conditions.
Stereo Speakers.
Heard but not seen.
Despite its compact form, MacBook Air delivers full stereo sound. Space-efficient design inside the enclosure allows for the placement of left and right speakers that project sound through the keyboard. So you're able to enjoy a richer audio experience while chatting online, watching TV shows, listening to music, or playing games.
NVIDIA GeForce Graphics.
Power in motion.
MacBook Air features the NVIDIA GeForce 320M graphics processor — the same one used in the 13-inch MacBook Pro. With a performance boost of over 2x that of the previous-generation MacBook Air,2 the NVIDIA graphics processor provides outstanding speed and power for browsing photos, watching movies, or playing games. It also makes all the everyday things you do on MacBook Air — like writing email and surfing the web — fast and energy efficient.
Intel Core 2 Duo Processors.
Small in size. Big on performance.
MacBook Air weighs less than three pounds, but it's a heavyweight where it counts. Intel Core 2 Duo processors get the work done fast. So you can be every bit as productive on MacBook Air — but in more places. Live-blog the event of the year straight from the convention floor. Perfect your sales-winning presentation from the airport terminal. Cite references down to a T from the library stacks. MacBook Air lets you do everything you need to do whenever and wherever it needs to be done.
Starting the MacBook Air for the first time is a process that most prior Apple owners are familiar with. Apple ships the MacBook Air with iLife '11 their newest version of the suite that contains iLife, iPhoto and iMovie. After this initial setup is done you will boot into Snow Leopard – OS X 10.6.4.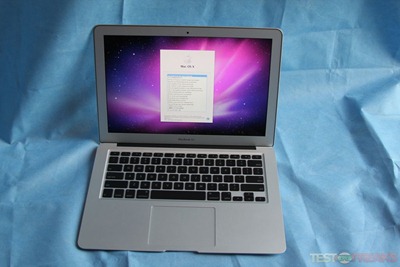 Without a built in optical drive you can use a networked Mac or PC drive for installing any programs from DVD or CD media using the DVD or CD sharing option. Other than the missing optical drive the MacBook Air is most definitely a fully functional laptop.
Although it runs the now antiquated Core 2 Duo processor, the MacBook Air is the fastest machine in my home. Boot time is incredibly fast – less than ten seconds from power up to desktop use. The machine wakes from sleep mode instantaneously similar to turning on an iPad. Obviously these speed gains are due to the SSD running the OS X system.
Navigating around Snow Leopard is snappy as well, starting applications or switching between them occurs very quickly. Even though it has only 2GB of memory the MacBook Air seems to run much quicker than my MacBook Pro with 4GB of DDR2. In my two days using the MacBook Air I only encountered a spinning beach ball once and that was when I went to get info on the main drive and accidently selected the "Burn Macintosh HD to disc" option which had to calculate the system size.
As for this being Apple's version of the netbook; I have used netbooks and this is not one. In fact I have a Dell Mini 9 running OS X 10.4 (Tiger) and the MacBook Air is as far from a netbook as possible. While surfing on the Dell Mini 9 could be slow and ponderous, while web pages popped open immediately on the MacBook Air. Trying to run any form of video was not always pleasant on the Dell Mini 9 while everything
"just worked" on the MacBook Air. Obviously the Intel Dual Core Atom versus a Core 2 Duo is a big factor. But critics who think this is Apple's glorified real expensive netbook are totally off base.
Although I yet to test the NVIDIA GeForce 320M for gaming, this built in GPU has proven it can play most recent games such as the ones from Steam as it is found on many other MacBooks currently.
Not all is perfect with the MacBook Air as the palm rest is not rounded but squared off. This leads to a cutting sensation on one's inner wrist especially when typing with the machine on a lap.
Another problem I found with the MacBook Air was the SD card reader does not allow an SD card to sit flush inside the machine; it sticks out a few centimeters. This means if you wanted to add some additional storage capacity via SD you'll have the risk of the card popping out a critical moment that could lead to data corruption.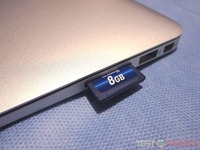 The lack of a Kensington lock slot is another concern. Since this machine is so light weight one would worry it could easily walk away if left unattended in a public environment. I understand that some features are omitted in the MacBook Air due to space restrictions but the lack a slot for a Kensington lock? I don't see how much room that would take up.
Battery life was pretty close to what was advertised. I was able to use the machine intermittently for 2-3 hour stretches from 8 am until 6 pm without the need to recharge. The instant on feature works great, opening the lid of my machine gets me up and running instantly although the WiFi does lag a few seconds behind.
Conclusion:
Overall I am impressed by the speed and build of the MacBook Air. I know my back will appreciate the lightweight of the newest MacBook family member resting in my backpack. The addition of preconfigured SSD makes the performance of the MacBook Air feel that much faster than any of its Mac brethren. Of course if you add an SSD to any current Mac then they will gain speed increases as well. But right now the MacBook Air is the only machine where SSD comes standard option.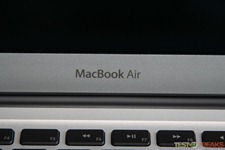 While there are definite negative aspects of the MacBook Air for critics to attack overall it adds innovation to the MacBook line with its light weight, instant on and one-month standby features. If you are worried about losing features by going to the Optical driveless MacBook Air, fear not as the newest Apple laptop is up to the task. I know this machine will be my traveling companion for the years to come.
Pros:
+Extremely lightweight
+Integrated Nvidia GPU
+Best 13" Screen resolution in MacBook line
+Multi-Touch Trackpad
+Viruses and malware less likely to occur
+One month battery standby
Cons:
-Sharp edge at palm rest
-No user upgradeable components
-Uses older Intel Core 2 Duo
-Keyboard Not Backlit
-Slippery material
-Feet not very tacky
-Lack of Kensington lock
| | |
| --- | --- |
| Grades: | |
| Overall | |
| Design | |
| Performance | |
To learn more about our review policy please visit this page HERE.