Our phones, well at least my phone, is used for much more than making phone calls. I used it for checking email, browsing the web, playing games, listening to music and even watching videos. A lot of newer phones today come with a large amount of on-board memory but some don't, and even if the phone have a lot of memory that could not be enough for many of us and our large libraries or media and even games. Today for review I've got the new Kingston Class 4 32GB microSDHC card and from my time with it I've found it to be a decent choice  if you're looking to expand your storage possibilities.

The KIngston 32gb microSDHC card comes in a cardboard package with plastic inside.
Inside you'll find the microSD card and an SD card adapter.
It's a microSDHC Card, so it looks like any others.
Specifications: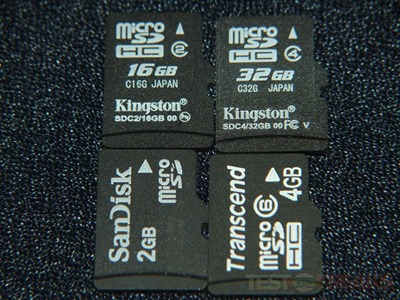 Presently I have the 16gb Kingston microSDHC card in my Samsung Galaxy S Captivate, so this 32gb will replace that. Before I put the card in my phone and used it I ran ATTO on it and the other cards just because I was curious as to speeds.
According to the specs this card is a Class 4 and it should do 4MB/sec. minimum data transfer rate.
Well the Kingston 32gb card does over 4mb/s almost 5 actually for write speeds. Read speeds are a little over 18mb/s. Speeds seem fine to me.
I transferred everything from the 16gb card to the new 32gb card and put it in my phone and used it. I had no issues taking pictures, listening to music or watching videos. No skips, no nothing, everything was nice and smooth, so I'd say it works just fine.
Conclusion:
So it's a microSDHC card and it works great with portable devices. What more can I say really, speeds are decent for a Class 4 card, slightly faster than the rated specs for write speeds and it has decent read speeds as well.
The price is fine, it's pretty much one of the lowest priced out there, at least the places I checked over.
Pros:
+Decent speeds
+Good price
+Work well
Cons:
-None really
| | |
| --- | --- |
| Grades: |   |
| Overall | |
| Design | |
| Performance | |
To learn more about our review policy please visit this page HERE.