Up for review today I have the Sacool Bluetooth stereo headset from Avantree and it's aimed at active people as it is lightweight and even splash proof so you could take it running outdoors and not worry about the rain. The headset has multimedia controls right on the left earpiece for you for ease of use and the built-in battery should provide up to six hours of usage either listening to music or talking on the phone or a combination of both. The headset sounds great in theory but I wasn't exactly happy with it so read on to learn more..
Unboxing
The packaging for the Avantree Sacool is attractive looking with a nice window on the front and lots of info on the back.
When you get things unpacked you'll find a plastic container with the Sacool headset and extra earbuds and then a cloth carrying bag, USB cable and user guide on the side.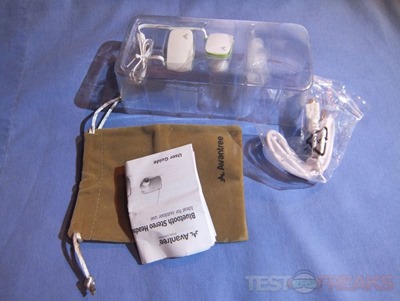 The cloth carrying bag is fine for what it is, cloth with a drawstring top to protect the headset during travels. The USB cable is used for charging and has a microUSB connection on it. Avantree included three sizes of bud covers, small, medium and large with the medium already installed on the headset.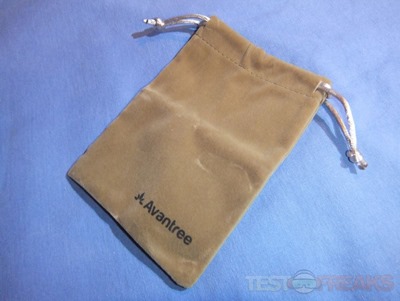 The version I got for review is white with green accents but there are other colors available. Right and left earpieces are connected with a thin wire that has a lock between them to adjust the length for your head or neck. The little Avantree logo is on both of the earpieces and overall they seem well made and they are very lightweight at only 18 grams.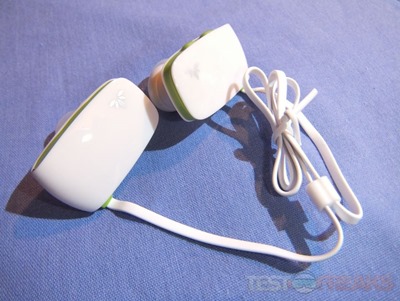 Here's the side views for you:
The left earpiece is where the controls are, there's nothing on the right. On the bottom you'll find volume up and down buttons and the microphone, these buttons are also used for skipping forward and backwards between tracks.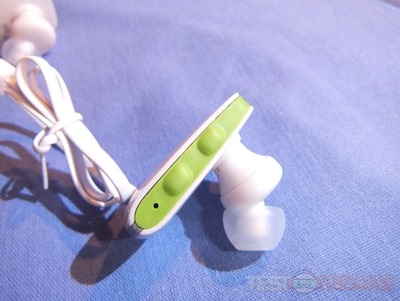 On the top is the power which is the multifunction button for power, pairing, answer/end calls and for play and pause of your music. Off to the side of the button is a small rubber flap that cover the microUSB port for charging.
On the inside of the left earpiece is the LED indicator which will be either blue or red depending on what the headset is doing. The earpieces are labeled right and left with and L or an R but they're white and they're hard to see.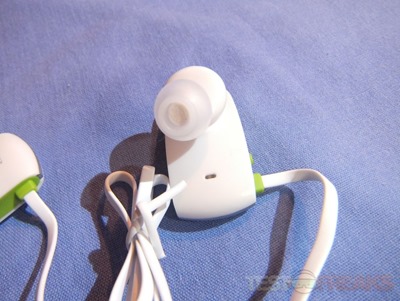 Specifications and Features
Bluetooth stereo headset – Sacool
Splash proof, superb sound, perfect fit
Avantree Sacool, a Bluetooth stereo headset featuring stylish design and splash proof for outdoor use. With high-fidelity stereo sound for both music and crystal clear sound talk, this tiny Bluetooth stereo headset offers 5hrs talk time and 5hrs music time. Lightweight, only 18g. It is comfortable and easy to carry. Securely for your complete listening enjoyment with avantree sacool Bluetooth stereo headset.
Features:
* Bluetooth stereo headset with mic for music and call
* Incredible sound – in-ear driver with thumpy beats
* Comfortable and secure fir for wearing
* Small and stylish – fashion design for commuters
* Splash proof for outdoor use
* Never miss a call – auto switching between music and calls
* Superb light – only 18g.
* Easy pairing – easy to use
* Up to 5 hours music and play time
* Gaming and chat and VoIP (Skype, MSN, etc)
Specs:
* Bluetooth stereo headset V2.1+EDR
* Chipset: CSR BC05-Multimedia single chip
* Support profiles: Headset, Handsfree, A2DP, AVRCP
* Operation range: Class 2, 10 meters
* Battery: 120mA rechargeable lithium battery
* Talk time: up to 6 hrs
* Music time: up to 6 hrs
* Standby time: up to 120 hours
* Bluetooth stereo headset size: 36.2mm x 21.2mm X 29.7mm
* Bluetooth stereo headset weight: 18g
Price: $43.99 (from Avantree site at time of review)
Price: $36.99 (from Amazon at time of review)
Testing and Usage
The first thing I did was charge the Sacool headset with the included USB cable and it took about an hour. The LED comes on red to indicate charging and turns off when completed. The instruction say to charge for at least two hours before first use but the LED went out to indicate charging was complete. I'm not sure how much charge was on them as there is no battery status indicator on the headset.  The LED will flash or blink red every fifteen seconds to indicate battery is low, that's the only battery level indicator.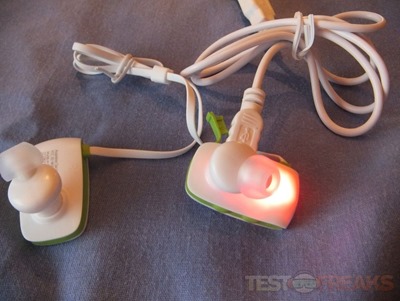 Avantree says the battery should last up to six hours for talk or music playback and it should provide up to 120 hours of standby time.
For testing I used the Sacool with my PS Vita and HTC One cellphone.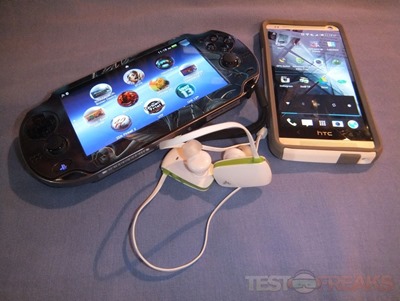 Pairing with both devices was not a problem, it found it, paired and connected and did not need a pin. I found I could re-connect easily with both devices.
Comfort/Fit:
Wearing the Sacool is something interesting for sure, it's more like a chore.  There are instructions included but they aren't as easy as they look, at least for me they weren't. You kind of wear the headset upside down, if that makes any sense?! You put them in your ear and I had to twist them into position, it took me several tries to get them in correctly but once they were in they stayed in. Getting them in wasn't exactly a comfortable experience, it sort of hurt a little honestly. Putting them in later, after I already wore them I still had to go back to the instruction sheet as it seemed I was just confused by something here. They are labeled left and right which is nice and it does help to get them in your ears. Other pairs I have with the wire between them just fit into your ears and then the wire just sits on the back of your neck, but with these it's upside down and twist and up and over, it's just odd for me and seems like a lot of work to get them in your ears. Once they're in your ears they do stay put even walking around and moving, and they are comfortable for long periods of use thanks to them being so lightweight.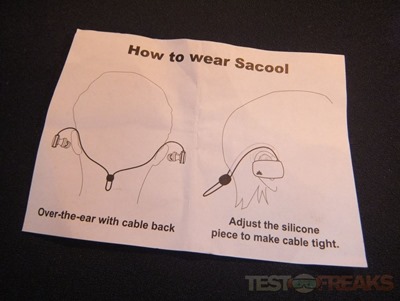 Sound Quality:
Sound quality is questionable. Using it with my PS Vita, the sound was great, nice and full, no problems, but all I did was play games, as that's what I do with my Vita.
When I used the Sacool with my HTC One I used it for music and phone calls and as soon as I started playing music it was distorted and it was even up that loud. The Sacool headset does not like bass in music at all, even at medium to medium-high volumes there was distortion in the music. At high volumes there was just too much distortion to really even enjoy the music at all. I didn't adjust anything in the phone, it's the way I always have to other headsets but I could have went in and adjusted the bass, but I shouldn't have had to. Who would want to have to go in and adjust the settings every time you change headsets or switch from wired to wireless?
Quality of phone calls was fine, they're not like music, so there's nothing really to say there.
Controls:
The controls are tiny and just ridiculously hard to get to and use while they're on your ears. The buttons are just tiny and the plastic housing actually gets in the way and they do require a bit of force to activate them. To skip tracks forward and backward you need to hold the volume button down and it actually hurt my finger doing this as the outer housing was digging into my fingertip. I found using my fingernail to press the buttons is easier but that doesn't quite work while they're on you head. The buttons are just too small to use easily plain and simple. The controls are just a frustrating experience overall.
The controls did work fine with the HTC One, I could control volume and skip tracks forward and back and play and pause
Conclusion
Stereo Bluetooth headsets to me are just an excellent accessory to own because I have a need to for them, I go places where I can't exactly listen to music or use my PS Vita out loud so a BT stereo headset offers me freedom, but it has to be a good headset.
The Avantree Sacool Stereo Blutooth headset is average at best and I found a few flaws with it. The pros outnumber the cons yes but those cons are so bad that they far outweigh the numerous good things about the Sacool.
The sound quality while listening to music is just not that good honestly, it gets distorted at high volumes and with medium to heavy bass in your music. Right there should tell you everything you need to know. What's the point of a stereo headset if it isn't that good for listening to music in stereo? Yes you can use the Sacool for other things like calls and gaming but I don't about you I want a headset that can do everything I need it to and not have to keep switching.
The fit of the headset is fine, they are comfortable but they are rather a chore to get on your head and in your ears, it just seem like too much work to me.
The controls work great but you can't really reach them as the buttons are just too small.
Pros:
+Simple to use
+Very lightweight
+Stays in ears once in
+Splash proof
+Small and portable
Cons:
-Controls hard to reach
-Odd fit
-Sound distorts at high volume/bass
| | |
| --- | --- |
| Grades: | 6 out of 10 |
| Overall | |
| Design / Aesthetic | |
| Value / Price | |
| Performance / Usage | |
To learn more about our review policy please visit this page HERE.