Today I've quick review of a rather unique and useful product from Bracketron called the Nav-Mat III which is a portable GPS mount for the dash of your car. It couldn't be simpler to use really, it just sits on your dashboard and you attach your GPS to it. Well it's a little bit more than that, so read on to learn more about it…

The Nav-Mat III comes in the dreaded sealed plastic clamshell style package.
Inside you won't find much, just the mat and a small pamphlet.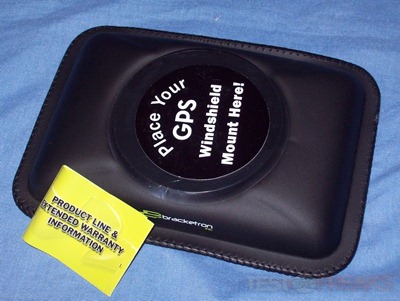 The Nav-Mat itself is fairly basic, it resembles a bean bag really. On the top is a smooth plastic disc that you attach the suction cup mount from your GPS to. It looks like leather, but I'm sure it's not and the black color will fit in with any car décor or coloring. The mat seems well made, like it should be able to withstand normal everyday usage and last for along time to come.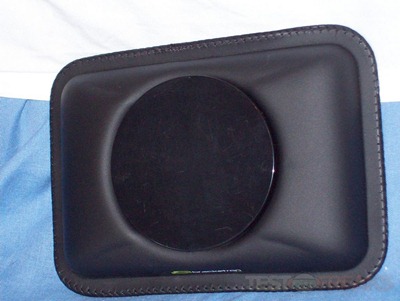 The bottom is a textured rubber with a weight to make sure the mat stays in place on your dashboard no matter how you drive.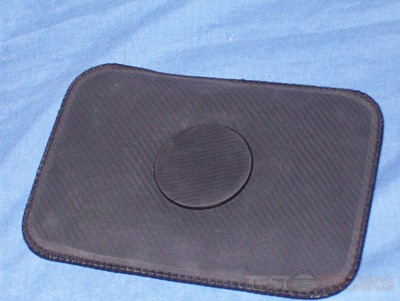 Specifications:

Nav-Mat III – Portable GPS Dash Mount
Part #: UFM-340-BL
MSRP: $29.95
The Nav-Mat III combines sleek design with dash mounting convenience, making interaction with your GPS easier than ever. The flexible, rubberized coating and skid-free, weighted base provides a stable mounting option that contours to your uneven or textured dashboard, or sits neatly in your built-in dash storage tray.
-Easily view and access your GPS while driving
-Contours to your dash on uneven and textured surfaces
-Small footprint fits perfectly in your dashboard tray insert
-Works with the windshield mount sold with popular GPS models
-Portable design makes it easy to stow or transfer between vehicles

So for testing I put it in my car, a 2011 Subaru Forester which has sort of a double dashboard.
Once the mat is in place then you just have to attach your GPS to it, it's very simple, it's the same suction cup you use to mount your GPS to your window. So I drove around and the mat stayed in place very well, it didn't move around at all. I'd say it does a very good job.
As you can see from the pictures above, the larger part of my dashboard is very much curved and I stuck the Nav-mat up there to see what happens while driving around some more.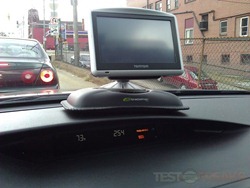 For the most part it stayed in place, but it did move around slightly. It slid just enough to bang off of my windshield and be annoying.
Conclusion:
So that's about it for this review, that was quick wasn't it?
Seriously though the Bracketron Nav-Mat III does work and I think it works well, as long as your dashboard is relatively flat. It does seem well made, like it should last for a long time through a lot of regular use. One of the main reasons I like the Nav-Mat III is that my windshield  stays clean now, no more suction cup rings to clean.  You don't have to use it with just your GPS either, you can use it with other things that have suction cups, like a cellphone mount.
So it did move a bit on my curved dashboard, but not a lot really. I think the one reason it did move was because all of the Nav-Mat III wasn't touching the dashboard fully to really utilize the non-slip backing of the mat.
Pros:
+Very simple to use
+Seems well made
+Does work
+Much better than suction cup marks on your window
Cons:
-Will slide slightly on very curved dashboards
| | |
| --- | --- |
| Grades: | |
| Overall | |
| Design | |
| Performance | |
To learn more about our review policy please visit this page HERE.