Today for review I've got another PowerLine kit, this one is from a company called brite-View. Not long ago I reviewed a Hercules brand powerline kit, the brite-View kit I today though is a bit different in that it's also a 4 port switch, so you can connect more than one device to it. So for testing I've put it up against the Hercules kit and my gigabit ethernet I have at home, so read on to see the results and how this kit works.

We'll start this off with the unboxing video:
Then for the still pictures:
Unlike the Hercules PowerlIne kit I looked at not long ago, the brite-View kit is a switch as well. One part, the smaller box, has one ethernet port that connects to your network, the other larger box has four ethernet ports and acts as a switch.  There's a large black buttons on the side of the switch and a small white button on the bottom of the main adapter. The buttons are used to sync or connect them together.
Both have indicator LEDs on them to let you know the status.
Specifications:
Model: BV-210C
* Use your home's existing wiring as an instant digital network
* Technology delivering speeds up to 200 Mbps
* One of the smallest form factor on the market
* Share your files, printer, storage & networked HD media player throughout your home
* Support for Single & Cross-Phase with no limitation of electrical wiring
* Proven 128-Bit AES Encryption to protect the privacy of your data
Included in Bundle / Kit:
Model# BV-210 (Bridge) & BV-254 (Switch)
* The LinkE enables users to distribute broadband networking data or IP HD Audio or Video at 200 Mbps PHY
* Consumes less that 2.0 Watts of power when in idle mode
* Plug & Play easy to use operation
* LinkE pffers 128 Bit AES data encryption or secure data transmission
* Long transmission distance – LOS: 65 feet, NLOS: 32 feet
* TCP rate up to 82 Mbps and UDP rates of up to 90 Mbps
Price: $89.99  (for pre-order)

Here's both the Hercules PowerLine kit and the brite-View kit. The brite-View kit is a bit larger, at least the switch is, but they are thinner.
There is a software disc that comes with it with programs, but to utilize it the kit has to be connected to a computer, I'm using a NAS box for testing.
I hooked up the brite-View kit just like I did the Hercules kit, on my Gigabit ethernet on a switch with cat5e cabling.
The second part of the kit is in an upstairs bedroom plugged into a wall outlet.
Here it is powered on:
Now this kit is easy to connect, but not as easy as the Hercules kit was.  You connect these to your network and then connect whatever you want to other end and you've got to press the button to make them sync or connect with each other.
Since I just tested the Hercules kit I'm putting those results in the graphs. Again testing is transferring files to and from my Seagate BlackArmor NAS110 nas box.
I ran three different tests, single small Video file (900mb), single large ISO file (3.02gb) and a files/folders test (874 files within 199 folders total of 3gb).
The first tests is the Files and Folders test: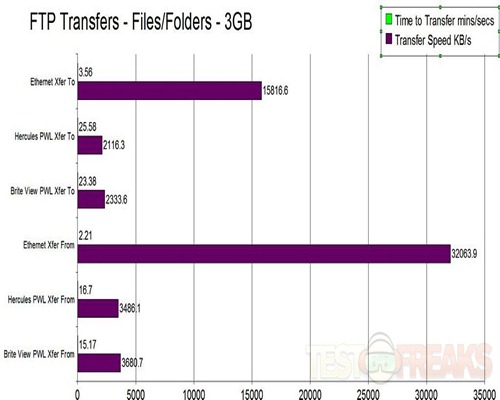 As expected the Powerline is no match for the regular wired ethernet connection.
Next up is the Small Single Video File: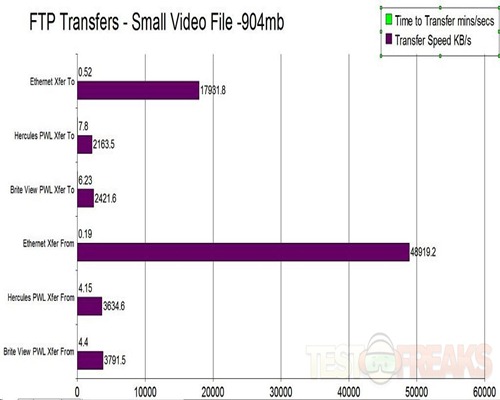 Then we've got the Large Single ISO file: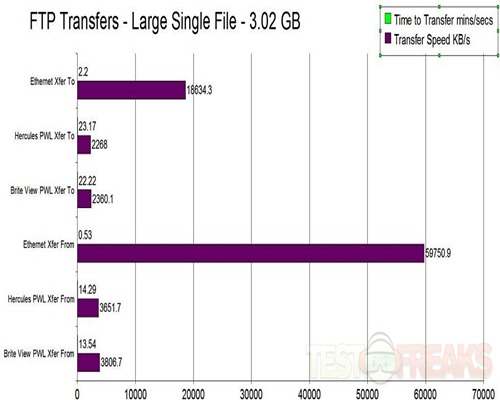 With all of the tests I maxed out at 31.18Mbps, nowhere near the 200Mbps stated, but still more than enough to stream both HD 1080i and 720p videos.  According to the tests the brite-View kit is also faster than the Hercules kit, so not only do you get the 4pot switch with the brite-View kit but you get increased speeds as well.
Since we're comparing it to the Hercules kit, the brite-View kit is about $13 cheaper than the Hercules kit and offers some better features.
Conclusion:
The brite-View powerline kit is a decent choice if you're looking to quickly and easily add some ethernet jacks in your home without the hassles of running cables.
The kit is well priced, lower than others, especially since you're also getting a 4 port switch.
Installation is easy, yes you've got to push a couple buttons, but that's no big deal really.
Pros:
+Inexpensive
+Fairly easy to install
+Integrated 4 port switch
Cons:
-Didn't get the 200Mbps rated speed
| | |
| --- | --- |
| Grades: | |
| Overall | |
| Design | |
| Performance | |
To learn more about our review policy please visit this page HERE.