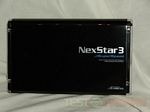 It's been a while since I've taken a look at any USB 3.0 products here at technogog, but today I've got one that I think is worthy of a review. It's a 3.5" SATA HDD enclosure from Vantec called the NexStar 3 SuperSpeed and it's one of the most attractive and well made enclosures I've come across. It's also one of the least expensive on the market when compared to the other limited choices we've got.

So no video today, let's just start with the product box shots.
The NexStar 3 enclosure is packaged very well and includes user manual, USB cable, power adapter, stand and screws.
The enclosure itself is made of aluminum and actually feels heavier than it looks. On the front is the logo, while on the back are four feet so you can use it without the stand if you wish.
On the back edge you'll find the USB3.0 connection along with the power connection and the power switch. The front has the Vantec logo and will light up blue once the unit is powered on.
The back end, where the connections are slide out to reveal the SATA connection and an LED connector.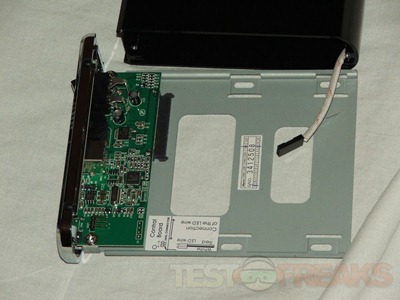 Specifications:

3.5" SATA to USB 3.0 External Hard Drive Enclosure
Form and functionality collide with style in the NexStar 3 SuperSpeed External Hard Drive Enclosure from Vantec. With its mirror finish and sleek curves, the Vantec NexStar 3 SuperSpeed stands out from the crowd. The sturdy drive cage protects your hard drive while the aluminum case effectively draws away the heat, protecting your drive from overheating. Integrated with the latest USB 3.0 technology, performance is increased by 10 fold offering maximum speeds of up to 5 Gbps. Quickly store and back-up your data with the Vantec NexStar 3 SuperSpeed External Hard Drive Enclosure.
Features:
-Attractive Mirror Finish Design
-Aluminum Casing Cools Down Your Hard Drive
-Maximum Transfer Rates Up to 5 Gbps w/USB 3.0
-Maximum Transfer Rates Up to 480 Mbps w/USB 2.0
-Easily Add Storage to Any System with USB 1.1/2.0 or 3.0
-Backwards-Compatible with USB 2.0 or 1.1
-Hi-Quality Shielded USB 3.0 Cable Ensures Data Integrity and Speed
-Hot-Swappable: Plug & Play Without Rebooting
-Attractive Blue LED Indicates Power & HDD Activity
Specifications:
Model: NST-380S3-BK
Device Support: SATA I/II Hard Drive
Device Size: 3.5″
Internal Interface: SATA
External Interface: USB 3.0 (Backwards Compatible With USB 2.0 & 1.1)
HD Capacity: Up to 2TB*
Material: Aluminum
Dimension: 206 x 123 x 33mm
Price: $54.99 (for pre-order from Amazon at time of review)>

For testing I used my Western Digital Caviar Black 750gb hard drive.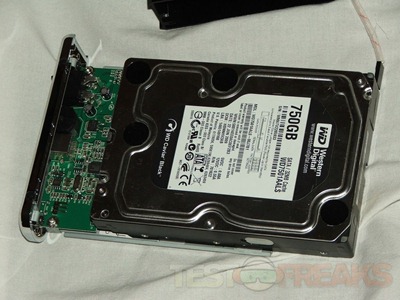 Installation is simple, attach the drive to the connector and then flip it over and put the four screw in to secure the drive. Then all you have to do is slide it in, attach the LED connection and secure it in the case with two more screws, took me not even 5 minutes to complete.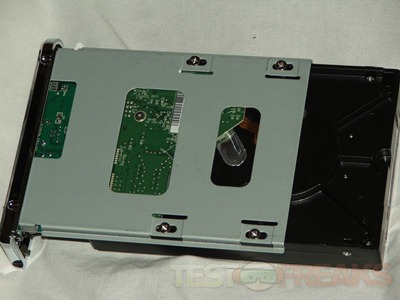 The Vantec logo on the front lights up a bright blue when powered on and blinks to indicate HDD activity.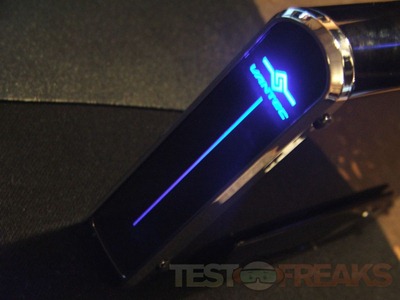 The NexStar 3 is quiet and it gets warm, but not overly hot to the touch.
You can use the drive with or without the stand, there are four feet built into the back of the enclosure so you can lay it horizontally if you wish. Here it is in the stand: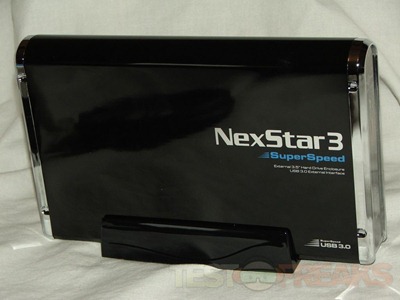 For comparison I've put it up against a very similar USB 2.0 enclosure, I put the same hard drive in the USB 2.0 enclosure for testing.
I've got a Gigabyte GA-USB3.0 PCIE Card installed in my system for USB 3.0 capability with a Corei5 750 CPU on an Asus P7P55D LE motherboard.
First up we'll look at Atto Disk Benchmark:
Well we've more than tripled both read and write speeds when moving to the USB3.0 interface, I'd say that's a nice improvement.
Next up is HDTune Pro 4.01:
Here we've more than tripled the Burst rate going to USB3.0, and almost tripled the Average Read Time. The maximum read rate for the NexStar 3 is 106.0 MB/s, while the Maximum on the USB2.0 interface is only 32.6 MB/s, yes that's a nice improvment in speeds.
Conclusion:
We already knew that the USB3.0 interface was going to be faster, but the drive itself is very nice, and that's what we're here to review and look at.
The Vantec NexStar 3 SuperSpeed Enclosure is one of the nicest I've ever had the chance to review. It's very attractive and solidly made, the only issue I have with it is the fact that it's a glossy finish that easily picks up dust and fingerprints.
Pros:
+Very attractive and well made
+Much faster than USB 2.0
+Easy installation
Cons:
-Dust and fingerprint magnet
| | |
| --- | --- |
| Grades: | |
| Overall | |
| Design | |
| Performance | |
To learn more about our review policy please visit this page HERE.