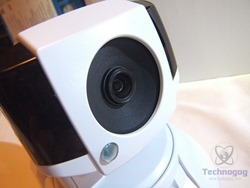 Lately I've seen more of a trend of moving toward a connected home where you specifically can control devices while you're not there. We've had IP style security cameras for a while now and they're getting better all the time, not only the picture quality, but adding more features. Some of my favorite cameras are from Compro and I have another one of theirs for review today called the TN900RW with the R standing for Remote and the W standing for Wireless. The TN900RW features up to 720P resolution and the ability to pan, tilt and zoom which are great but it also has a built-in temperature sensor and the ability to actually control other devices in your home via infrared remote. You can program the TN900RW to control your HDTV, blu-ray player, home theater, air conditioner, or virtually anything that can be controlled via infrared. Read on to learn more…
Unboxing
Let's start with a video unboxing, then move on from there:
The packaging is large nice looking overall with plenty of information about the TN900RW all over it.
Everything is packaged well. In the larger section is the camera itself surrounded by styrofoam for protection and them a box to the side with the accessories.
Once you get everything unpacked you'll find an Ethernet cord, power supply, software CD, mounting plate, user and quick start guides along with the tiny wifi adapter and mounting screws.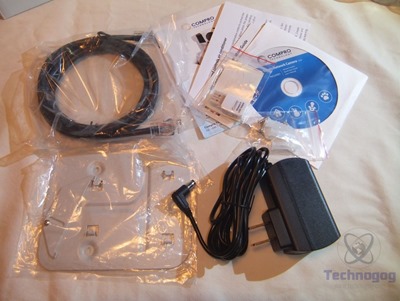 Here's the TN900RW camera, it's an off-white color, more of a light gray I think. It has an almost robotic look to it. The TN900 is a bit large at about 4.1" x 5.06" x 4.9" or 105mm x 128.6mm x 125.5mm, there are smaller options out there, but for me personally I don't mind the size at all.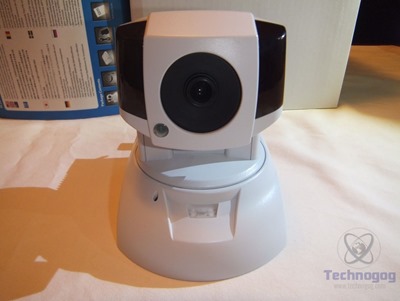 Here's a closer look at the 720p lens and to the bottom left is the light sensor. On both sides of the lens are dark colored plastic pieces, behind those are the infrared LEDs, six of them on the right and five on the left.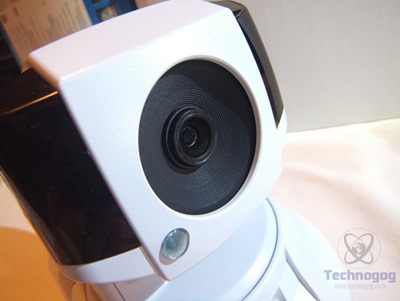 The base is nice and sturdy and houses the motor I would assume. On the front of the base is an LED that can be turned on or off and a small hole for the microphone.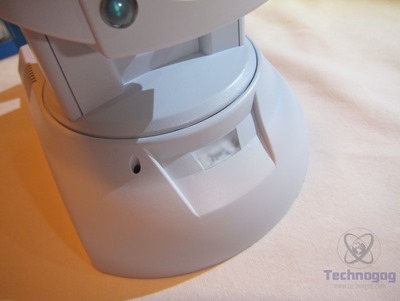 On the right and left side of the base are what appear to be vent holes but the right side is actually the speaker for two-way communications through the camera.
On the back you'll find the ports for Ethernet, microphone, speaker, and power along with a microSD slot, reset button and the temperature sensor sticking out near the top right. The TN900RW does have built-in speaker and microphone but you could attach external ones if you wanted to thanks to the additional ports.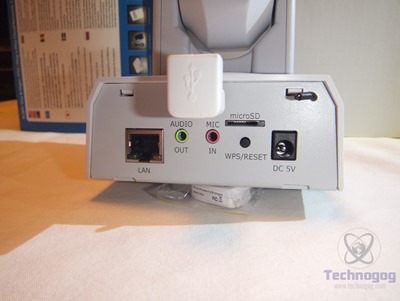 The bottom plate is metal and it actually goes from the back panel to the front of the camera as one solid piece making it much more sturdy and stable. There's a QR code on the bottom that you scan to connect the camera to the C4Home app on your phone or tablet. The slots on the base are for the mounting plate to hold it in place.