If you are a frequent traveler then today's review item is something you may want to keep handy in your laptop bag for your next journey. The D-Link All-in-one Mobile Companion is a networking Swiss Army knife for road warriors, family vacationers or just home use. Like those late night infomercials this device can "do it all". It is a portable router, wireless file streamer and media server, personal hot spot and wireless repeater plus it doubles as an iPhone or Android phone charger; pretty impressive for such a small and affordable device.
The D-Link All-in-one Mobile Companion is 802.11n and 802.11g compliant, includes a 10/100 LAN/WAN port and offers WPA or WPA 2 encryption as well as Wi-Fi protected setup (WPS). Plugging in a USB drive into the D-Link All-in-one Mobile Companion allows the user wirelessly open movies, music, and photos along with editing and saving files in conjunction with the free SharePort Mobile iOS app. Delving into the DIR-505's web based interface reveals even more features and capabilities behind this pocket-networking dynamo.
The All-in-one Mobile Companion comes packaged in a recyclable cardboard box printed with soy ink showing that D-Link is part of the Green initiative. On the front is a plastic window with the device seen within along with an iPad and iPhone image adjacent to it. The back has images of the device used as a wireless hotspot and media server along with a QR code leading to the product webpage. On one side of the box is a list of package contents, minimum requirements and features of the device while the other describes benefits of the DIR-505.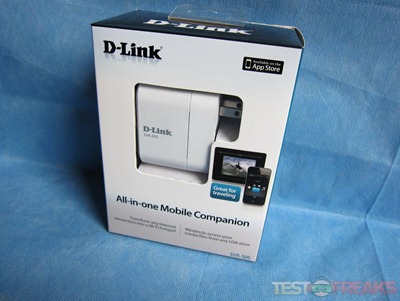 Opening the box we find the D-Link All-in-one Mobile Companion along with an Ethernet cable, Wi-Fi configuration note and quick install guide. A much comprehensive instruction manual can be downloaded from the product's web page; if you have any troubles or want to get more "under the hood" of the device then I would suggest you download and read it. There is also a warning note recommending the use of wireless security such as WEP, WPA or WPA2 when using the DIR-505. Of course you know to stay away from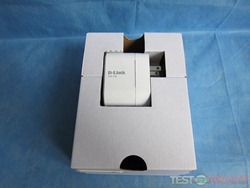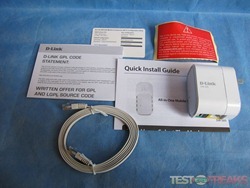 The D-Link All-in-one Mobile Companion is all white and is slightly larger and thicker than an iPad charger. D-Link designed this mobile router to be compact as to not block access to other outlets.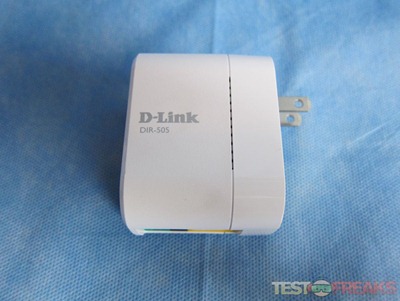 The front face of the unit is surrounded by a series of vents with a lone LED status indicator light on the left side. Previous complaints about D-Link products included the fact that they tend to run hot and seem to overheat; these vents help keep the router cool to the touch.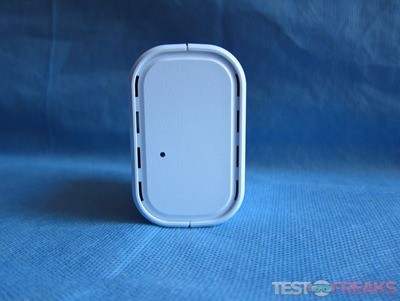 One side of the All-in-one Mobile Companion companion has the D-Link logo along with the DIR-505 model number. On the opposite side is the WPS setup push button.
The top of the unit has a three-way switch that toggles between router/AP, repeater, and Wi-Fi hotspot. Finally on the bottom we see a USB port, LAN Jack and reset button.
The D-Link All-in-one Mobile Companion can function as a router/access point allowing the user to connect to it when directly wired via the LAN jack to create a separate wireless network or work as an access point. This mode is handy if in a hotel room with only hardwired Internet access and you wish to wirelessly use mobile devices such as your iPad, iPod Touch, iPhone, android device or laptop.
The repeater mode allows the user to extend wireless coverage without being hardwired into the existing network while the Wi-Fi hotspot mode can create a private network using an existing wireless connection. You can even set your own username and password to connect to this private network.
The SharePort capability can be used with the router or hotspot modes but not when the device is functioning as a repeater.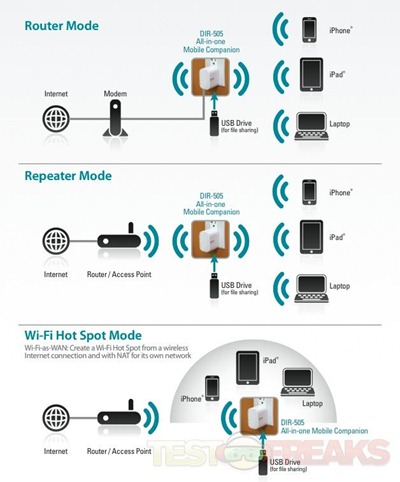 The DIR-505 comes with a Wi-Fi configuration card providing the default SSID name and password. You will need this data to initially setup the device. During the initial setup you'll be able to rename the device and password. This information is also printed on the plug side of the device along with the serial and part number; so don't worry about losing it.
The plug side of the D-Link All-in-one Mobile Companion has vents on the lower half of the device. Unlike Apple chargers, the prongs of the plug do not fold up or retract.
Specifications:

Now from your laptop or mobile device go to your Wireless Utility to display the available wireless networks and select the Wi-Fi name that is displayed on your companion card (ex: dlink-a8fa). Then, enter the Wi-Fi password included in your card (akbdj1936).

Next open a web browser, which should open a setup wizard for the initial use; simply follow the instructions to get setup. Future log-ins are performed by entering https://technogog.com/wp-content/uploads/2012/07/AIO25.jpg">      

The setup for the Repeater mode and Wi-Fi Hot Spot modes are similar to the Router/Access Point setup except that the DIR-505 is not hardwired into the network. The additional steps once logged in via the web configuration involve selecting an available Wi-Fi network to connect to the DIR-505 and supplying the required password.

With the Wi-Fi Hot Spot mode you can create your own Wi-Fi network with its own password.

Once any of these modes is setup up you should be able to log onto the device wireless by selecting the appropriate network name and password that your chose during setup.

Another way to setup the DIR-505 is using the Wi-Fi Protected Setup (WPS), which is a simple way to easily secure one's wireless setup. The process involves a push of a button and enables WPA-2 security. This method can be activated and de-activated from within the router maintenance browser interface under the Advanced – Wi-Fi Protected Setup section.

While it is fairly easy to setup for the beginner, if you run into issues and are not familiar with web based router management then things may get complicated for some users.

To access content wirelessly from an attached USB device you will need to set the switch to "Router/AP Mode" (or "Wi-Fi Hotspot Mode"). Then insert your USB flash drive to DIR-505 first and then plug the D-Link device into wall outlet. From the Apple App Store you will need to download SharePort Mobile to browse the D-Link All-in-one Mobile Companion from your iOS device. D-Link provides a QR code on the quick start sheet for those too lazy to search for the app on the App store.

D-Link protects the users wireless content with a user name and password ensuring no prying eyes will have access to this info. This user name and password is entered via the Settings tab found in the top right of the iOS app. From the SharePort Mobile app one can navigate Favorites, Folders, Music, Movies, Photos and Files.

One drawback to the iOS device is that movie playback is limited to .mp4 and .mov files as there is no avi or divx capability. This is probably a limitation from Apple devices than the D-Link unit. These files can also be accessed from a web browser for those using a Mac or PC.

If you want to play around with more involved settings, logging into the router's web interface will allow creation of user accounts, firmware updates, manage filter settings and more.

Besides all these wonderful networking options, the DIR-505 also doubles as a phone charge via the built in USB port. Simply plug in the appropriate cable into the unit to charge your Android or Apple phone.

Using SpeedTest I tested my native network hardwired and wireless speeds off my Netgear WNDR3700 router then the speeds of the D-Link All-in-one Mobile Companion used as a router and mobile hot spot.

Speed wise the D-Link All-in-one Mobile Companion does slow network speeds down slightly it is negligible and not in a noticeable way when browsing or streaming media.

The inclusion of vents on the front and back of the DIR-505 help keep it cool to the touch despite being plugged in for days at a time.

Conclusion:


The D-Link All-in-one Mobile Companion is a must own especially if you travel a lot whether for business or personal reasons. This portable dynamo allows you to bring your own portable network on the road. If the DIR-505 did just that it would be worth the purchase price. But there's more! It also functions as a wireless media and file server allowing families to stream multiple movies or songs to their kid's iOS devices; access to work files off an attached USB and more.

Plus you can carry one less chargers as the D-Link All-in-one Mobile Companion can charge most USB devices such as iPhones, iPod Touches, Android based phones and more. D-Link has years of networking experience to help make the DIR-505 a top-notch travel router. I know the D-Link All-in-one Mobile Companion is going to have a permanent place in my laptop bag especially for trips and vacations.

 




Pros:
+Functions as hotspot
+Works as router/access point
+Doubles as a repeater
+Charges USB based devices including iPhones and Android phones
+Stream media from attached USB
+Portable
+Powerful

Cons:
-Only streams mov and mp4 files
-Prongs of plug do not retract or fold away

| | |
| --- | --- |
| Grades: |   |
| Overall | |
| Design | |
| Performance | |

To learn more about our review policy please visit this page HERE.