I'm back with a brief review for you of a small product that allows you to wirelessly steam audio from most any Bluetooth enabled device. The product is called the SoundWave SW50 Speaker Phone and yes it also can be used with your phone as a speakerphone. The SW50 is very simple to use and it features a rechargeable battery, but the most important part is that it produces decent sound.

Specifications:

Inside of the box you'll find a USB cable, the speaker, user manual and a rubber mat.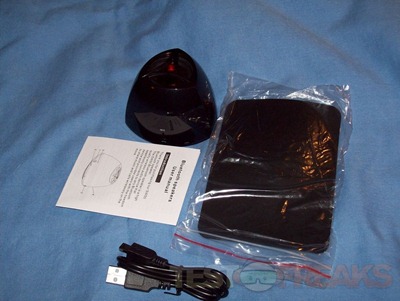 The USB cable is a standard mini-USB style that is used to charge the speaker itself.
It's just a mono speaker so don't expect stereo sound, the speaker is covered with a plastic grill and the actual speaker is red.
It's semi-triangular in shape with three sides. On one side you'll see the microphone or answer/end call button and an LED to indicate charging and connectivity. The button is also a multi-function one in that it's also used for putting the SW50 into pairing mode.
The speaker is plastic as you'd expect but it feels well made and sturdy. It's small but surprisingly heavy for its size. It's almost 2.5" high and about 3" wide at the widest part of the base.
On one of the other sides is the power switch.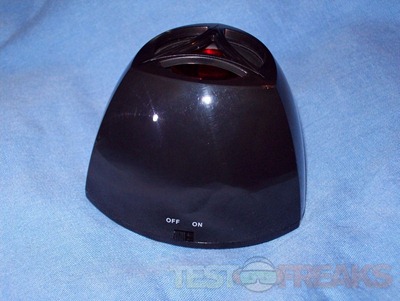 Then on the last side is the mini-USB port.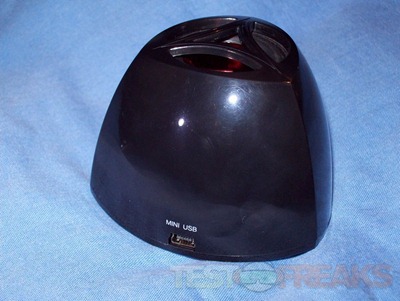 You'll notice there are no volume controls on the SW50, so you'll need to use your device to control the volume.
On the bottom you'll find four non-slip rubber feet.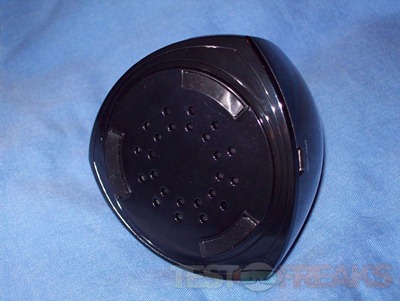 The mat can be used with the speaker to hold it in place where ever you put it. One side of the mat is tacky to hold it tightly in place.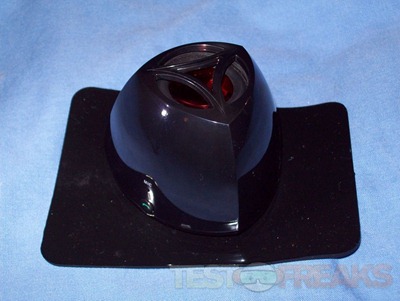 To pair the SW50 with your device you just turn it on and hold the button down until it blinks red and blue to indicate pairing mode, then you just pair it with whichever device you want.
I love my PS Vita but I've found the speakers are a bit lacking in volume levels so I first tried the SW50 with that and it worked perfect but I found I couldn't control the volume of the speaker with the Vita, it was just stuck on high. Not that big of a deal to me though as I wanted the extra volume anyway.  Volume controls on the SW50 would have been nice here obviously.
I next used the SW50 with my HTC Titan phone, connecting was just as easy as with the Vita.
I played music and found I could control the volume of the SW50 with my phone. The sound was actually decent, but there was distortion at higher volumes. This little speakers surprised me in that it does have a lot of bass, it was sitting on my desk and I could actually feel the music.
I also used it as a speakerphone and I found it worked well there as well but the sound wasn't the same as with music. The phone calls part sounded a bit muffled while the music was clearer it seems.
The battery life seems decent if you're going to use it for phone calls, you should get a good three hours out of it. If you want to use it for listening to music you might not be happy with that short amount of time.
Conclusion:
So the SoundWave SW50 Speaker is an  interesting little gadget that I have to say works well and does what it needs to do. It's Bluetooth so there are a no wires to deal with and it has a rechargeable battery so there's no need to worry about buying them either. The sound is decent even though it's a mono speaker, it's clear and it offers plenty of bass for those that like it. The battery should last for a little more than three hours which should be fine for using it as a speaker phone. I do miss the volume controls, I think it should have them on it as I found my PS Vita couldn't control it to adjust the volume. Using it with my phone I found it works fine to play music or make calls.
Overall it's not a bad little gadget, I think I'll be able to find a few uses for it and you probably could as well.
Pros:
+Good sounding overall
+Rechargeable battery
+Simple to use
Cons:
-Can get distorted at high volume levels
-No volume controls
| | |
| --- | --- |
| Grades: |   |
| Overall | |
| Design | |
| Performance | |
To learn more about our review policy please visit this page HERE.