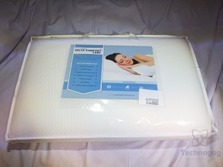 I've been reviewing products for over ten years now and I've reviewed lots of different things but never a pillow, today that's about to change as that's what I've got for review. Yes I have a pillow for review, but it's not just any pillow, it's a memory foam pillow from a company called Delta Comfort Labs. Memory foam is different from down or synthetic pillows in that it should last much longer, it will hold it's shape better and it allows for better airflow to have you sleeping more comfortably. Reviewing something like a pillow takes time as you really need to use it and I've slept on this pillow for almost a month now and it's not bad overall. Objectively it's a great pillow, but personally I like something thicker. Read on to learn more…
Specifications and Features
Iso-pedic Soft Memory Foam Pillow By Dc Labs – Medium Loft, Perfect for Side or Back Sleepers, Queen Sized
-Made from high-end, luxury memory foam that lasts for YEARS
-Non-contoured design: perfect for back sleepers
-Ventilated foam for maximum airflow and maximum comfort
-Based on technologies developed by NASA
-Spring-back technology matches the pressure against it
Ready to get some rest on your new soft memory foam pillow?
You're supposed to SLEEP like the dead-not wake up feeling like a zombie. Does your neck hurt in the morning? Are you tired of getting out of bed with kinks in your shoulders? Are you absolutely exhausted from tossing and turning all night? You're not alone. Thousands of people all around the world have the EXACT same problem.
…Which is why many thousands more have abandoned their outdated pillows and joined the memory foam revolution. What is memory foam? Memory foam was developed in 1966 by none other than NASA's Ames Research Center in an effort to increase the comfort and safety of air craft cushions. Since then, it's been used in hundreds of other uncanny applications, including as bedding for patients who have to lie in bed for long periods of time or as padding for people who suffer from posture problems. It's created using a breakthrough technique that pumps gas into a polymer matrix. This, in turn, creates a foam that can actually match the pressure against it… …Which is also what makes it a stellar pillow that has helped millions of people finally achieve a decent night's rest.
In short, memory foam is one of this century's landmark technologies, and you can have it in your own bedroom. Introducing: The Iso-Pedic Soft Memory Foam Pillow. This pillow is a standard memory foam pillow made from some of the best foam currently available, and it's manufactured specifically to (1) last many years, (2) retain its shape, and (3) allow for maximum airflow.
This is a flat, non-contoured pillow, making it a good choice for anyone, but a particularly good choice for back sleepers. It has medium loft. Not too hard. Not too soft. Right in that "Goldilocks" zone.
At 25 x 16 x 4 inches, this luxury pillow should fit all but the biggest beds (…and heads).
Price: $49.97 (from Amazon at time of review)
The Review
I did a video unboxing, but it's a pillow, not sure a video really shows you something like that but there it is anyway:
The packaging for the DC Labs memory foam pillow is a sturdy plastic bag with handles on it. The bag is nice and thick and will protect the pillow during transport and best of all you can save it and use it to store or transport your pillow so you can take it with you.
The pillow is white in color like most are but if you look closer you'll see a quilted 'Z' pattern there. You can see it and you can feel it, it's very soft and comfortable to sleep on even without a pillow case. The pillow is fairly large at 25 x 16 x 4 inches, slightly larger than my normal pillows by a couple inches, but not overly large I think.
The quilted pattern is actually a zippered cover over the memory foam that you can remove and wash if need be. I did have a slight issue with the zipper getting stuck, it seems to get stuck on itself on the inside. You just have to be careful when unzipping it.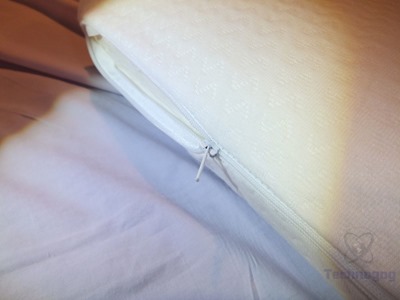 When you remove the cover you'll be able to see the actual memory foam. One of the surprising things about memory foam is that it's cool to the touch when you first touch it and then it warms up. The foam is made to conform to you, or your head, as this is a pillow. This pillow is sold as being medium loft so it's not too hard and not too soft, it does have give to it as foam does but you don't sink into like you would a common pillow. You sink slightly yes of course, but just enough to be comfortable.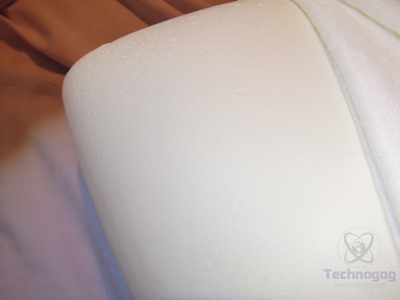 I've been using the pillow for about a month and yes it's very comfortable, it does take about a week to really get accustomed to it though, at least it did for me. It's very different than common down or synthetic pillows but it's a good different.
In my time with it I've come to like it very much but I just wish it was thicker. I much prefer a thick pillow, and don't care for flat ones, actually I sleep on two pillows so I slept with a pillow under the memory foam pillow to bring the height up for me to be comfortable.
One of the great things about memory foam is that you can squish and contort it all you want and it will return back to it's original shape.
I should note that when I first opened the pillow package it did have a slight chemical smell to it but that went away in a few days. This is very common for memory foam products, you need to air them out a day or so before use. We have two memory foam mattresses and the chemical smell is common so you shouldn't be alarmed by the smell as it will go away in just a day or so.
Conclusion
The Delta Comfort Labs pillow is a nice pillow overall, it's well made and it seems like it should last a long time.
The removable cover is soft and adds to the value and you can wash it if need be.
Sadly this isn't a pillow for me, it's just too flat for me personally, but I gave it to my son who likes flat pillows and he loves it.
Objectively it's a good pillow, but you just need to know that it's not very high or fluffy, it's kind of flat.
Pros:
+Well made
+Removable cover
+Comfortable
Cons:
-Too flat for me personally
-Zipper easily gets stuck
| | |
| --- | --- |
| Grading | Scores Out of 10 |
| Overall | |
| Design / Aesthetic | |
| Value / Price | |
| Performance / Usage | |
Disclosure: This product was given to us for review by the company for review purposes only, and is not considered by us as payment for the review.
To learn more about our review policy please visit this page HERE.