Up for review today I have a handy tool from a company called Dr. Meter, it's the IR-10 non-contact digital infrared thermometer and it has a laser built-in so you can aim it right at what you want to measure. The thermometer seems to work fine, it seems accurate, but it does have one small issue. Read on to learn more…

Specifications and Features
Once you get everything unpacked you'll find the thermometer, user guide, carrying pouch and a pack of two AA batteries.
The thermometer gun is black and yellow in color and it's made of plastic, it does feel fairly sturdy and well made overall. There is a trigger that is used to activate the thermometer, basically an on/off button but it makes it easier to use I think. The thermometer can measure from –58F up to 716F or from –50c to 380C with .1 resolution for both.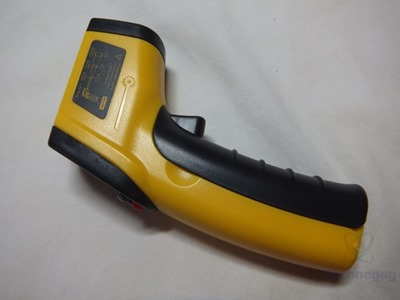 The batteries go into the handle, it opens up and you can insert two AA batteries for power.
On the front you'll find two holes, one for the infrared temperature sensor and one that emits the red laser pointer beam.
On the top edge of the thermometer you'll find sights like those you would see on a gun so you can line up and target a specific object or surface.
On the back is the display with buttons for laser on/off, c/f change and backlight on/off. The display shows the temperature and status of backlight and laser.
The laser is just a red dot and where the dot goes that's where the temperature is taken on the surface.
Conclusion
I have two other infrared thermometers which I used for comparison to this one and it seems accurate according to them, they all give the same results, unless of course all three are wrong?!
I did run across a problem with this thermometer, the button or trigger sticks from time to time and won't come back out meaning it won't take the measurement correctly or rather it won't give you the final result. Holding the trigger in is scan mode, you can hold it in and move it around and it will display the temperatures. To get a final temperature of what you're measuring you let go of the trigger, but sometimes it won't pop back out.
The thermometer does have an auto-off feature which works fine if the trigger is not depressed for a few seconds.
I do like this thermometer, in fact I have another just like it, I prefer the gun style.

Pros:
+Seems accurate
+Includes carrying case
+Simple to use
Cons:
-Button sticks sometimes
| | |
| --- | --- |
| Grading | Scores Out of 10 |
| Overall | |
| Design / Aesthetic | |
| Value / Price | |
| Performance / Usage | |
Disclosure: This product was given to me for review by the company for review purposes only for free or at a discounted price.
To learn more about our review policy please visit this page HERE.