There are many versions of the Droid out there now and Android phones but none are really aimed at business people, that is until Verizon and Motorola introduced the Droid Pro. It's  a world phone that comes with a sim card and a power supply with adapters for different countries that you may travel to doing your business. The phone reminds me of a BlackBerry honestly, with a similar form factor and keyboard, but it's running Android so it's much more than a phone dedicated to business.

We'll start off with the unboxing video: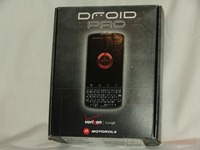 There's plenty of stuff inside of the Droid Pro box like documentation, power supply, USB cable, battery, back cover, and different power tips since this is a world phone.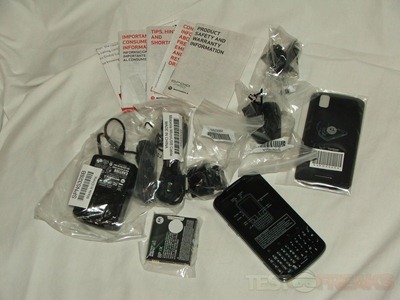 The Droid Pro honestly reminds me of a BlackBerry with the screen on top and a full keyboard below, but it's long or tall and not short and fat. The phone is thin and lightweight though with dimensions of 4.69″ (H) x 2.36″ (W) x 0.46″ (D) and weight of 4.73 ounces.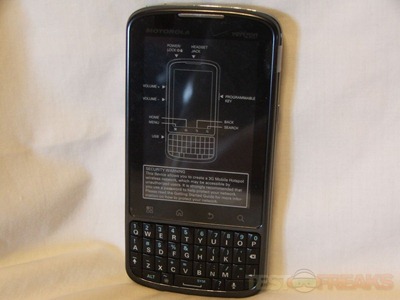 The keyboard is a bit cramped honestly. Each key has a raised corner on it to make typing easier supposedly. I found that once you get to the center of the keyboard your finger will get in the way of each other.  I think a larger, higher resolution screen with no hardware keyboard would have been the better way to go with this phone really. Typing on the screen would have been fine really.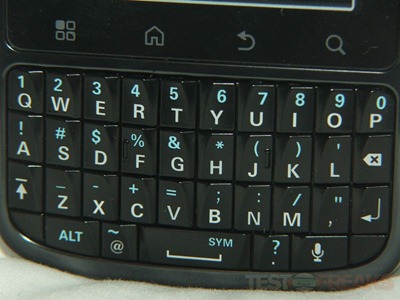 On the screen is a screen protector that has a diagram that tells you what the buttons are for.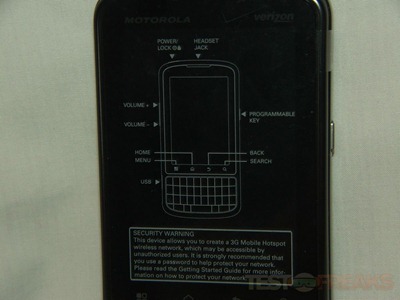 Under the battery cover you'll find the sim card and microSD slot. On the back of the phone you'll also see the camera and flash. The microSD card is secured in place with a plastic tab, and I have to say that makes it very hard to get out easily, I mean you have to work to get the card out.
On the top of the phone is the power button and audio jack.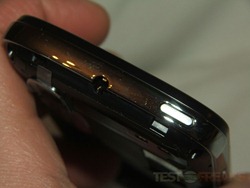 The left side has microUSB port and volume buttons.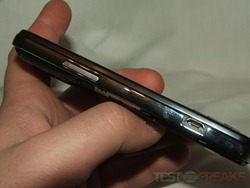 Then on the right side you'll see a single button that opens the calendar.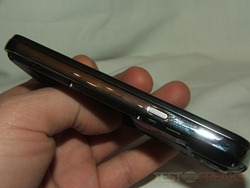 Specifications:
BUSINESS PRODUCTIVITY YOU NEED
* View and edit documents on the fly, blaze through the web, and plow through your e–mail quickly and efficiently whether at home, the office, or in over 200 countries around the world!
PERSONAL FEATURES YOU WANT
* Customize your experience with the thousands of applications on the Android Market. Stay current with your favorite social networks, including LinkedIn. Or take high quality pictures with an impressive 5MP camera.
IT DIRECTOR APPROVED
* Forward calendar events, manage your out of office, even manage your passwords remotely. All without stepping foot in your physical office. Enjoy peace of mind knowing your information is safe and secure via remote wipe.
Camera:
* 5.0MP camera with auto focus, touch–to–focus, and face detection, panoramic modes, low–light capability, and more.
Video:
* DVD–D1 Video capture with easy upload to YouTube, slow–motion capture, fast motion capture and more.
* DLNA Wireless sharing of photos, video, and music with other DLNA compatible devices (Server, Controller, Player, Upload and Download)
Specifications:
Dimensions:
* Dimensions: 4.69″ (H) x 2.36″ (W) x 0.46″ (D)
* Weight: 4.73 ounces
Operating System:
* Android 2.2 (Froyo) OS with Motorola Application Platform
Display:
* 3.1″ 480×320 (HVGA) TFT display
* Candy Bar Form Factor
* Supports up to 16M color
Keyboard:
* QWERTY Keyboard & Virtual QWERTY Keyboard (in Landscape)
Battery:
* Usage Time: Up to 390 minutes OR
* Standby Time: Up to 330 hours
* SAR: Head: 1.39W/kg; Body: 1.34W/kg
Memory / Processor:
* TI OMAP 1GHz processor with Dedicated GPU
* 2GB Internal memory for emails, texts, and apps
* 2GB pre–installed microSDcard for music, videos, and pictures (expandable to 32GB)
Full Retail Price: $479.99
2-Year Contract: $279.99
Mail-in Rebate: -$100.00
PRICE:$179.99

The screen resolution on the Droid Pro  is a bit low at only 320×480, I was expecting a bit more really.  The interface has seven panels to start with, and it looks like the regular Droid phone. You'll find the regular stuff, and Google not Bing.
Here's the apps section, not much stands out really, common stuff along with a 3G Mobile HotSpot and even a VPN Client. This is a business phone after all, but there's not much business about it really. Yes it's a world phone so you can take it anywhere to do your business.
There's actually a Help Center so you can get help with the Droid Pro if you need it including a video guided tour.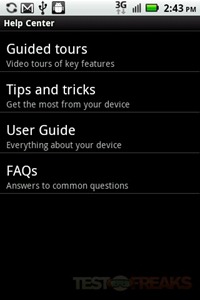 The Droid Pro comes with a very basic Task Manager, but it works.
Looking at the Settings you'll find the same stuff, but you'll notice a Backup Manager and Data Manager there.
Call quality is actually very good, the calls are nice and loud and very clear. Signal is fine, no problems there, anywhere I went.
Battery life though is a problem, it's not that great, you'll end up charging it every night that's for sure and I didn't have Bluetooth or Wi-Fi or anything like that turned on.
The keyboard is small and it's a bit cramped really.
Browsing the web is fast, the Verizon network works great for that.  Even though the screen is low resolution, websites look very good.
The built in camera isn't bad at all, there are several things you can adjust if need be. Zoom is right on the screen at the bottom with the plus and minus buttons, and when you tap the screen the side menu opens up. I should note that as you zoom the resolution drops.
Here's a few photos I took, zoomed and not zoomed, with flash and without. The flash is nice, it doesn't overpower the pictures like some do on some phones.
With the Droid Pro I ran into one major issue it kept freezing up on me and I don't know why it was doing it. It happened randomly where the touch screen and touch buttons would become unresponsive but the hardware would work. Usually after 10 seconds or so it would work again, but a few times I'd actually have to remove the battery and reboot the phone. I looked around at other reviews of the Droid Pro and no one else mentioned it, so it may have just been the unit I got for review.
Conclusion:
The Motorola Droid Pro seems like an attempt to get a serious business phone into the hands of consumers and possibly take some share from RIM and their BlackBerry, and it does a good job. Personally I don't care for BlackBerries at all so I might be a bit biased there.
The Droid Pro is a great messaging and email device once you get accustomed to the small and rather cramped keyboard. The screen resolution is a bit small, it's fine for business stuff like email but those that might want to do some gaming or watch movies on it they might ne be too happy with the low res.
The phone is fast and responsive, when it worked for me.
Battery life isn't that good, you'll be charging it everyday, but that's common with many business oriented smartphones. Still though I was expecting more from it in terms of battery life.
Picture quality is decent, and the flash works great.
Pros:
+Fast
+Good call quality
+Easy to use
Cons:
-Phone becomes unresponsive at times
-Keyboard is a bit cramped
-Battery life not that great
| | |
| --- | --- |
| Grades: | |
| Overall | |
| Design | |
| Performance | |
To learn more about our review policy please visit this page HERE.