Over these past 12 months I am not sure which product class I've reviewed more – network attached storage devices or Wi-Fi video monitoring solutions. Today we look at the latter as the Dropcam HD is our review subject. Founded in 2009, Dropcam specializes in video monitoring and have recently upgraded their product line with an HD camera version, which features 720p video.
While most video monitoring solutions have event alerts and variable recording capabilities the Dropcam HD offers easy set up, night vision, two-way audio along with subscription based 24/7 DVR recording plan. Their video stream is encrypted and stored in the cloud allowing remote viewing via a secure webpage or with the free iPhone, iPad or Android app.
Dropcam HD Review
The Dropcam HD comes in a blue-and-white cardboard box with the camera visualized through a plastic window on the front of the package. Printed next to the device is "Wi-Fi video Monitoring" along with icons for home, pets, business and baby to give the user an idea of what the device can be used to monitor. On the top right we see Wi-Fi Certified and HD 720 logos.
Found on the sides of the box are tech specs and requirements along with a QR code that will take you to Dropcam website to see a video of the device in action.
The back shows how the device works along with the capture bar found on the webpage interface. A pictogram on the right-hand side shows the easy setup process.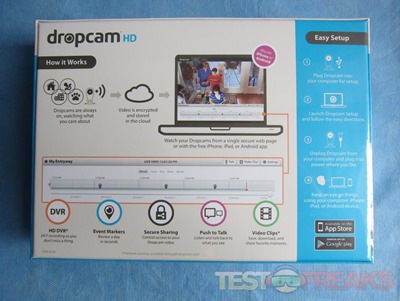 Inside the box we find the Dropcam HD 720p, brushed aluminum base, wall-mounting hardware, 10ft USB to Micro-USB cable, USB power adapter and Quick Start guide.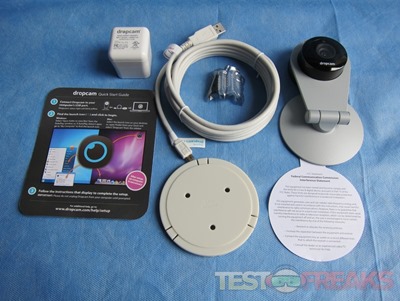 The first thing you'll notice about the Dropcam HD is its construction and heft. The kit is composed of two components – the camera and stand.
The camera is composed of piano black plastic, while the camera stand/holder is a brushed aluminum base with a vertical pivot. This combination makes the Dropcam HD feel solid.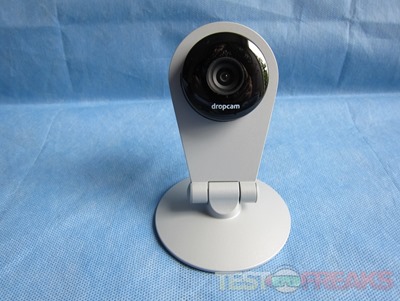 One drawback to this design is the camera is very noticeable and is much harder to hide in a corner due to its design.
Unlike most other Wi-Fi cameras this unit is solidly constructed and weighs in at 5.5 ounces and measures 4.5" x 3.15" x 3.15".